The Pro-Jump Adult Replacement Rubber Soles are suitable for the Pro Jump Adult CZ-Series Jumping Stilts. These bolt on rubber soles are designed to replace your existing two hole soles when they wear down, are long lasting and provide excellent value for money. Give your ProJump Bouncing Stilts a new lease of life with these premium rubber soles.
We stock a full range of CZ-Series Pro-Jump Spare Parts. Please click here to see what's currently available.
For Jumping Stilts tutorials, mods, videos, pictures and general help please join the Pro-Jump Forum where you can join our community of PowerBockers. It's free and fun!
To see the full range of:
Pro-Jump Jumping Stilts please click here.
Pro-Jump Spare Parts please click here.
Pro-Jump Upgrades please click here.
Pro-Jump Protection please click here.
Pro-Jump Merchandise please click here.
The Pro Jump CZ Series Rubber Sole features the following specifications...
Suitable For - The Adult Rubber Sole is designed to fit the CZ-Series Jumping Stilts as a replacement part
The difference between the two versions (Bigger & Smaller) - There was a slight design change during the manufacturing lifetime of the CZ-Series rubber sole which is noticeable when looking at the size of the 'lip' on either end of the soles. Both variants of this sole will fit ANY CZ Exo and Exo Pro stilts - the distance between the boltholes is the same on each. However we have kept them separate so that customers can match the sole to the variant on their stilts - please compare the soles on your stilts to the photos above.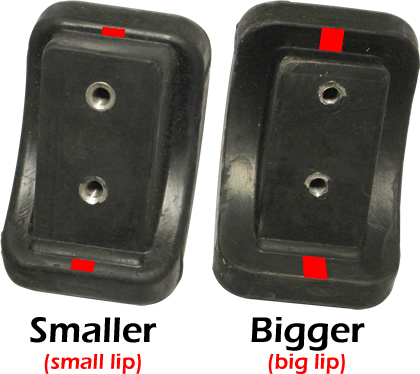 Compatible With - This rubber sole MAY also be compatible with other brands of Powerbocks (however we can not guarantee this ) including PoweriZer, PowerStrider, Fly Jumper, Jolly Jumper, Air Trekker, Air Runner, Speed Jumper, PowerStrider, 7 League Boots, PowerSkip and PoweriSer. If you are unsure after checking the photos and description, the Pro-Jump Forum may be able to advise if you post photos of your Jumping Stilts. Please click here to visit the Pro-Jump Forum.
Quantity Supplied - One rubber sole is supplied
What You Need To Fit - 2 bolts and 1 figure-8 washer (all not supplied) are needed to fit the sole to the spring
Your package will include the following:
Pro-Jump CZ-Series Replacement Rubber Sole (1 sole supplied)