The Pro-Jump Adult Replacement Figure 8 Washer for Rubber Soles are designed to replace your existing figure-8 washer. Easy to fit and keeps your Pro Jump CZ-Series Jumping Stilts working like new and lasting longer. Give your Pro-Jumps a new release of life with the Figure of Eight Washer.
We stock a full range of CZ-Series Pro-Jump Spare Parts. Please click here to see what's currently available.
For Jumping Stilts tutorials, mods, videos, pictures and general help please join the Pro-Jump Forum where you can join our community of PowerBockers. It's free and fun!
To see the full range of:
Pro-Jump Jumping Stilts please click here.
Pro-Jump Spare Parts please click here.
Pro-Jump Upgrades please click here.
Pro-Jump Protection please click here.
Pro-Jump Merchandise please click here.
The Pro Jump CZ Series Washer for Rubber Soles features the following specifications...
Suitable For - The Adult Figure of 8 for Rubber Feet are designed to fit the CZ-Series Exo and Exo-Pro Jumping Stilts as a replacement part
Compatible With - These replacement washers MAY also be compatible with other brands of Powerbocks (however we can not guarantee this ) including PoweriZer, PowerStrider, Fly Jumper, Jolly Jumper, Air Trekker, Air Runner, Speed Jumper, PowerStrider, 7 League Boots, PowerSkip and PoweriSer. If you are unsure after checking the photos and description, the Pro-Jump Forum (search Google) may be able to advise if you post photos of your Jumping Stilts.
Quantity Supplied - One figure 8 washer is supplied
What You Need To Fit - 2 CZ-Series rubber sole bolts and an allen key (all not supplied) are needed to fit the washer to the spring and rubber sole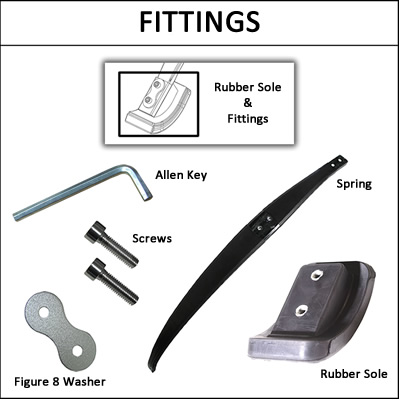 Your package will include the following:
Pro-Jump CZ-Series Replacement Figure 8 for Rubber Soles (1 washer supplied)