The sleek, comtemporary Rev'It! Neptune Gore Tex Touring Motorbike Jackets are packed with superior features. REV'IT! have developed a true four-season jacket for true four-season riders. If you ride every day, all year round, then this jacket is for you. The Neptune GTX has a durable, lightweight outer shell that doesn't absorb water, and features a coating that repels dirt. The jacket is equipped with CE-approved protection at the shoulders and elbows, adjustable ventilation panels and reflective panels. The detachable Gore-Tex membrane with Paclite Technology keeps you dry and has been designed to not stick to your skin if you remove the detachable thermal liner for the hotter months. In short: this jacket will beat any type of weather. Get yours from GhostBikes today!
Ghost Bikes now stock a full range of Rev'It Motorcycle Clothing Please click here to see what's currently available.
The Rev'It Neptune Gore Tex Jacket also has a matching Rev'It Neptune Trousers
The Rev It Neptune Gore-Tex Touring Motorbike Jackets are packed with features...
PROTECTION FEATURES:
Fully perforated EVA foam at the back - EVA is one of the materials known as 'foam rubber' or expanded rubber'. EVA is used as a shock absorber in many REV'IT! products.
ProLife CE protection at shoulders and elbows - Official tests show that ProLife far surpasses the protection standards set by the CE directive. The fabric used, elastomer, is the result of many years of research and development. A technological process is used to make the fabric microporous, with air in the microporous cells under high pressure but unable to escape. This treatment makes the fabric light, flexible and exceptionally impact-resistant. REV'IT! has used the pre-shaped ProLife 3D protector in their motorcylce clothing since it was first introduced.
Prepared for Seesoft CE-level 2 back protector insert - Type RV - The back protector pocket in this REV IT! garment is tailor-made to accomodate the Seesoft CE-level 2 back protector insert Type RV - an easy upgrade to maximise safety.
OUTER SHELL
Polyester rib with Teflon coating - Polyester is a durable lightweight fabric that doesn't absorb water. This polyester fabric features a specific rib weave for optimal performance. The water/dirt-repellent Teflon coating makes it difficult for dirt to affix to or penetrate any material.
Wax polyester 600D - Long-lasting 600-denier fabric is a mainstay of REV'IT! apparel. This high-tech polyester features a specific rib weave for rugged durability and a refined finish for optimal performance. The 600D rating delivers excellent tear-resistant properties while the wax coating ensures capable water proofing.
High density polyester 600D with Teflon coating - This fabric takes polyester yarn and weaves it with a finer polyester yarn, to create a high woven density that increases protection and abrasion-resistance.
INSULATION
Detachable thermal liner - For staying cool in the summer and warm in the winter.
WATERPROOFING & BREATHABILITY
Detachable Gore-Tex product with Paclite technology - This combination is waterproof, windproof and extremely breathable. It is the ideal material for motorcycle clothing as it protects you against the elements. A thin lining was added to protect the Paclite membrane and to ensure that it won't stick to your skin when riding in warmer weather without a thermal liner.
VISIBILITY
Laminated reflection at upper arms
Reflective logo at back
ERGONOMIC FEATURES:
FIT
ATTACHMENT OPTIONS
Long and double short connection zipper - This jacket has a long connection zipper and double short connection zipper. Not only can it be paired with any pair of pants in the REV'IT! line, but its second, short connection zipper on the membrane ensures that the membrane stays in place.
Prepared for the Challenger cooling vest insert - The challenger can be zipped directly into the outer shell with the connection zippers.
Prepared for High-Vis vest connection - Your jacket can be upgraded with a HV vest via a quick and easy attachment. The highly visible EN471-certified vest offers enhanced safety.
POCKETS
Stash pocket
Inner pockets
Waterproof stash pockets
Membrane storage pocket - This pocket lets you store the membrane in a safe way and keeps it within reach to allow you to attach it as soon as it's needed.
ADJUSTABILITY
Adjustment drawcord at hips
Adjustment strap at waist
Adjustment tab at upper arms, under arms and cuffs
Flexisnap - The REV-IT flexisnap makes it possible to adjust the collar circumference easily and personalise its fit to each rider. A jacket is often worn in more than one season, and the flexinsap makes it possible to adjust the collar within seconds. During winter, a wider collar accomodates balaclavas, neck tubes, scarves or wind collars. While during summer, a wider collar lets in an all-important cooling wind. The flexinsnap is available with 5 or 7 positions (XL).
VENTILATION
VCS Zippers at back , chest and under arms - Our VCS zippers are all located in strategic positions, where they offer excellent air flow to cool the body. The air flow can be regulated by opening or closing the zipper.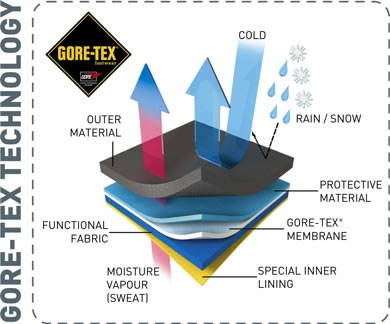 The RevIt Neptune GTX Jackets are currently available in the colours shown in the product variation above, if there is no variation option, they will be available in the colours as shown in the pictures.
Your package will include the following
Brand new & well packaged item
Rev'It Neptune GTX Motorbike Jacket in your size and colour.