New to GhostBikes, the sleek
ARMR Moto Azai Motorcycle Jacket
is the perfect summer jacket. Constructed with 3D hyperflex polyester mesh and CE approved shoulder and elbow armour, this motorbike jacket provides optimum breathability and superb protection. Packed with premium features and is excellent value for money. If your looking for a summer jacket that will keep you cool when hot then the ARMR Moto Azai Sports Jacket is the ideal bike jacket for you! Get yours from GhostBikes today!
The Armr Moto Indo Waterproof Motorcycle Trousers are the newest trousers from Armr Moto and this means that they have great features and are of fantastic quality. They are made from Poly-Tech technology, are waterproof and have plenty of pockets so that you can store your bits and pieces that you need to carry with you.
Ghost Bikes now stock a full range of ARMR Moto Motorcycle Clothing. Please click here to see what's currently available.
The Armr Moto Azai Mesh Motorbike Jacket and Indo Pants are overloaded with features..
Jacket Specifications include
3D Hyperflex Polyester Mesh - A perforated and durable material that will last and allow air to pass through the jacket, helping you keep cool when hot
CE Certified Protectors in Shoulders and Arms - Top quality armour included at no extra cost
Back Insert Pocket - A pocket is available so a back insert can be added for extra protection
Adjustable Waist, Hem, Arm Closures - Giving you more of a suitable fit
Scotchlite Material - Helps reflect the light, making the rider more visible
Wallet Pocket - A pocket specifically designed to keep your wallet secure in your jacket
YKK & Link Zippers - A strong and reliable brand of zippers and allows you to connect your jacket to most ARMR Moto Trousers
Includes A Waterproof Outer Jacket - Encase you get caught in the rain when out, this jacket comes with a waterproof over jacket to keep you dry
Trouser Specifications include
Poly-Tech Construction - Top quality and lightweight making them the perfect all-year-round trouser
CE Certified Protectors in Knee - Feel protected and safe at all times
Waterproof - Perfect for all weathers
2 Front Pockets - Great for your essential bits and pieces
Additional Rear & Leg Pockets - Fasted with buttons for added security and peace of mind
Large Adjustable Buttoned Leg Closure - Make the perfect fit around your boots
YKK Zips - Durable zips all over
Link Zipper - Hook up any ARMR Moto jacket via the short connecting zip at the back
The Armr-Moto Waterproof Motorcycle Two Piece Kit is currently available in the colours shown in the product variation above, if there is no variation option, they will be available in the colours as shown in the pictures.

Your package will include the following
Brand new & well packaged item
Armr Moto Azai Motorcycle Jacket in your size
Armr Moto Indo Motorbike Trousers
The Armr Moto Azai Biker Jacket is currently available in the following sizes: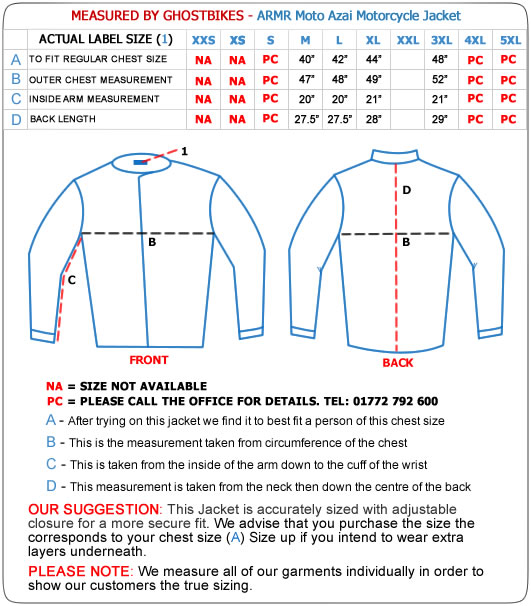 The Armr Moto Indo Biker Trousers are currently available in the following sizes: