The Buffalo Scope Ladies Motorcycle Kit is part of the GhostBikes.com Exclusive Clothing collection.
Key Features / Points:
100% Waterproof Membrane
Removable Thermal Membrane
Heavy Duty Construction
CE Approved Armour
Reflective Detailing
Ladies Cut
View all Buffalo Exclusive Clothing, View all Buffalo Motorcycle Clothing
The Buffalo Scope Ladies Motorbike Kit is packed with features...
Jacket Specifications Include
Full Length Touring Jacket - Designed for comfort over long distance
Fully Waterproof Removable Membrane - Remain dry year round as well as shred weight in the summer months
Reflective Scotchlite Detailing - Remain seen in all weather conditions
Polyester Construction - The Scope is made from hard wearing polyester for durability and strength
CE Approved Armour - All the protection you need for any unscheduled dismounts
Removable Thermal Lining - Regulate your temperature throughout the year
Back Protector Pocket - Removable padded insert highlights location for upgradable armour
Fully Adjustable Fit on the Waist, Chest, Sleeves, Cuffs and Collar - Stretch fabric under arms and around the back for more fitted feel
2 Large Front and Rear Exhaust Vents - Stay cool throughout the year
3 in 1 Construction - Thermal base layer, waterproof membrane, outer polyester shell
Jacket Storage - 2 external pockets, 2 interior pockets
Dual Centre Zip - Remain protected from the elements with the dual zip up system.
6 Inch Short and Full Length Rear Trouser Attachment Zips - create a full one piece suit with these attachment points.
Garment Care - Hand wash only
Trousers Specifications Include:
Specific fitted ladies motorcycle trousers - Designed specifically for women
Waterproof membrane - Stay dry, stay calm, stay safe.
Durable textile construction - Good abrasion resistance and comfortable to walk in
Removable thermal lining - You have the option in summer and winter to maintain a relaxed temperature
Air flow system - External vents so fresh air can flow through the trousers, perfect when riding in warm conditions
Adjustable waist and mid thigh - You can adjust the upper fit of the trousers
Easy access trousers - Wide opening gator at the bottom for easier access
Jacket attachment zip - You can zip the trousers to the matching jacket via a 6 inch rear zip
Your package will include the following:
Buffalo Scope Ladies Motorcycle Jacket
Buffalo Scope Ladies Motorcycle Trousers
The Buffalo Scope Women's Motorcycle Jacket is available in the following sizes....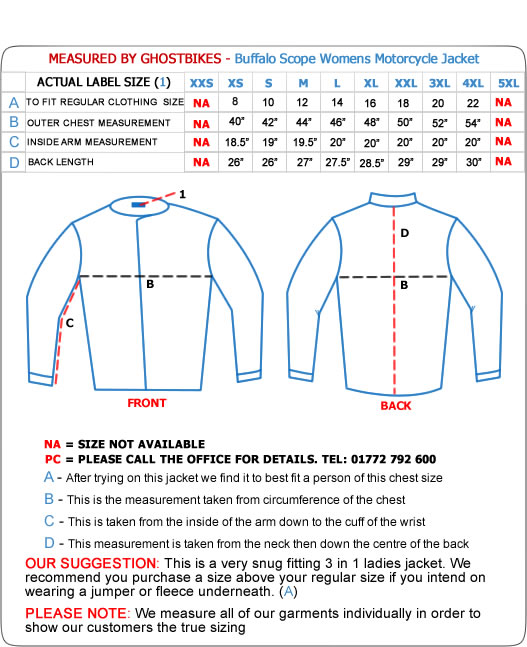 The Buffalo Scope Women's Motorcycle Trousers is available in the following sizes....