The Rev It Masaru Leather Motorcycle Jacket & Trousers Black White Kit is part of the latest Spada collection.
The Masaru jacket adopts Masaru suit styling and offers it to those who prefer a single jacket. Monaco Performance cowhide combined with PWR|shell 500D stretch provides both abrasion resistance and comfort on the streets. The CE-level 2 rated SEEFLEX? protectors at shoulders and elbows provide up to spec impact protection that is upgradeable with a SEESOFT? CE-level 2 back protector insert. For chillier days the detachable thermal body warmer offers warmth, and once removed allows air to pass through the semi-perforated outer shell. The short and long connection zippers allow a rider to combine the jacket with any REV'IT! trouser, such as the same-styled Masaru trousers. The Masaru trousers fulfil the need for racing trousers that match the jackets in the current precision collection.
Key Features / Points:
Monaco Performance Cowhide Leather Construction
Partly Perforated Outer Shell for Ventilation
CE-Rated Protectors at Shoulders, Elbows, Knees & Hips
High-Performance TPU Compound Knee Sliders
Detachable Thermal Bodywarmer (Jacket)
View all Rev It Motorcycle Kits. View all Motorcycle Kits.
The Rev It Masaru Leather Racing Motorbike Jacket and Trousers Black White Kit is packed with features...
Jacket Specifications Include:
PROTECTION FEATURES
Outer Shell
Monaco Performance Cowhide - This top-grain leather not only has had its surfaces sanded to correct imperfections, it has been reinforced to up its performance factor for riding on the track or street. Long-lasting and extremely protective
PWR|Shell 500D Stretch - This material is REV'IT!'s take on Cordura®. Consisting of 100 percent high-performance polyamide yarns, PWR|shell takes the best properties of Cordura® - a high melting point, tremendous tear- and abrasion-resistance, excellent durability - and puts the unique REV'IT! design stamp on it. This PWR|shell fabric comes in a stretch variant. 500D indicates the density of the fabric. The higher the number the better the abrasion- and tear resistance properties are
Neoprene - Neoprene is a synthetic rubber useful for protective gear. It is abrasion-resistant, chemical-resistant, waterproof, somewhat stretchable, and buoyant
Lorica® - Lorica® is constructed from microfibres that give the material characteristics similar to those of natural leather, including a leather look. This low-maintenance material is not as strong as leather, but softer and lighter, with a consistent thickness that makes it easier to process
Insulation
Detachable Thermal Bodywarmer
Protection
SEEFLEX? Level 2 CE Protection at Shoulders and Elbows - Certified CE-Level 2 according to the new norm EN1621-1:2012 the SEEFLEX? protector is the latest innovation from REV'IT!'s in-house R&D department. The new norm also tests the impact levels in various temperature ranges. The SEEFLEX? protectors easily surpass the new norm without sacrificing wearer comfort

Prepared for SEESOFT? CE-Level 2 Back Protector Insert - Type RV - The back protector pocket in this REV'IT! garment is tailor-made to accommodate the SEESOFT? CE-level 2 back protector insert Type RV - an easy upgrade to maximize safety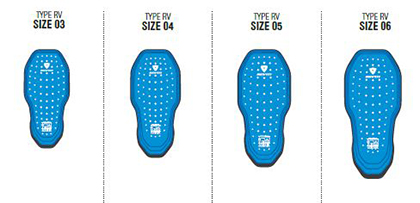 Safety Stitching - Stitching seams can be the weakest link in motorcycle garments, as they can rip upon impact. This ripping of seams can be prevented, however, through safety-stitching technology. REV'IT! uses safety stitching on garment areas at increased risk of impact (directive on the definition of risk category in zones 13595-1:2002)
Safety Seams - The stitching in motorcycle garments contributes greatly to the abrasion resistance of the total gear. This is why REV'IT! uses safety seams on garment areas at increased risk of impact. Safety seams have a visible as well as an invisible seam. This construction keeps the material of the outer shell together, even when the visible seam is thorn
Composition
Outer Shell - 88% leather, 11% polyamide, 1% elastane
Lining - 98% polyester, 1% polyamide, 1% elastane
Thermal Liner - 100% polyamide (insulation 100% polyester)
ERGONOMIC FEATURES
Fit
Adjustability
Adjustment Straps at Waist
Ventilation
Partly Perforated Outer Shell at Front, Back and Arms
Features
Comfort Cuffs
Stretch Lips at Back, Upper Arms, Elbows and Shoulders
Stretch Panels at Arms and Chest - The stretch panels in this garment aid in flexibility. They contribute to the rider's comfort as they provide great freedom of movement
Short and Long Connection Zippers - Thanks to the short and long connection zipper, this jacket is compatible for pairing with any pair of trousers in the REV'IT! line
Pockets
Slit Pockets
Document Pocket
Inner Pockets
Trousers Specifications Include:
PROTECTION FEATURES
Outer Shell
Monaco Performance Cowhide - This top-grain leather not only has had its surfaces sanded to correct imperfections, it has been reinforced to up its performance factor for riding on the track or street. Long-lasting and extremely protective
PWR|Shell 500D Stretch - This material is REV'IT!'s take on Cordura®. Consisting of 100 percent high-performance polyamide yarns, PWR|shell takes the best properties of Cordura® - a high melting point, tremendous tear- and abrasion-resistance, excellent durability - and puts the unique REV'IT! design stamp on it. This PWR|shell fabric comes in a stretch variant. 500D indicates the density of the fabric. The higher the number the better the abrasion- and tear resistance properties are
Protection
Dual-Comp Knee Slider Type A - Dual-comp knee sliders type A are constructed from a high-performance TPU compound, combined with an extra durable PA6 compound. Specially designed for racers who want high-performance sliders, these higher-quality compounds offer good feedback, giving you maximum durability without compromising your feel on the road. The sliders come in a pair of two, each anatomically shaped to fit either the left or the right knee, and high-quality Velcro attaches the sliders to leathers, ensuring they stay where they need to. Type A sliders are available in three colours, to fit every colour combination of your leathers, and the dual-injected colours keep the design visible even when the sliders begin to wear
SEEFLEX? Level 2 CE protection - Certified CE-Level 2 according to the new norm EN1621-1:2012 the SEEFLEX? protector is the latest innovation from REV'IT!'s in-house R&D department. The new norm also tests the impact levels in various temperature ranges. The SEEFLEX? protectors easily surpass the new norm without sacrificing wearer comfort

Safety Stitching - Stitching seams can be the weakest link in motorcycle garments, as they can rip upon impact. This ripping of seams can be prevented, however, through safety-stitching technology. REV'IT! uses safety stitching on garment areas at increased risk of impact (directive on the definition of risk category in zones 13595-1:2002)
SEESMART? CE-Level 1 Type B Hip Protector Insert - Version RV33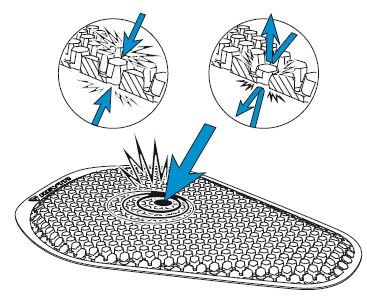 Double Leather Seat - The seat of your garment is a critical impact zone. To prevent the stitches from tearing, REV'IT! have reinforced the leather seat, giving you two layers of protection
Composition
Outer Shell - 78% leather, 20% polyamide, 2% elastane
Lining - 100% polyester
ERGONOMIC FEATURES
Fit
Ventilation
Ventilation Panels at Legs (Front and Back)
Features
Stretch Lips at Back and Knees
Stretch Lips at Shoulders, Back, Upper Arms, Elbows and Knees
Stretch Panels at Legs - The stretch panels in this garment aid in flexibility. They contribute to the rider's comfort as they provide great freedom of movement
Short and Long Connection Zipper - Thanks to the short and long connection zipper, these trousers are compatible for pairing with any jacket in the REV'IT! line
Elastic Waistband
Hook-and-Snap Front Closure - This hook-and-snap construction ensures trousers stay closed. The snap closes the trousers and the hook smoothly interlocks into the channel ensuring that the trousers won't open while riding
Your package will include the following
Rev It Masaru Leather Motorcycle Jacket
Rev It Masaru Leather Motorcycle Trousers
Rev'It! Men's Clothing Sizing Guide
Please use the conversion tables below to determine the right size for you:
Men's Jackets
Letter Size
XS
S
M
L
XL
XXL
XXXL
(XYL)
XXXXL
(XZL)
5XL
6XL
UK / US Chest
36"
38"
40"
42"
44"
46"
48"
50"
52"
54"
EU?Size
46
48
50
52
54
56
58
60
62
64
Men's Trousers
UK Size
S
S
M
M
L
L/
XL
XL/
XXL
XXL
XXXL
(XYL)
XXXL
(XYL)/
XXXXL
(XZL)
XXXXL
(XZL)/
5XL
5XL/
6XL
6XL
UK / US Waist
26"
28"
30"
32"
34"
36"
38"
40"
42"
44"
46"
48"
50"
EU Size
44
46
48
50
52
54
56
58
60
62
64
66
68
Inseam Short Leg
n/a
n/a
30"
30"
31"
31"
31"
31"
32"
33"
33"
n/a
n/a
Inseam Regular Leg
31"
32"
32"
32"
33"
33"
33"
34"
34"
35"
35"
35"
35"
Inseam Long Leg
n/a
n/a
34"
34"
35"
35"
36"
n/a
n/a
n/a
n/a
n/a
n/a