The ARMR Moto KJ4 Jacket & KT4 Trousers Kids Motorcycle Black Camo Kit is part of the latest ARMR Moto collection.
Designed specifically for children, the ARMR Moto KJ4 Jacket and KT4 Trousers Kids Kit will keep young ones safe and dry. Featuring a removable Thermoline liner and a fixed Dry-TEK waterproof and breathable membrane, both in the jacket and the pants, this two piece outfit boasts all the features of ARMR's adult range, including height adjustable CE certified knee armour. Another welcome feature, from a parent's perspective, is the option to adjust the length of the arms and the legs. Last but not least is the great value for money this kit offers. Make sure not to miss out!
Key Features / Points:
Strong POLYTECH 600D Construction
Dry-TEK Waterproof and Breathable Membrane
CE Certified Protectors in Shoulders, Elbows & Knees
Detachable Thermoline Liner
VISION TECH Reflective Panels
View all ARMR Moto Motorcycle Kits. View all Motorcycle Kits.
The ARMR Moto KJ4 Jacket and KT4 Trousers Childrens Motorbike Black Camo Kit is packed with features...
Jacket Specifications Include:
POLYTECH 600D Construction - Lightweight and durable
CE Certified Protectors in Shoulders - Rest assured that all ARMR impact protectors are made to the highest quality and meet European safety standards for "motorcyclists' protective clothing against mechanical impact" - EN 1621-1:1997 and EN 1621-2:2003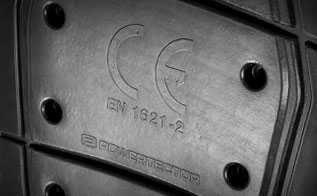 Height Adjustable CE Certified Protectors in Elbows
Fixed Dry-TEK Waterproof Membrane - A waterproof and breathable membrane specially developed for use on motorcycle garments. The fabric is specially designed and developed to optimise breathability and absorption, keeping you comfortable and dry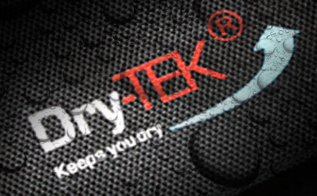 Detachable Thermoline Liner - A heat retaining thermal inner liner designed to keep the rider warm. This liner can be removed for milder riding conditions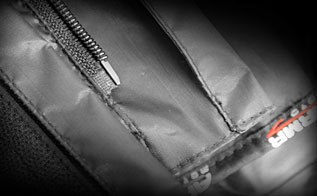 Storm Flap - Better weather protection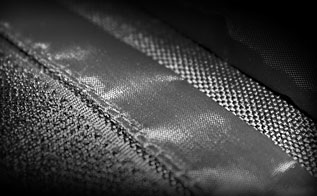 Adjustable Arm Length - A great feature that ensures the jacket will not have to be changed in a few months' time
SCOTCHLITE - Improved passive protection
VISION TECH Reflective Panels - Many ARMR garments now feature ScotchliteTM or Vision Tech reflective visibility panels which are fully integrated into the design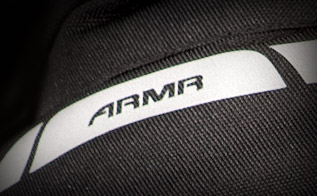 Slightly Elongated Back
Adjustable Waist and Cuffs
2 External Side Pockets
Waterproof Wallet Pocket
YKK Zips
Link Zipper - Connect the jacket to a matching pair of trousers
Trousers Specifications Include:
POLYTECH 600D Construction - Lightweight and durable
Height Adjustable CE Certified Knee Protectors - Rest assured that all ARMR impact protectors are made to the highest quality and meet European safety standards for "motorcyclists' protective clothing against mechanical impact" - EN 1621-1:1997 and EN 1621-2:2003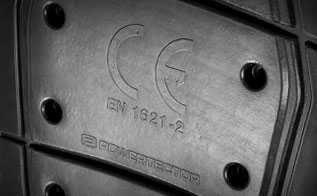 Dry-TEK Waterproof Membrane - A waterproof and breathable membrane specially developed for use on motorcycle garments. The fabric is specially designed and developed to optimise breathability and absorption, keeping you comfortable and dry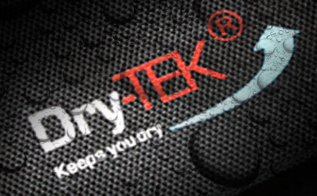 Detachable Thermoline Liner - A heat retaining thermal inner liner designed to keep the rider warm. This liner can be removed for milder riding conditions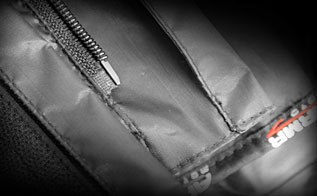 SCOTCHLITE - Improved passive protection
VISION TECH Reflective Panels - Many ARMR garments now feature ScotchliteTM or Vision Tech reflective visibility panels which are fully integrated into the design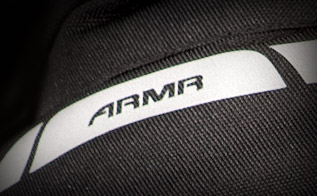 Detachable Braces
Adjustable Leg Length - A great feature that ensures the trousers will not have to be changed in a few months' time
Waist Adjustment
Cargo Pockets
YKK Zips
Link Zipper - Connect the trousers to a matching jacket
Your package will include the following:
ARMR Moto KJ4 Kids Motorcycle Jacket
ARMR Moto KT4 Kids Motorcycle Trousers