The Rev It Philly Dark Blue Motorcycle Jeans are part of the latest REV'IT! collection.
The Jersey jeans and the Philly jeasn are both designed as regular jeans. The first jeans collection featured jeans with stitching lines on various places. The Philly jean have no stitching lines, other than the necessary once and feature a pure and clean design. The design combined with a more casual fit instead makes the Jersey jeans look more like regular jeans than any of our other jeans. The only design difference between the Philly and Jersey is the washing. The Philly features a beautiful dark blue. Naturally the Philly offers an unsurpassed level of protection.
As reviewed by webBikeWorld:
"The REV'IT! Jersey and Philly jeans are a definite favorite. They hit that elusive "sweet spot" between comfort, practicality and protection. Both are very comfortable and feel "broken in" right from the start ... and they look and feel like they'll last a long time."
Key Features / Points:
Knox® Lite CE Armour
Adjustable Protector Pockets
Moisture-Wicking Function
Comfort Seat
Loose Fit
View all Rev It Motorcycle Jeans. View all Motorcycle Trousers and Jeans.
The REV'IT! Philly Dark Blue Motorbike Jeans are packed with features...
PROTECTION FEATURES
Outer Shell
12.5oz Cordura® Denim with COOLMAX® Element - Cordura® denim fabric retains the authentic look and feel of cotton denim, but with added abrasion resistance, and toughness. CORDURA® denim is exceptionally durable without compromising on comfort and style. COOLMAX® fabrics are made of polyester fibers. These special multi-channel fibers form a transport system that moves perspiration away from the skin to the outer layer of the fabric, where it can evaporate quickly, allowing the wearer to feel cooler and more comfortable. In this case Cordura® denim and COOLMAX® are combined, resulting in a durable, abrasion resistance fabric that keeps you cool
Lining
Polycotton Twill - Polycotton is a mixture of polyester and cotton. The polycotton is woven into a twill pattern in order to improve the strength and durability. Twill is a type of weave with a diagonal parallel pattern providing the fabric a very stylish look and feel
Protective Layer
PWR | Shield - PWR | shield has been developed in-house by the REV'IT! R&D department. This revolutionary material blends polyethylene/polyamide and aramid fibers into a unique knitted construction, resulting an extremely strong, exceptional cut, tear and abrasion resistant fabric. The PWR | shield lining resides in the knee, hip and backside impact areas as described in the European CE 13595 norm. Combined with a Cordura® denim outer shell, the PWR | shield lining meets the CE-level 1 standard for abrasion resistance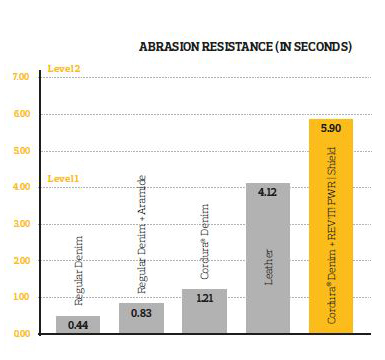 Composition
Outer Shell - 50% Cotton, 30% Polyester, 20% Polyamide
Lining - 50% Cotton, 50% Polyeste
Protective Layer - 100% Polyamide
Protection
KNOX® Lite CE Protection at Knee - These CE-approved impact protectors are smaller, lighter, and thinner. Made from lightweight, flexible PU, the Knox® Lite CE protectors are engineered in a 3-dimensional form and are very soft and flexible. The smooth finish over these thin and lightweight protectors makes them an excellent choice for garments where protectors should be barely visible or noticed by the wearer. The Knox® Lite gives the rider flexibility and total freedom of movement, with 2 hinge points to aid movement and 12 holes for breathability. The inside is soft and smooth for additional comfort, while offering excellent protection
Prepared for TRYONIC Seesoft CE-Level 1 Type B Hip Protector - Version RV01 - The hip protector pockets in this REV'IT! garment are tailor-made to accommodate the TRYONIC Seesoft CE-level 1type B hip protectors version RV01. An easy upgrade to maximize safety
Double Layered with PWR | Shield Knit Protection at Seat and Knees - PWR | shield is developed in-house by the R&D department. PWR | shield is created with a unique knit technique which results in a fabric with unsurpassed cut, tear and abrasion resistance level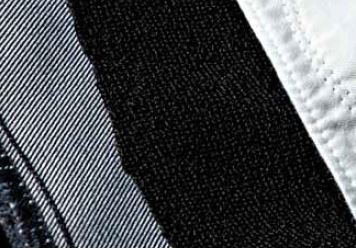 Visibility
3M Scotchlite™ Reflection at Turn Up - 3M Scotchlite™ reflective materials use a technology known as retro reflection. Retro reflection returns light rays in the direction from which they came, making sure you stay seen and safe. In this garment reflection panels are welded to the fabric, which eliminates stitching seams, making the garments even more resistant to tearing
ERGONOMIC FEATURES
Fit
Features
Adjustable Protector Pockets - Within this type of protection pocket, the protector can be adjusted to several positions, in order to customize the shape for each rider. This results in the best personal fit and riding comfort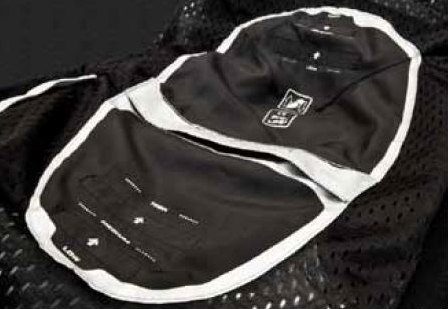 Zipper Fly Front Closure
Comfort Seat - We've relocated the crotch seams of a traditionally constructed jeans pattern to allow for greater freedom of movement and comfort while sitting on the bike-especially for extended periods of time. This small but critical design is invisible whether on or off the bike and helps eliminate painful pressure points plus it ensures the waistband of the trousers stays in place when seated
Triple Needle Stitching at Side Seam and Back Rise - The seams have been triple stitched. This means there are three separate seams stitched parallel to each other to provide extra strength and durability
Extra Comfort by Mechanical Stretch - Stretch is always comfortable to wear but mechanical stretch takes it to a higher level. Normally it is the fabric itself that is stretchable; in this case it is the weaving that makes the fabric stretchable
Moisture-Wicking Function by COOLMAX® Element - The COOLMAX® element in this garment keeps riders dry and comfortable. COOLMAX® consists of multi-channel fibres that form a transport system that moves perspiration away from the skin to the outer layer of the fabric, where it can evaporate quickly
Safety Stitching at Inseam - Stitching seams can be the weakest link in motorcycle arments, as they can rip upon impact. This ripping of seams can be prevented, however, through safety-stitching technology. REV'IT! uses safety stitching on garment areas at increased risk of impact (directive on the definition of risk category in zones 13595-1:2002)
Pockets
Your package will include the following:
Rev It Philly Dark Blue Motorcycle Jeans
Rev'It! Mens' Jeans Sizing Guide
Please use the conversion table below to determine the right size for you:
| UK/US Label Size | 28 | 30 | 31 | 32 | 33 | 34 | 36 | 38 |
| --- | --- | --- | --- | --- | --- | --- | --- | --- |
| EU Size | 44 | 46 | 46/48 | 48/50 | 50 | 52 | 54 | 56 |
Length: Short = 32"; Standard = 34"; Long = 36"
Please Note: this product is sized by the UK waist label size. See the table for other size conversions.