The Blackô Clash Motorcycle Helmet is just one of the many new Limited Edition Helmets available from the stunning Blackô collection. There are only 250 of each graphic available in a single one-off batch production. Every helmet has been hand finished to give each one its own bespoke character and unique look. Each one has its own production number individually labelled on the back of the helmet as well an official certificate of authenticity in the box to show that your helmet is part of a very limited collection that will not be available again.
The Blackô Clash is a clean and timeless classic that appeals to all ages with its simplistic lines and stunning array of colours. Each one is stand alone stunning.
The helmet features a simple, easy access drop down sun shield that can be moved into position via an extended lever located just above the left eye. The lining features real leather which runs around the outside of the lining, along with suede fabric on the inside for a superior level of comfort. The shell is constructed from advanced Polycarbonate and features a Micrometric chin strap that is easy to adjust and even easier to operate.
Each Blackô helmet is designed with all bikers in mind and every helmet has been carefully manufactured so from wherever you are in the world, you can rest assured knowing you're purchasing a quality premium product from an established UK based brand that is engineered to last for years to come.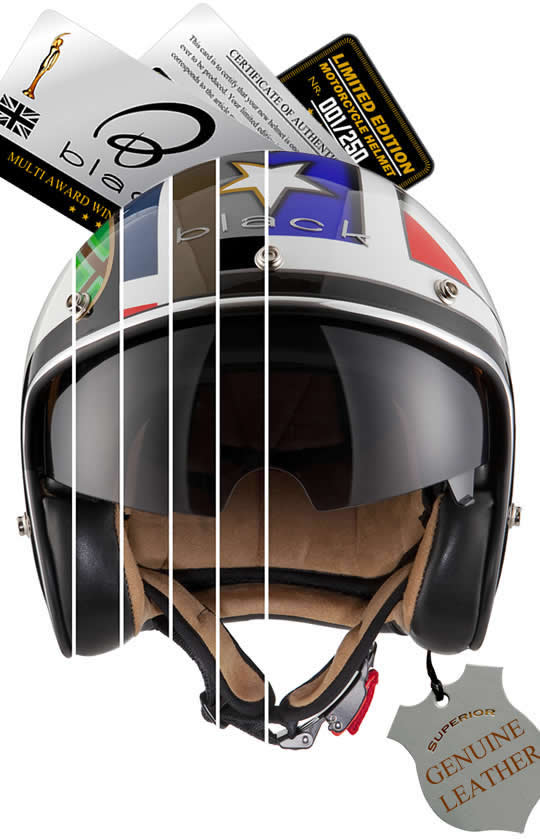 View all Black Limited Edition Helmets, View all Black Motorcycle Helmets
The Blackô Clash Limited Edition Motorcycle Helmet is packed with features.
Specifications Include
ECER 2205 Approved for EU
Genuine Leather surrounds the outer rim of the lining
Fully removable comfort fit Suede lining for superior fit and feel
Easy access internal drop down sun visor
Micometric chin strap. Easy to adjust and easy to operate
Chrome styled seal outer rim
Advanced Polycarbonate shell
Embossed front and back Blackô logo
Individually labelled with unique identification number on the rear of the helmet
Your package will include the following:
Blackô Clash Limited Edition Open Face Motorcycle Helmet
Certificate of authenticity
Pull string helmet bag
Helmet Sizing Guide
Please use the conversion table below to determine the right size for you:
| Size | XXXS | XXS | XS | S | M | L | XL | XXL | XXXL |
| --- | --- | --- | --- | --- | --- | --- | --- | --- | --- |
| Adult | - | - | 53-54cm | 55-56cm | 57-58cm | 59cm | 60cm | 61cm | - |