The Rev It Tornado Motorcycle Jacket & Trousers Silver Kit is part of the latest REV'IT! collection.
The Tornado Kit combines maximum cooling, through air mesh panels, with abrasion-resistant fabric and CE-approved armor, to give you ultimate temperature flexibility in an adventure touring outfit like no other.
Key Features / Points:
CE Approved Armour
Waterproof
Detachable Thermal Liner
Reflective Detailing
Short Connection Zipper
Mesh Ventilation Panels
View all Rev It Motorcycle Kits. View all Motorcycle Kits.
The Rev It Tornado Motorbike Jacket & Trousers Silver Kit is packed with features...
Jacket Specifications Include:
PROTECTION FEATURES
Outer Shell
Polyester Dull 450D
Polyester Rib - Polyester fabric is a mainstay of REV'IT! garments, providing the stylish silhouette that our apparel is known for. This polyester fabric features a specific rib weave, for optimal performance
Monaco Performance Cowhide - This top-grain leather not only has had its surfaces sanded to correct imperfections, it has been reinforced to up its performance factor for riding on the track or street. Long-lasting and extremely protective
PWR|Stretch Mesh - This PWR|stretch mesh is knitted in an open structure, to allow for breathability and flexibility combined with a stretch yarn for extra comfort
PWR|Shell 750D - This new material is REV'IT!'s take on Cordura®. Consisting of 100% high-performance Polyamide yarns, PWR|shell takes the best properties of Cordura® - high melting point, tremendous tear- and abrasion-resistance, and excellent durability - and puts the unique REV'IT! design stamp on it. PWR|shell provides high-performance protection for every rider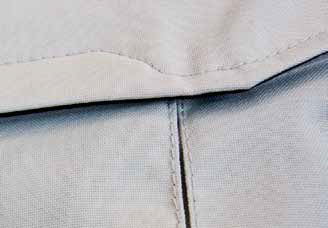 Insulation
Detachable 2-in-1 Thermal Liner & Membrane - In these garments we have added a thermal liner to the detachable Hydratex®|G-liner. This becomes one layer that can be easily removed on warm, dry days, and easily added when you need protection from the rain and cold
Waterproofing
Detachable Hydratex®|G-Liner - Waterproof Hydratex®|G-liner coating is applied to the inside of the garment's inner lining, and the seams are taped to ensure that the garment is waterproof. The REV'IT! Hydratex®|G-liner coating is used in the construction of products that demand a basic level of all-weather protection. For most products, the G-liner can not be removed. But now we made the G-liner detachable, and in some cases we add a mesh lining, to prevent the material from sticking to your skin. This maximizes comfort, while preserving the properties of the G-liner construction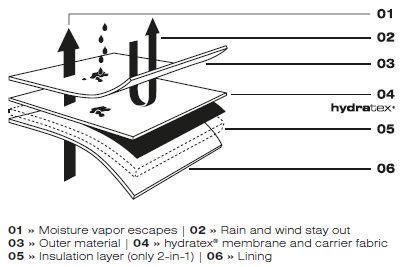 Composition
Outer Shell - 86% polyamide, 14% polyester
Protection
Knox® Flexiform CE Protection - These CE-approved impact protectors are made from lightweight, flexible PU, engineered in a 3-dimensional form, making them very soft and flexible. The finish is smooth and the edges are thin, making Knox® Flexiform CE protectors an excellent choice for leather garment and textile garments. They also give the rider flexibility and total freedom of movement, with 2 hinge points to aid movement and 12 holes for breathability. The inside incorporates air channels to help with heat dispersal, keeping the rider comfortable and cool, while offering excellent protection
Prepared for SEESOFT? CE-Level 2 Back Protector Insert - Type KN - The back protector pocket in this REV'IT! garment is tailor-made to accommodate the SEESOFT? CE-level 2 back protector insert Type KN - an easy upgrade to maximize safety
Visibility
Laminated Reflection - Reflection panels ensure excellent visibility at all angles, allowing the wearer to be seen from all directions. To offer a more sophisticated look, the reflection panels are welded to the fabric. This welding process also eliminates stitching seams, making the garments safer
ERGONOMIC FEATURES
Fit
Adjustability
Adjustment Straps
Adjustment Tab
Flexisnap - The REV'IT! Flexisnap makes it possible to adjust the collar circumference easily and personalize its fit to each rider. A jacket is often worn in more then one season, and the flexisnap makes it possible to adjust the collar within seconds. During winter a wider collar circumference accommodates combining the jacket with a balaclava or wind collar, while during summer, a wider circumference lets an all-important cooling wind into the collar. The flexisnap is available with 5 or 7 positions (XL)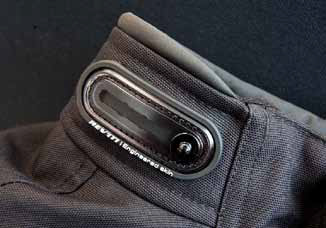 Ventilation
Features
Collar Hook - The collar hook and loop allow you to draw back the front side of the collar, allowing air flow to cool the neck during warmer periods of the year without the annoying flapping of the loose collar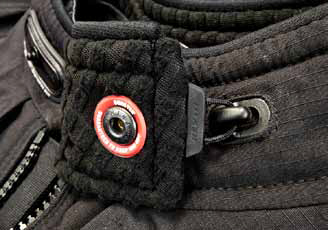 Double Short Connection Zipper
Stretch Lips
Pockets
Inner Pockets
Slit Pockets
Trousers Specifications Include:
PROTECTION FEATURES
Outer Shell
Lorica® - Lorica® is constructed from microfibres that give the material characteristics similar to those of natural leather, including a leather look. This low-maintenance material is not as strong as leather, but softer and lighter, with a consistent thickness that makes it easier to process
Polyester Dull 450D
Polyester Rib - Polyester fabric is a mainstay of REV'IT! garments, providing the stylish silhouette that our apparel is known for. This polyester fabric features a specific rib weave, for optimal performance
PWR|Shell Mesh - This PWR|shell is knitted in an open structure, to allow for breathability and flexibility, which maintains comfort as well as safety
PWR|Shell 750D - This new material is REV'IT!'s take on Cordura®. Consisting of 100% high-performance Polyamide yarns, PWR|shell takes the best properties of Cordura® - high melting point, tremendous tear- and abrasion-resistance, and excellent durability - and puts the unique REV'IT! design stamp on it. PWR|shell provides high-performance protection for every rider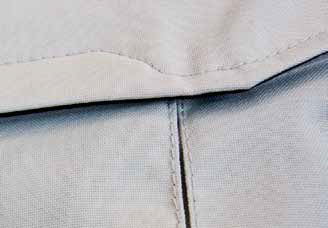 PWR|Shell 500D Stretch - This material is REV'IT!'s take on Cordura®. Consisting of 100 percent high-performance polyamide yarns, PWR|shell takes the best properties of Cordura® - a high melting point, tremendous tear- and abrasion-resistance, excellent durability - and puts the unique REV'IT! design stamp on it. This PWR|shell fabric comes in a stretch variant. 500D indicates the density of the fabric. The higher the number the better the abrasion- and tear resistance properties are
Insulation
Detachable 2-in-1 Thermal Liner & Membrane - In these garments we have added a thermal liner to the detachable Hydratex®|G-liner. This becomes one layer that can be easily removed on warm, dry days, and easily added when you need protection from the rain and cold
Waterproofing and Breathability
Detachable Hydratex®|G-liner (5000mm H2O) - Waterproof Hydratex®|G-liner coating is applied to the inside of the garment's inner lining, and the seams are taped to ensure that the garment is waterproof. The REV'IT! Hydratex®|G-liner coating is used in the construction of products that demand a basic level of all-weather protection. For most products, the G-liner can not be removed. But REV'IT! have made the G-liner detachable, and in some cases we add a mesh lining, to prevent the material from sticking to your skin. This maximizes comfort, while preserving the properties of the G-liner construction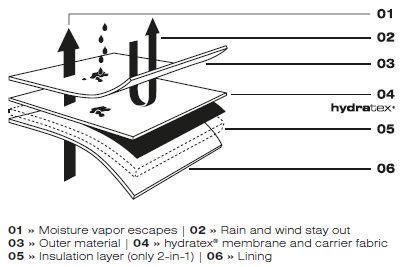 Composition
Outer Shell - 14% polyester, 86% polyamide
Lining - 100% polyester
Membrane - 100% polyamide (100% polyurethane coating, insulation 100% polyester
Protection
Knox® Lite CE Protection at Knees - These CE-approved impact protectors are smaller, lighter, and thinner. Made from lightweight, flexible PU, the Knox® Lite CE protectors are engineered in a 3-dimensional form and are very soft and flexible. The smooth finish over these thin and lightweight protectors makes them an excellent choice for garments where protectors should be barely visible or noticed by the wearer. The Knox® Lite gives the rider flexibility and total freedom of movement, with 2 hinge points to aid movement and 12 holes for breathability. The inside is soft and smooth for additional comfort, while offering excellent protection
Prepared for TRYONIC Seesoft CE-Level 1 Type B Hip Protector Insert - Version RV01 - The hip protector pockets in this REV'IT! garment are tailormade to accommodate the TRYONIC Seesoft CE-level 1type B hip protectors version RV01. An easy upgrade to maximize safety
Visibility
Laminated Reflection at Upper Legs and Calves
ERGONOMIC FEATURES
Fit
Adjustability
Adjustment Straps at Waist
Adjustment Tabs at Ankles
Ventilation
Ventilation Panels at Legs
Features
Adjustable Protector Pockets - Within this type of protection pocket, the protector can be adjusted to several positions, in order to customize the shape for each rider. This results in the best personal fit and riding comfort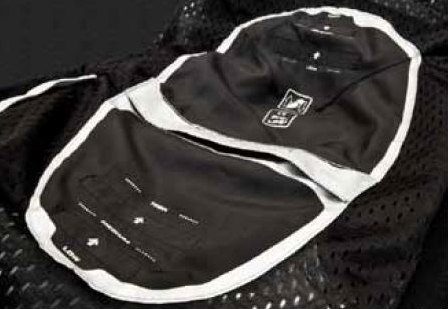 Easy Entrance Zipper at Calf - The zipper can be opened at the calf allowing you to entrance the trousers easily
Elastic at Waistband
Short Connection Zipper
Pockets
Your package will include the following
Rev It Tornado Motorcycle Silver Black Jacket
Rev It Tornado Motorcycle Silver Trousers
Standard Jacket Sizing Guide
Please use the conversion table below to determine the right size for you:
UK Size
XXS
XS
S
M
L
XL
XXL
XXXL
XXXXL
5XL
UK / US Chest
34"
(86cm)
36"
(91cm)
38"
(97cm)
40"
(102cm)
42"
(107cm)
44"
(112cm)
46"
(117cm)
48"
(122cm)
50"
(127cm)
52"
(132cm)
EU Size
44
46
48
50
52
54
56
58
60
62