The TCX Comp EVO Michelin Motocross Boots are part of the latest TCX collection.
High performance MX racing is what the TCX Comp EVO Michelin boots have been designed for. They are substantially armoured and come loaded with highly technical features such as the Michelin MX Hybrid sole. CE certified for your peace of mind.
Key Features / Points:
High Wear-Resistant Upper
Independent Ankle Frame
Reinforcements Throughout
Michelin Hybrid Sole
CE Certified
View all TCX Motocross Boots. View all Motocross Boots.
The TCX Comp EVO Michelin Off Road Boots are packed with features...
Specifications Include:
UPPER
High Wear-Resistant Micro Fibre and PU Frame
Boot Leg Structure - The bootleg features an external plyurethane exterior and a soft internal upper designed to envelop the leg completely and offer excellent comfort levels. The PU boot leg is attached to the Double Flex Control system ankle

Soft micro fibre upper allows a superior calf wrapping
Double Velcro closure
Ellastic collar to avoid gravel, dust and mud entry
LINING
Breathable Fabric with Double Compound PU Soft Padding Around the Ankle Area
REINFORSMENTS
Adjustable PU Shin Plate
Polyurethane Toe Guard
Steel Toe Cap
Rear PU Heel Reinforcement
Ankle and Malleolus Reinforcements
Rubber Heat Guard - The PU boot leg is equipped with a glued rubber heat guard that offers a superior grip on the bike frame
COMFORT
D.F.C. (Double Flex Control System) - The new system features an independent PU ankle frame studied to improve front and rear flexibility of the leg and offer freedom of movement while riding. It is attached to the boot with two lateral joints (replaceable hidden screws). The rear flexibility is controlled through two lugs that slide inside dedicated pockets. This special construction allows a front flex up to 18 degrees and a rear flex up to 15 degrees thus avoiding back overextension of the ankle joint and protecting the riders' foot from injuries
Calf Adjustment System - The shin plate is made of polyurethane and presents an adjustable system to fit different calf dimensions perfectly and to accomodate knee guards/braces. The shin plate adjustment is based on screws that shift inside a hidden holes, each offering two different positions to choose from according to the range of movement you wish to achieve
Slim Toe Design to Allow Fast Shifting
Double Velcro Closure
Elastic Collar to Avoid Gravel and Mud Entry
FASTENING
4 Quick Release/Locking Aluminium Buckles - Buckles featuring an ergonomic design for easier opening, even with gloves on; special structure that allows micro adjustment and optimum aligning of each individual buckle, totally interchargeable
Fastening Band - The Double Flex Control structure integrates a fastening band that works in synergy with the system, following the mechanical flex of the ankle joints and allowing a precise ankle hold with consequent increase on riding performance levels
SOLE
High Wear-Resistant Michelin MX Hybrid Sole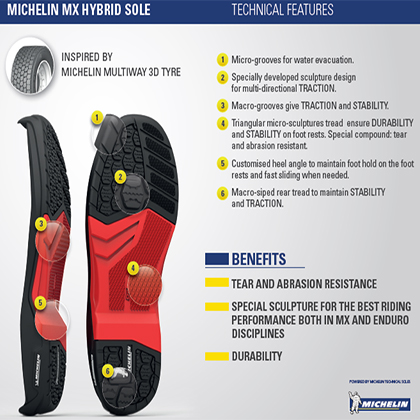 "Moulded" Construction Technique (Michelin Sole) - This particular construction technique entails fitting the boot onto a polyurethane footbed, built with variable differentiated density and thickness and marked by the presence of a steel insert in the heel area to ensure maximum protection in the case of impact. The footbed is sewn directly onto the boot and, using a high tenacity bonding process, the rubber Micheline sole is subsequently applied and is therefore easily replaced when worn
HOMOLOGATION
CE Certifiation - EN 13634:2010
Your package will include the following:
TCX Comp EVO Michelin Motocross Boots
Boot Sizing Guide
Please use the conversion table below to determine the right size for you:
| EU Size | 35 | 36 | 37 | 38 | 39 | 40 | 41 | 42 | 43 | 44 | 45 | 46 | 47 | 48 | 49 |
| --- | --- | --- | --- | --- | --- | --- | --- | --- | --- | --- | --- | --- | --- | --- | --- |
| UK Size | 3 | 3.5 | 4 | 5 | 6 | 7 | 7.5 | 8 | 9 | 9.5 | 10 | 11 | 12 | 13 | 14 |
| US Size | 3 | 3.5 | 4.5 | 5 | 6 | 7 | 8 | 8.5 | 9 | 10 | 11 | 12 | 12.5 | 13 | 14 |