The LS2 FF320.24 Stream Wind Motorcycle Helmet & Visor are part of the latest LS2 collection.
SPECIAL OFFER: The optional additional visor now comes for free!!
It's all about the features. A great value full-face motorbike helmet, the LS2 Stream boasts more features than many high-end helmets on the market, whilst its performance is not lacking either. At this price point the Stream simply can't be beaten.
Key Features / Points:
Kinetic Polymer Alloy Shell
Scratch Resistant Visor with Fog Fighter System
Integrated Drop-Down Sun Visor
Multi-Density EPS Liner
Dynamic Flow-Through Ventilation
View all LS2 Motorcycle Helmets. View all Full Face Motorcycle Helmets.
PLEASE NOTE:
This helmet comes with a clear visor fitted as standard
Tinted visors are NOT suitable for public road use, they are designed for track use only
All visors come with a 1 year warranty
The LS2 FF320.24 Stream Wind Integral Motorcycle Lid and Visor are packed with features...
Helmet Specifications Include:
Shell Construction and Fit
KPA Shell Construction - A proprietary blend of polycarbonate, space age thermoplastics and additional materials specifically formulated by LS2, KPA (Kinetic Polymer Alloy) offers ultra-light weight and high penetration resistance, but with some flexibility for the ultimate in energy dispersion. This special formula meets both ECE 22.05 and DOT requirements
Fit - Long oval head shape
Visor Features
3D Optically Correct "A Class" Polycarbonate - A space-age polymer with high resistance to impact, that avoids distortion and offers maximum clarity
Fog Fighter System - An innovative inner lens attaches to the optically correct shields, making what is essentially a dual-pane system
Quick Release System - This (patent pending) system makes it simple to change your visor using no tools other than your hands. Built-in spring retention ensures a snug fit with no air gaps when the visor is closed
Anti-UV - Treatment of the visor with UV-free clear coating
Scratch Resistant - Surface treatment of the visor against small abrasive impact
Twin Shield System - LS2's drop-down sun shield helps protect the rider's eyes from bright sun, and moves up and out of the way quickly and easily when entering dark tunnels, offering a more comfortable riding experience
Comfort
Removable and Washable Comfort Liner - All LS2 helmets feature a fully removable and washable comfort liner so you can keep it as fresh as new
Hypoallergenic Interior - Technical fabrics that wick moisture keep you cool while you ride
Laser-Cut Foam - Multi-density foam is cut using LS2's 3D Laser Technology and formed to fit the curves of the rider's face for a perfect fit with no hot spots
Magna-Tech Liner - A small magnet holds the neck roll securely in place while riding
Breathable Interior
Removable Chin Curtain - A high-quality fabric insert at the front of the chin bar helps minimize the flow of wind reaching the rider's face for a more comfortable ride
Breath Deflector - Helps to minimize fogging when the visor is closed and allows the rider to breathe more comfortably when the visor is open
Safety
Quick Release Fastening - The metal buckle attaches to a high quality safety strap. On the other strap is a ribbed plastic tab. Insert the ribbed plastic tab into the metal buckle. You'll hear a light clicking sound. Continue to slide it until you get a comfortable, snug fit. Pull the ribbon on lever release. For additional initial adjustment, use the metal slider buckle strap with ribbed plastic tab to take up excess strap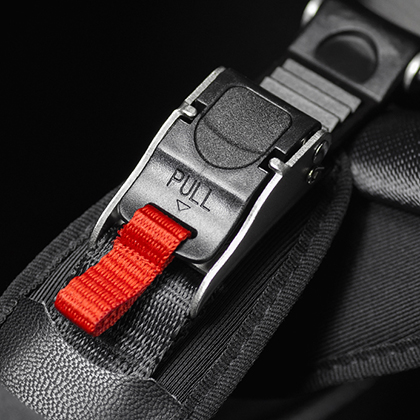 Reinforced Chin Strap
Multi-Density EPS Liner
Neck Roll
Reflective Safety Patch - To increase rider safety at night or in low visibility conditions, the neck roll has a reflective safety patch that glows in the light of other vehicle's headlights
Ventilation
Dynamic Flow-Through Ventilation System - Fully adjustable intake ports and vented EPS work with the rear spoiler and exhaust ports to create a constant, light flow of air helping to keep the rider cool and comfortable
Homologation
ECE 22.05 Certified - Making it road legal within Europe
Weight
Warranty
Visor Specifications Include:
Fits the LS2 FF320 Helmet
3D Optically Correct Polycarbonate - A space-age polymer with high resistance to impact that avoids distortion and offers maximum clarity
Scratch Resistant Treatment - Surface treatment of the visor against small abrasive impact
UV-Free Clear Coating - Treatment of the visor with UV-free clear coating
Genuine LS2 Replacement Part - Buy with confidence
Various Colours Available - Choose the style that suits you
Easy to Fit or Replace - Patent-pending Quick Release System
PLEASE NOTE:
This helmet comes with a clear visor fitted as standard
Tinted visors are NOT suitable for public road use, they are designed for track use only
All visors come with a 1 year warranty
Your package will include the following:
LS2 FF320.24 Stream Wind Motorcycle Helmet (Supplied with a Clear Visor)
Choice of Additional Visor
Free Dust Bag
Standard Helmet Sizing Guide
Please use the conversion table below to determine the right size for you:
| Size | XXXS | XXS | XS | S | M | L | XL | XXL | XXXL |
| --- | --- | --- | --- | --- | --- | --- | --- | --- | --- |
| Adult | 49-50cm | 51-52cm | 53-54cm | 55-56cm | 57-58cm | 59-60cm | 61-62cm | 63-64cm | 65-66cm |