Abus Sportscam Full HD Action Camera
Abus...
ABUS branded products enjoy a high reputation across the world that few other security suppliers can match. Recent studies of leading market research institutes show ABUS has high brand awareness in home and mobile security sectors with the number 1 position in many European markets.
New in to Ghostbikes, the Abus Sportscam Full HD. The camera which can do everything! Regardless of whether it is indoors or outdoors, underwater, ascending a mountain or airborne, the Sportscam Full HD is at home anywhere. This 'all-in-one' camera allows you to experience everything in perfect HD quality, recording in 1080p full HD with 30fps and 720p HD with 60fps. Featuring an integrated 1.5" monitor means that you can have direct control and instant replay of your high quality videos without having to go home and upload them to your computer. Abus' Sportscam comes with a range of mounts so you can attach it to your bike, helmet, windscreen or board easily and without fuss. Don't miss out on this amazingly versatile bit of kit, get yours from Ghostbikes today!!!
Ghost Bikes now stock a range of Action Cameras and Accessories. Please click here to see what's currently available.
The Abus Sportscam Full HD Helmet Cam is packed with features...
Waterproof Housing
For recording under water - down to a depth of 20 metres - and to provide protection in extreme conditions. Thanks to its removable hand strap, the camera remains securely attached and close to events.
Remote Control with clip
With a wireless range of up to 15 meters - for videos and photos - this saves you reaching for the camera. This leaves your hands unencumbered, and the tiresome removal of gloves in winter is now a thing of the past.
Suction Pad
For attaching the camera to glass and other smooth surfaces.
Belt for Helmet Attachment
For attaching the camera to the bike helmets. The belt is threaded through the ventilation slots.
Tube and Handlebar Bracket
Affixes the camera to the handlebar or frame of your bike. Also ideal for attachment to kite bars, booms or rails.
Slides with Screw Threads
Fits on all adhesive plates and affixes the camera with or without the housing.
Curved 3M Adhesive Plate
Provides a firm grip on straight surfaces such as snowboards.
Key Specifications
1080p Full HD with 30 frames per second and 720p HD with 60 frames per second
Waterproof housing allows underwater use to a depth of up to 20 metres
Direct control and replay on the integrated 1.5" monitor
Real-time recording in full HD, slow motion (60fps) in HD
Photo function - 8 megapixel resolution
170° wide-angle lens
Set includes waterproof housing, remote control and a variety of mounts
Approx 80g weight including batteries
Recording time duration of approx 3 hours
Simple playback on PC
Carry strap included
USB cable included
Micro SD card slot supporting cards upto 32GB (card not supplied)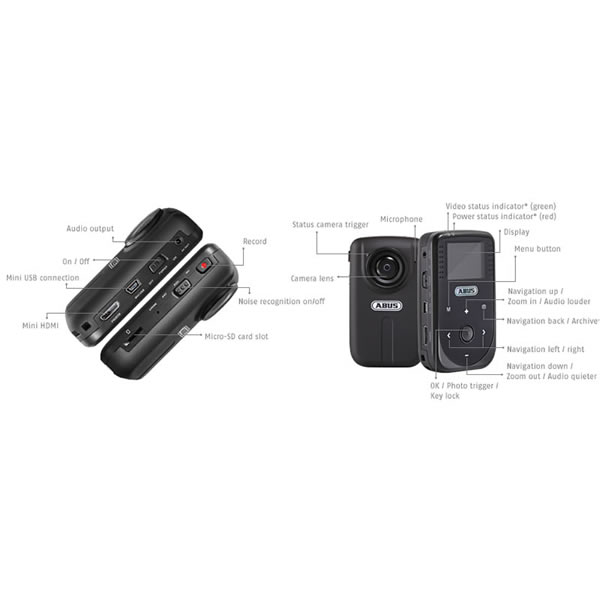 The Abus Sportscam HD Camera is currently available in the colours shown in the product variation above, if there is no variation option, it will be available in the colours as shown in the pictures above.
Your package will include the following
Brand new,well packaged item
Abus Action Full HD Sportscam Set
Complete Waterproof Housing
Remote Control
Suction Mount
Bike Helmet Strap
Steering Wheel Mount
Clip for Waterproof Housing
Clip for Remote Control
Flat Adhesive Plate
Slide Carriage with Rotating Thread
Carry Strap
USB Cable
User Manual Disc