Sidi Vertigo Lei Ladies Motorcycle Boots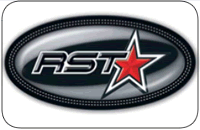 RST Products...
Taking valuable feedback from their Super sport championship sponsored riders, every year RST invests many thousands of man hours on designing, crafting and testing the RST suits, textiles, gloves and boots to ensure unbeatable protection, value, comfort and affordability. Every RST item that is carefully produced today is packed with the latest materials and manufactured to the highest specification and tolerances that are currently available to ensure your ultimate protection.
For over forty years Sidi Sport has been inventing, designing and manufacturing the sports footwear of the future. The new Sidi Vertigo Lei Ladies Motorcycle Racing Boot, developed by Sidi is a perfect blend of comfort and high performance for champions and for all motor bike fans. Sidi Vertigo has a range of innovative features making it a unique boot; the rear part can be adjusted to fit perfectly to the calf.
The leg portion - in polyurethane - is fitted with the Sidi TECNO VR closing system patented by Sidi, to provide adjustments via a nylon thread passing through two lateral holes. Twist the Sidi TECNO VR adjuster to wrap the boot symmetrically around the calf.
The lower outer beam of the Sidi Vertigo is fitted with an air intake which can be opened or closed according to needs, by a simple sliding vent.
For greater foot safety, the heel of the Sidi Vertigo model is fitted with a transparent shell in TPU with two anti-impact shock absorbers. The shell has 3 mm of impact movement.
On the outside, the Sidi Vertigo model is complete with an interchangeable nylon shin plate to protect the shin and with nylon toe slider, to prevent wear and tear.
The new rubber sole was created with a slip-proof design.
Inside, the Sidi Vertigo provides maximum comfort: the breathable lining is treated with Teflon and fitted with air holes. The Fabric protection process prevents water or sweat from being absorbed. The boot dries quickly and does not collect mould.
Ghost Bikes now stock a full range of Sidi Boots Please click here to see what's currently available.
Sidi Vertigo Lei Ladies Motorcycle Boot's are currently available in the colours shown in the product variation above, if there is no variation option, they will be available in the colours as shown in the pictures above.
Your package will include the following
Brand new & well packaged item
Sidi Vertigo Lei Ladies Motorbike boots in your colour & size
These Sidi Vertigo Lei Lady Motorcycle Boots are available in various sizes, please use the guide below to help determine your correct size preference.