Ghost Bikes Quick & Easy to use Pre-Order Form
** No deposit needed **
** No need to leave your card details **
This item is currently out of stock but will be back in stock soon... If you would like to be the first to know when it's back in stock then just fill out the form below & we shall do the rest!
Unlike other companies we will not charge you for any items that are not in stock and this service only exists so we can keep our customers informed when products are back in stock.
Oneal Hardwear 2012 Mixxer Motocross Jersey
Please login to use the pre-order form.
Click Here to login or Register.
Oneal Hardwear 2012 Mixxer Motocross Jersey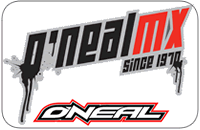 Oneal...
The O'Neal brand was developed by Jim O'Neal, a racing enthusiast who realised there was a need for better parts, accessories, and apparel for Motocross riders. With his huge dedication and input from hundreds of professional riders O'Neal products have developed their brand so that they are now regarded as the best choice for professional Motocross riders.
New for 2012, the O'Neal Hardwear 2012 Mixxer Motocross Jersey. This is where it all comes together. With 40 years of racing technology and development, the Hardwear line encompasses all the benifits and features known to man and then some! The Hardwear line has received critical acclaim from the world's harshest test labs and editorial staff and is proven to be the toughest protective apparel on the planet!
Designed and developed with top pro riders, the Hardwear 2012 line is better than ever! Once you wear this set of gear, you will see that every stitch of the Hardwear line substantiates the name itself!
Built for a beating, the all new 2012 Hardwear line is handcrafted with painstaking detail to bring you the absolute best in protection. Don't take our word for it. The editors at Motocross Action Magazine editors ride, race and test hardwear gear and have said it best.
"We can tell you without hesitation that O'Neal's Hardwear gear wears like iron. It delays the inevitable. In fact, we have one test rider who still insists on wearing his five-year-old O'Neal jersey at every race. And it still looks new!" - Motocross Action Magazine
Ghost Bikes now stock a full range of Oneal Motocross Helmets & Clothing Please click here to see what's currently available.
Please click here to to view matching kit.
The O'Neal 2012 Hardwear Mixxer MX Race Top are currently available in the colours shown in the product variation above, if there is no variation option, they will be available in the colours as shown in the pictures above.

Your package will include the following
Brand new & well packaged item
O'Neal 2012 Hardwear Mixxer MX Jersey in your size & colour
The O'Neal Motocross Jerseys are available in various sizes, please use the guide below to help determine your correct size preference.