Ugly Fish Slim R04282 Slim Sunglasses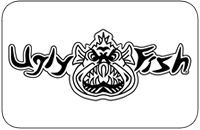 Ugly Fish Eyewear...
Ugly Fish is an Australian sunglass brand proudly supporting all those that want to get out and about. At the same time they want to make sure your vision is crystal clear and your eyes are protected from the sun's glare and harmful UV rays. If it's attitude you're looking for, they have it in bucket loads. So, if you haven't wrapped a pair of ugly Fish sunglasses around your head it's about time you tried 'em, after all...Everyone's Ugly!
New to GhostBikes, the Ugly Fish R04282 Slim Motorcycle Sunglasses. These shades have been designed specifically to suit the needs of Motorbike, MX and ATV riders as well as Cyclists, Skiers and Runners. Complete with comfort fit and anti scratch/fog lenses, these glasses are sure to keep your eyes protected from UV rays and glare whilst remaining comfortable and stylish. Make sure you get these essential piece of eyewear from GhostBikes today!
Ghost Bikes now stock a full range of Ugly Fish Motorcycle Sunglasses Please click here to see what's currently available.
The Ugly Fish R04282 Motorcycle Sunglasses...
BUILT TO RIDE
The TR-90 frame and polycarbonate de-centred safety (PC-DS) lens is the perfect combination in protective eyewear for motorcycle riders. Not only do they look good, they also meet the following European Standards:
Safety Standard I.S. EN 1938-1999 Personal Eye Protection - Goggles For Motorcycle And Moped Users Sunglass
Standard I.S. EN 1836-2005 Personal Eye-equipment - Sunglasses And Sunglare Filters For General Use
TR-90 FRAME
Lightweight and made from highly flexible material, the TR-90 frame is perfectly suited to riding in all climates, hot or cold, and extremely comfortable on that long, all day ride. The TR-90 frame also includes the following features:
Impact resistant and shatterproof
Stress crack resistant
Tough and flexible
High heat tolerance
High resistance to UV damage and chemicals
POLYCARBONATE DE-CENTRED SAFETY (PC-DS) LENS
The polycarbonate (PC) lens is the lightest and most impact resistant of all plastic lenses. The good news is they won't shatter if they come into contact with flying objects at high speed or during a collision or fall. It's also comforting for riders to know they won't shatter into pieces and potentially cause an injury to the eyes or face if they do have a spill. With this peace of mind, there's no need to worry about safety. Ugly Fish PC-DS lenses are also distortion free and provide high optical clarity, keeping vision sharp and clear when it really counts. Advantages of PC-DS Lenses:
Extremely durable & highly scratch resistant
Built-in UV protection
Lighter than glass and other traditional plastic lenses
Shatterproof/Impact Resistant
ANTI-FOG COATING
Anti-fog coating is a standard feature across the entire Ugly Fish Riderz range. The polycarbonate lenses are rinsed through an anti-fog solution, providing added protection from fog on both sides of the lens.

The Ugly Fish R04282 Motorcycle Sunglasses are currently available in the colours shown in the images above

Your package will include the following
Brand new, well packaged item
Ugly Fish Slim R04282 Slim Sunglasses
Free hard carry case
Free soft carry case