Ghost Bikes Quick & Easy to use Pre-Order Form
** No deposit needed **
** No need to leave your card details **
This item is currently out of stock but will be back in stock soon... If you would like to be the first to know when it's back in stock then just fill out the form below & we shall do the rest!
Unlike other companies we will not charge you for any items that are not in stock and this service only exists so we can keep our customers informed when products are back in stock.
Thor Flux S11 Lazer Motocross Gloves
Please login to use the pre-order form.
Click Here to login or Register.
Thor Flux S11 Lazer Motocross Gloves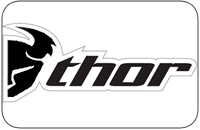 Thor...
Founded by 4 time world 250cc Motocross Champion Torsten Hallman, the Thor range focuses on clothing for Off Road riders. Thor products are RACE PROVEN they use real riders and test all their products on the track & trails, thus ensuring they live upto & exceed expectations. With Thor MX products you CAN expect performance, durability and great value for money.
New to GhostBikes for 2011 the Thor Flux 2011 Lazer Motocross Gloves. Progressing the sport of motocross, the new Flux glove offers premium features and performance based styling. All new and all business, the Flux Glove is the lightest, coolest, and least restrictive glove in our line.Designed for riders that want the minimal amount of restrictions and the maximum amount of interface with the bike
New to the Thor range is the super high end Flux kit, it combines the trickest materials, the best venting, and the lightest weight possible to create the most functional and comfortable kit available
Thor just stepped up the game New for 2011, Thor went straight to their top draw of super secret factory stuff and broke out some skills to bring you the best performing race glove ever
They started off with an airmesh backhand for breathability and comfort, then added 2-way stretch across the knuckles and fingers for improved flexibility Pre-curved it, to match the shape of your hand on the grip, which reduces fatigue and prevents bunching in the palm area
Next, they went through dozens of palm shapes until they found one that wont bunch up
The details are what make the difference in anything high-end, so they sweated even the smallest of details like moving stitch lines around to prevent chaffing and getting just the right stretch pattern to offer consistent feel
Ghost Bikes now stock a full range of Thor MX Motocross Clothing . Please click here to see what's currently available.
The Thor Flux S11 Lazer MotoX Gloves are currently available in the colours shown in the product variation above, if there is no variation option, they will be available in the colours as shown in the pictures above.
Your package will include the following
Brand new & well packaged item
Thor Flux 2011 Lazer Motocross Gloves in your size and colour
These Thor Flux S11 Lazer Motocross Gloves are available in various sizes, some sizes may also be suitable for kids. Please use the guide below to help determine your correct size preference.