The Rev It Marshall WR Leather Motorcycle Shoes are part of the latest REV'IT! collection.
By applying the right waxes to the full grain cowhide these shoes sport a water repellent finish and a unique look. The safety features that have become a signature of REV'IT!'s urban shoe collection are all incorporated in the Rev It Marshall WR Leather Motorcycle Shoes, such as the reinforced heel and toe and the anatomically shaped ankle cup. The style is aimed to complement various looks, whether casual or more polished. The anatomically shaped foot bed ensures comfort while riding and walking, and the gusseted tongue prevents water from entering the front of the shoe. The subtle reflection tab at the back enhances visibility in the dark.
Key Features / Points:
Full Grain Cowhide Leather
Thermoformed Heel Cup & Toecap
Reinforced Heel & Toe
Water Repellent
Gusseted Tongue
View all Rev It Motorcycle Shoes. View all Urban Motorcycle Shoes.
The RevIt Marshall WR Leather Motorbike Shoes are packed with features...
PROTECTION FEATURES
Outer Shell
Waxed Pull Up WP Full Grain Cowhide Leather - This grade of leather is desirable because of its excellent breathability and durability. Pull-up is not a type of leather of its own; it is an effect that leather gains with a specific tanning process. The pull-up effect is visible when the leather is folded or pulled - a new shade of color appears. This unique variety of cowhide has been suffused with wax to add water repellency, easy care and a vintage appearance
Waterproofing & Breathability
Protection
Thermoformed Heel Cup - The heel of the boot is reinforced for added safety. The rider won't notice it while wearing as the hard plastic has been heated to mold it into the perfect shape. The reinforced heel cup also contributes to a better posture of the foot
Thermoformed Toecap - The toe area of the boot has been reinforced with a thermoformed hard plastic toecap. Thermoformed means the plastic has been heated to model the perfect shape. The rider won't feel it this critical feature when wearing the boot, but will benefits from the added safety
Injected Ankle Cup
Visibility
Composition
Uppers - 90% Leather, 10% Polyester
Soles - 100% Rubber
ERGONOMIC FEATURES
Features
Anatomically Shaped Ankle Cup - The ankle area has been padded and reinforced for comfort, and to support proper foot position
Gusseted Tongue - On the inside the tongue has been stitched to the sides to keep out wind, water and dirt
Reinforced Toe - The toe is reinforced for added safety. The strategically positioned parts protect against impact, avoid abrasion and laceration damage while imparting a better foot position. The hard plastic has been heated and moulded into the perfect shape so that it remains undetectable to the rider
Reinforced Heel - The heel is reinforced for added safety. The strategically positioned parts protect against impact, avoid abrasion and laceration damage while imparting a better foot position. The hard plastic has been heated and moulded into the perfect shape so that it remains undetectable to the rider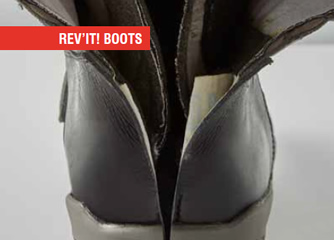 Gear Shift Pad - In order to protect your boot from damage an extra padding has been placed over the foot. When you shift gears your boot won't be damaged
Your package will include the following:
Rev It Marshall WR Leather Motorcycle Shoes
Boot Sizing Guide
Please use the conversion table below to determine the right size for you:
| EU Size | 36 | 37 | 38 | 39 | 40 | 41 | 42 | 43 | 44 | 45 | 46 | 47 | 48 | 49 |
| --- | --- | --- | --- | --- | --- | --- | --- | --- | --- | --- | --- | --- | --- | --- |
| UK Size | 3.5 | 4 | 5 | 6 | 6.5 | 7.5 | 8 | 9 | 9.5 | 10.5 | 11.5 | 12.5 | 13 | 14 |
| US Size | 4.5 | 5 | 6 | 6.5 | 7 | 8 | 9 | 10 | 10.5 | 11 | 12 | 13 | 14 | 15 |