The Givi S150 Universal Nylon Rack is part of the latest GIVI collection.
Building on their specific metallic racks for top boxes, Givi introduce the S150 Universal Nylon Rack. Designed to be used with most Givi boxes and many large top cases made by other brands, the S150 is constructed from strong reinforced nylon and has adjustable feet which can swivel to match the curvature of whichever box it is to be mounted to. The S150 features slots around the frame for use with the Givi S351 Trekker tie-down straps, and notches in the frame for more secure attachment when using cargo nets.
Key Features / Points:
Universal Fit To Suit Most Large Top Boxes
Adaptable Feet Joints
Tie-Down & Cargo Net Attachment Points
Instructions Included
Full Fitting Kit Included
View all Givi Top Case Accessories. View all Motorcycle Luggage.
PLEASE NOTE: The Givi universal rack requires drilling holes in the topcase to fit
The Givi S150 Universal Luggage Rack is packed with features...
Specifications include:
Reinforced Nylon luggage rack attaching to the lid of a wide range of top boxes
Adaptable to fit most Givi top cases and other brands of top box using 4 attachment points of the 8 provided (A+B, A+C or A+D)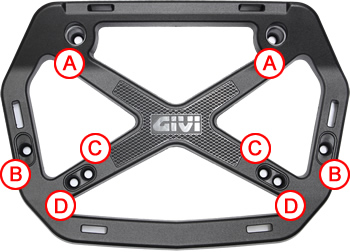 Distances between mounting holes: A-A 240mm; B-B 365mm; C-C 215mm; D-D 250mm approx.
Adjustable joints change the angle of the feet, adapting to various curvatures of top box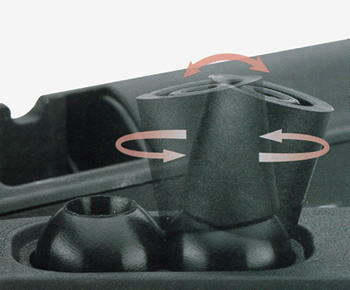 Additional eyelets for tie-down straps and notches for cargo nets are spread around the frame of the S150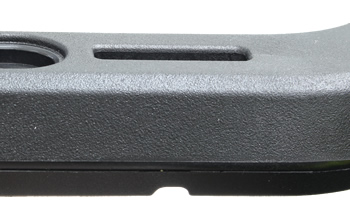 Maximum Load: 3kg
Includes drilling templates for the Givi E55, V46, V47 & V56 Maxia 4 top cases
Includes a variety of example fitting scenarios, including fitting instructions for Givi TREKKER 52L / 46L / 33L, V46, V47 & V56 Maxia 4
Fitting bolts, joints, spacers, washers and blanking plates included
Dimensions: 430 x 300 x 74mm approx.
PLEASE NOTE: The Givi universal rack requires drilling holes in the topcase to fit
Your package will include the following:
Givi Universal Nylon Rack (S150)
Full Fitting Instructions & Drilling Templates
Bolts & Washers for Fitting