The TCX Comp Evo Michelin Motocross Boots are part of the latest TCX collection.
High performance Motocross racing is what the TCX Comp Evo Michelin boots have been designed for. They are substantially armoured and come loaded with highly technical features such as the Michelin MX Hybrid sole. CE certified for your peace of mind.
Key Features / Points:
Lightweight Microfibre
Breathable Lining
Double Flex Control System
Michelin MX Hybrid Sole
CE Certified
View all TCX Motocross Boots. View all Motocross Boots.
The TCX Comp Evo Michelin MX Boots are packed with features...
Specifications Include:
Upper:
High wear-resistant microfibre
PU frame
Lining:
Breathable fabric with double density foam around the ankle area
Reinforcements:
D.F.C. (Double Flex Control System) - D.F.C. is the ultimate innovation developed in the TCX Research and Development Department to offer an excellent balance between flexibility and protection. The structure, made of a special polyurethane compound, offers the foot and leg to naturally flex forwards and backwards, which preventing from ankle joint twisting. The system features a PU frame attached to the boot with two lateral hidden screws positioned on the heel counter, at malleolus level. At the back of the boot, the system is equipped with two lugs that slide inside dedicated "safety lock" pockets which allow a back flexibility up to 13 degrees, avoiding the overextension of the ankle joint to limit the risk of injury. The PU frame of the system is thin and shaped around the boot to offer a flat internal surface, which allows a good grip on the bike, and prevent from becoming caught on the bike while riding. D.F.C. System is engineered to also offer a superior level of protection in case of impact; the heel counter is designed to absorb impact energy and compression and it is equipped with rear and lateral slider to facilitate the natural sliding in case of a fall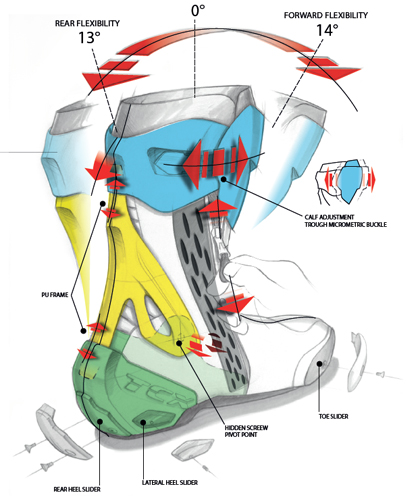 PU adjustable shin plate
Polyurethane toe guard
Internal high grip zone heat guard
Rear polyurethane heel reinforcement
Buckles:
4 aluminium adjustable buckles with ergonomic design
Sole:
Your package will include the following:
TCX Comp Evo Michelin Motocross Boots
Boot Sizing Guide
Please use the conversion table below to determine the right size for you:
| EU Size | 35 | 36 | 37 | 38 | 39 | 40 | 41 | 42 | 43 | 44 | 45 | 46 | 47 | 48 | 49 |
| --- | --- | --- | --- | --- | --- | --- | --- | --- | --- | --- | --- | --- | --- | --- | --- |
| UK Size | 3 | 3.5 | 4 | 5 | 6 | 7 | 7.5 | 8 | 9 | 9.5 | 10 | 11 | 12 | 13 | 14 |
| US Size | 3 | 3.5 | 4.5 | 5 | 6 | 7 | 8 | 8.5 | 9 | 10 | 11 | 12 | 12.5 | 13 | 14 |