The Rev It Gravel OutDry Motorcycle Boots are part of the latest REV'IT! collection.
The introduction of the Gravel OutDry boot marks the launch of entirely new quality standard for REV'IT! boots. The Gravel OutDry are built with rugged materials and quality components that last. The REV'IT! by Vibram sole takes care of safety, control and comfort. A breathable OutDry waterproof barrier is laminated to the outer shell, keeping water out and avoiding water pickup. Smart solutions such as the gusseted zipper with protection edge, grip & control panel, and rubber abrasion edge reveal the attention to detail put into these adventure style boots.
Key Features / Points:
Full Grain Cowhide & Suede Leather Upper
Waterproof & Breathable OutDry Membrane
Thermoformed Toecap, Heel Cup & Shin Guard
Injected Ankle Cup
Vibram Four Layer Sole Construction
View all Rev It Motorcycle Boots. View all Touring Motorcycle Boots.
The Rev It Gravel OutDry Touring Motorbike Boots are packed with features...
PROTECTION FEATURES
Outer Shell
Omega Leather - This high-quality, full grain cowhide is extremely durable and breathable, providing a combination of comfort and protection on any length ride. Full grain leather is noted for its excellent breathability and durability
Suede Leather - Suede is a type of leather with a napped finish. Due to its texture and open pores, suede can absorb liquids quickly. We use suede as a visor wiper on our gloves, putting its absorbency to good use for keeping your field of vision clear
Waterproofing and Breathability
OutDry Membrane - OutDry uses a one-piece patented construction that creates a waterproof and surprisingly breathable barrier. This impenetrable layer is heat-bonded directly to the outer fabric, leaving no seams or gaps, and no way for water to get in. OutDry technology ensures the outer fabric won?t pick up water while improving fit and dexterity, resulting in a lighter, more comfortable boot - and a drier foot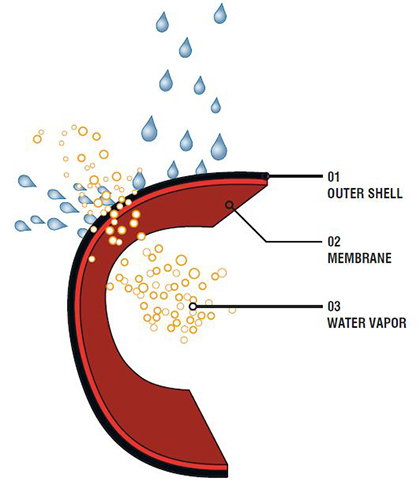 Protection
Thermoformed Toe Cap - The toe area of the boot has been reinforced with a thermoformed hard plastic toe cap. Thermoformed means the plastic has been heated to model the perfect shape. The rider won't feel this critical feature when wearing the boot, but will benefits from the added safety
Thermoformed Heel Cup - The heel of the boot is reinforced for safety. The rider won't notice it while wearing as the hard plastic has been heated to mold it into the perfect shape. The reinforced heel cup also contributes to a better posture of the foot
Injected Ankle Cup
Thermoformed Shin Guard - The shin guard of the boot is reinforced for added safety. The hard plastic has been heated and moulded into the perfect shape so that it remains undetectable to the rider
Visibility
Reflection at Heel - Better passive protection through improved visibility
Composition
Outer Shell - 90% leather, 10% polyester
Outsole - 100% synthetic rubber
Midsole - 100% EVA foam
Lining - 100% polyester mesh
Membrane - 100% polyurethane (tricot 100% polyamide)
ERGONOMIC FEATURES
Features
Vibram Elevation Sole - REV'IT!'s in-house developed Vibram Elevation sole features a fully-rubber construction. The Vibram Mont compound of the sole is specifically chosen for durability, strength, protection and for its continuous performance in both hot and cold temperatures. The large contact patches found at the heel and toe enhance grip and stability, while the open-lug, asymmetrical pattern helps with balance on the bike yet follows the natural flow of your step for maximum comfort off the bike. The Vibram Elevation sole is created for the touring rider that might also find themselves in a light off-road situation and is compliant with CE (EN13634) testing standards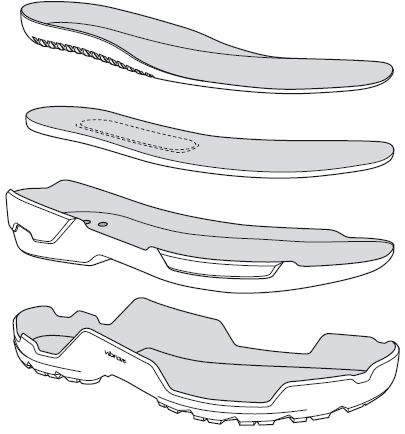 Rubber Abrasion Edge - The rubber abrasion edge minimizes damage from everyday use. Be it flying stones and dirt while riding or repeated wear from foot flexion - while crouching next to bike to check the oil, for example - the rubber edge safeguards the boot from damage
Reinforced Heel
Reinforced Toe
TPU Gear Shift Pad - An additional panel has been placed on the foot top to protect the boot from the gear shifter. This extra layer has a rippled texture for a sure grip while shifting
Anatomically Shaped Foot Bed - The anatomically shaped foot bed has been incorporated to support the foot for both comfort and safety
PP Insole with Integrated Shank - To avoid torsion, the sole features a layer of polypropylene, while a reinforced polypropylene rib from the heel to the shank adds extra support for standing on the foot pegs. To ensure walking remains comfortable, the front end of the sole is equipped with grooves for flexibility
Anatomically Shaped Ankle Cup - The ankle area has been padded and reinforced for comfort, and to support proper foot position
ECLAIR PRYM Reinforced Zipper - The heavy duty zipper's extraordinary pulling strength can withstand repeated abuse. The teeth of this zipper are twice as large and twice as strong as a regular zipper's teeth. Additional webbing and yarn make this zipper extra durable
Gusseted Zipper with Protection Edge - A leather gusset behind the zipper has been installed for rain, wind and dirt proofing. A protective edge is stitched right behind the zipper to avoid the zipper from grabbing the gusset
Grip and Control Panel - The suede inside calf cover serves to protect both the zipper and the bike from damage. 3D grooves in the suede improve leg grip
3D Mesh Lining - This open-loft three-dimensional mesh enhances the breathability of the boot
Easy Entrance Pull Strap - A heavy-duty pull strap at the calf for ease of entry is made of a webbing that can handle the strongest of tugs
Elastic Insert at Calf - An elastic insert at the calf will stretch as needed and gives you the option to wear your trousers inside or over these boots
Elastic Insert at Ankle - A cleverly positioned stretch panel allows for natural movement for the ankle
Adjustability
Adjustable Hook and Loop Closure - The stretch panel at the calf is covered with a hook and loop pile fastener for an adjustable fit
Hook and Loop Adjustment Tab - A hook and loop pile tab can be adjusted to your ideal fit
CERTIFICATION
Standard - EN 13634:2010 or newest update
Your package will include the following:
Rev It Gravel OutDry Motorcycle Boots
Boot Sizing Guide
Please use the conversion table below to determine the right size for you:
| EU Size | 36 | 37 | 38 | 39 | 40 | 41 | 42 | 43 | 44 | 45 | 46 | 47 | 48 | 49 |
| --- | --- | --- | --- | --- | --- | --- | --- | --- | --- | --- | --- | --- | --- | --- |
| UK Size | 3.5 | 4 | 5 | 6 | 6.5 | 7.5 | 8 | 9 | 9.5 | 10.5 | 11.5 | 12.5 | 13 | 14 |
| US Size | 4.5 | 5 | 6 | 6.5 | 7 | 8 | 9 | 10 | 10.5 | 11 | 12 | 13 | 14 | 15 |