The Rev It Pioneer OutDry Leather Motorcycle Boots are part of the latest REV'IT! collection.
For overlanding you need boots that serve multiple purposes - they need to be safe and durable for riding on the road, they need to provide stability, grip and protection for off road riding and they need to be comfortable for walking. Above all they should manage all this in every condition and climate. With the Rev It Pioneer OutDry Leather Motorcycle Boots you get it all. The Vibram Apex sole is designed for riding, standing and walking in comfort. The OutDry membrane is laminated to the abrasion resistant outer shell to keep all water out. And the unique Boa closure system makes for a perfect fit with a quick closure on a very light weight shoe.
Key Features / Points:
Suede & Full Grain Cowhide Leather
OutDry Waterproof Membrane
Boa Closure System
Vibram Apex Sole
SEESOFT Protection at Tongue
View all Rev It Motorcycle Boots. View all Touring Motorcycle Boots.
The RevIt Pioneer OutDry Leather Motorbike Boots are packed with features...
PROTECTION FEATURES
Outer Shell
Suede Leather - Suede is a type of leather with a napped finish. Due to its texture and open pores, suede can absorb liquids quickly
Rubber
Full Grain Cowhide Leather - Full grain leather is among the best quality leather you can buy. It can be made from a variety of different animal hides, but most usually is cowhide. Full grain leather is desirable because of its excellent breathability and durability. Additionally, with full grain leather, the hides of the animal need not be treated significantly. Like a pair of jeans, full grain leather clothing actually gets more comfortable the more you wear it, becoming softer and, some say, even more attractive as it ages
Cordura 500D
Waterproofing & Breathability
OutDry - OutDry uses a one-piece patented construction that creates a waterproof and surprisingly breathable barrier. This impenetrable layer is heat-bonded directly to the outer fabric, leaving no seams or gaps, and no way for water to get in. OutDry technology ensures the outer fabric won't pick up water while improving fit and dexterity, resulting in a lighter, more comfortable boot - and a drier foot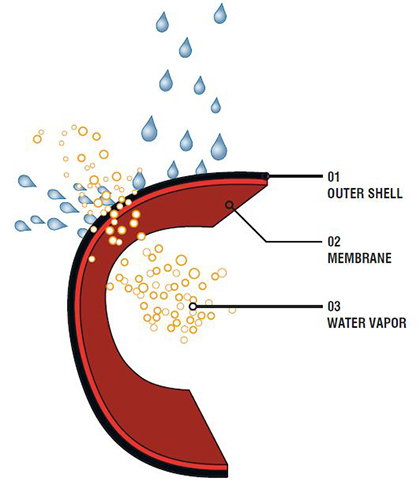 Protection
Thermoformed Heel Cup - The heel of the boot is reinforced for added safety. The rider won't notice it while wearing as the hard plastic has been heated to mold it into the perfect shape. The reinforced heel cup also contributes to a better posture of the foot
Thermoformed Toecap - The toe area of the boot has been reinforced with a thermoformed hard plastic toecap. Thermoformed means the plastic has been heated to model the perfect shape. The rider won't feel it this critical feature when wearing the boot, but will benefits from the added safety
Injected Ankle Cup
SEESOFT Protection at Tongue - The SEESOFT protectors reduces the energy transmitted to your leg by the impact of rocks and other road debris that may strike you while riding
Visibility
Composition
Uppers - 80% Leather, 10% Polyamide, 10% Rubber
Soles - 100% Rubber, 30% Polyamide
ERGONOMIC FEATURES
Adjustability
Boa Closure System - The unique Boa closure system makes for a perfect fit, an extremely fast closure and a very light weight boot. Enter the shoe, push the knob to engage, turn it for the perfect fit, and pull up on the knob for a quick release. Once locked in place the Boa reels and laces stay that way. Made from aircraft-grade stainless steel, Boa laces are stronger per gram than tank armor
Features
Vibram Apex Sole - The combined expertise of the Italian company Vibram and REV'IT!'s in-house developers led to the birth of the revolutionary Vibram Apex sole. This sole has been specifically developed for adventure motorcycling but offers the comfort of a trekking boot. Its profile features one distinct area for traction, one for braking and one for stability. The surface of the sole is a bit larger providing more comfort while walking. The durable material and construction ensure this sole will last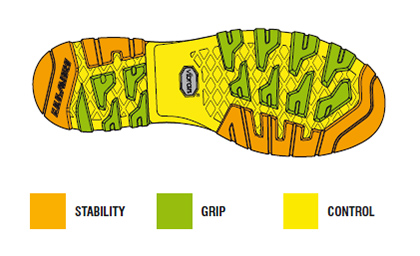 Multi-Density EVA Shock Absorbing Midsole - Part of the Vibram Apex sole is the Multi-density EVA shock absorbing midsole. As the name indicates, this layer is added to reduce all energy caused by the impact of walking or riding transmitted to the foot and leg and is a great contributor to the comfort of the boots
TPU Heel Stabilizer - The TPU heel stabilizer allows for a construction where the entire sole can be extended in length and width offering more stability and resulting in a more comfortable boot for walking
Rubber Gear Shift Pad
Anatomically Shaped Foot Bed - The anatomically shaped foot bed has been incorporated to support the foot for both comfort and safety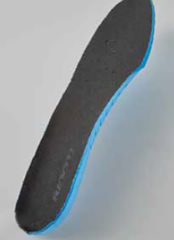 PP Insole with Integrated Shank - To avoid torsion, the sole features a layer of polypropylene, while a reinforced polypropylene rib from the heel to the shank adds extra support for standing on the foot pegs. To ensure walking remains comfortable, the front end of the sole is equipped with grooves for flexibility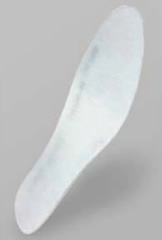 Anatomically Shaped Ankle Cup - The ankle area has been padded and reinforced for comfort, and to support proper foot position
Gusseted Tongue - On the inside the tongue has been stitched to the sides to keep out wind, water and dirt
Reinforced Toe - The toe is reinforced for added safety. The strategically positioned parts protect against impact, avoid abrasion and laceration damage while imparting a better foot position. The hard plastic has been heated and moulded into the perfect shape so that it remains undetectable to the rider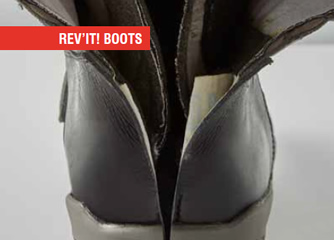 Comfort Collar - The comfort collar is added to products to offer more comfort in crucial places. An extra soft fabric is used for a cozy finish
Silver-Ion Antibacterial 3D Mesh Lining - This open-loft three-dimensional mesh enhances the breathability of the boot. An addition layer of silver is added to kill bacteria when it oxidizes, keeping your boots smell free
Easy Entrance Pull Strap - A heavy-duty pull strap at the calf for ease of entry is made of a webbing that can handle the strongest of tugs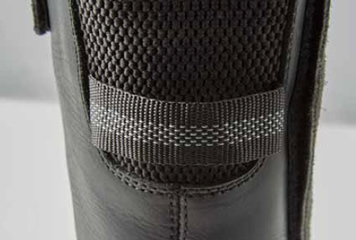 Replaceable Vibram Apex Sole - If wanted, the Vibram Apex Sole can be replaced
Your package will include the following:
Rev It Pioneer OutDry Leather Motorcycle Boots
Boot Sizing Guide
Please use the conversion table below to determine the right size for you:
| EU Size | 36 | 37 | 38 | 39 | 40 | 41 | 42 | 43 | 44 | 45 | 46 | 47 | 48 | 49 |
| --- | --- | --- | --- | --- | --- | --- | --- | --- | --- | --- | --- | --- | --- | --- |
| UK Size | 3.5 | 4 | 5 | 6 | 6.5 | 7.5 | 8 | 9 | 9.5 | 10.5 | 11.5 | 12.5 | 13 | 14 |
| US Size | 4.5 | 5 | 6 | 6.5 | 7 | 8 | 9 | 10 | 10.5 | 11 | 12 | 13 | 14 | 15 |