The Rev It Tornado 2 Motorcycle Jacket & Trousers Black Kit is part of the latest REV'IT! collection.
Never change a winning team; the Tornado jacket has been a bestseller for years and doesn't require much updating to enjoy its continued success for several years to come. The jacket received a design modernization, a material quality upgrade and safety improvements, and is now equipped with the award winning CE-level 2 SEEFLEX? protectors and is now available in an additional colour. These key upgrades make the Tornado 2 ready for another round of success. Likewise, the new Tornado 2 trousers have an overall improvement on safety and comfort levels. In addition to improving safety and comfort levels, it also comes equipped with a YKK slide lock closure, grip panel at knee and is prepared for Strapper suspenders.
Key Features / Points:
Lightweight & Durable Textile Construction
Detachable 2-in-1 WP Hydratex® Membrane with Thermal Liner
CE-Rated Protectors at Shoulders, Elbows, Knees & Hips
Mesh Ventilation Panels at Chest, Back, Sleeves & Legs
Laminated Reflection
View all Rev It Motorcycle Kits. View all Motorcycle Kits.
The Rev It Tornado 2 Motorbike Jacket and Pants Black Kit is packed with features...
Jacket Specifications Include:
PROTECTION FEATURES
Outer Shell
Polyester Rib - Polyester fabric is a mainstay of REV'IT! garments, providing the stylish silhouette that their apparel is known for. This polyester fabric features a specific rib weave, for optimal performance
PWR|Shell 75D Mesh - The open-weave constructed PWR|shell features a high melting point, tremendous tear- and abrasion-resistance, and excellent durability
PWR|Shell 1000D - This material is REV'IT!'s take on Cordura®. Consisting of 100% high-performance Polyamide yarns, PWR|shell takes the best properties of Cordura® - high melting point, tremendous tear- and abrasion-resistance, and excellent durability - and puts the unique REV'IT! design stamp on it. PWR|shell provides high-performance protection for every rider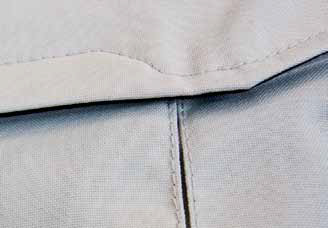 PWR|Shell 500D Stretch - This PWR|shell fabric comes in a stretch variant. 500D indicates the density of the fabric. The higher the number the better the abrasion- and tear resistance properties are
PWR|Wax 500D - This PWR|shell material has a wax coating for a slightly dull look
Lorica® - Lorica® is constructed from microfibres that give the material characteristics similar to those of natural leather, including a leather look. This low-maintenance material is not as strong as leather, but softer and lighter, with a consistent thickness that makes it easier to process
Insulation
Detachable 2-in-1 Thermal Liner & Membrane - In this garment REV'IT! have added a thermal liner to the detachable Hydratex®|G-liner. This becomes one layer that can be easily removed on warm, dry days, and easily added when you need protection from the rain and cold
Waterproofing and Breathability
Detachable Hydratex®|G-Liner - Waterproof Hydratex®|G-liner coating is applied to the inside of the garment's inner lining, and the seams are taped to ensure that the garment is waterproof. The REV'IT! Hydratex®|G-liner coating is used in the construction of products that demand a basic level of all-weather protection. For most products, the G-liner can not be removed. But now REV'IT! made the G-liner detachable, and in some cases they add a mesh lining, to prevent the material from sticking to your skin. This maximizes comfort, while preserving the properties of the G-liner construction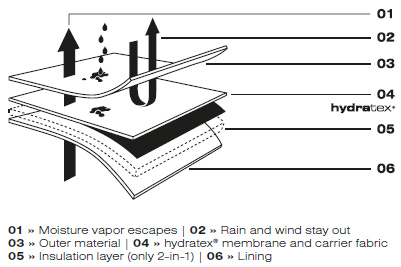 Protection
SEEFLEX? Level 2 CE Protection at Shoulders and Elbows - Certified CE-Level 2 according to the new norm EN1621-1:2012 the SEEFLEX? protector is the latest innovation from REV'IT!'s in-house R&D department. The new norm also tests the impact levels in various temperature ranges. The SEEFLEX? protectors easily surpass the new norm without sacrificing wearer comfort

Prepared for SEESOFT? CE-Level 2 Back Protector Insert - Type RV - The back protector pocket in this REV'IT! garment is tailor-made to accommodate the SEESOFT? CE-level 2 back protector insert Type RV - an easy upgrade to maximize safety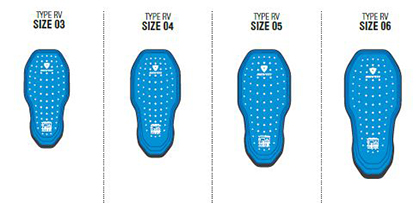 Visibility
Laminated Reflection at Back, Chest and Upper Arms - Reflection panels ensure excellent visibility at all angles, allowing the wearer to be seen from all directions. To offer a more sophisticated look, the reflection panels are welded to the fabric. This welding process also eliminates stitching seams, making the garments safer
Reflective Logo at Back and Upper Arms
Composition
Outer Shell - 100% polyester
Outer Shell Mesh - 100% polyester
Outer Shell Elbows - 100% polyamide
Lining - 100% polyester
Membrane - 100% polyamide (100% polyurethane coating, insulation 100% polyester)
ERGONOMIC FEATURES
Fit
Adjustability
Flexisnap - The REV'IT! Flexisnap makes it possible to adjust the collar circumference easily and personalize its fit to each rider. A jacket is often worn in more then one season, and the flexisnap makes it possible to adjust the collar within seconds. During winter a wider collar circumference accommodates combining the jacket with a balaclava or wind collar, while during summer, a wider circumference lets an all-important cooling wind into the collar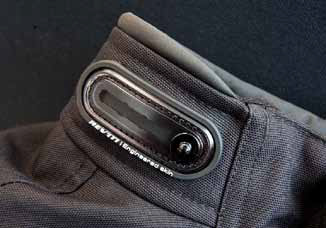 Adjustment Straps at Upper Arms and Hips
Adjustment Tab at Cuffs
Ventilation
Mesh Ventilation Panels at Chest, Back and Sleeves
Features
Prepared for Challenger Cooling Vest Insert - The jacket is prepared for the Challenger cooling vest insert. The Challenger can be zipped directly into the outer shell with the connection zippers
Prepared for Vest Connector HV - The Vest connector HV allows you to the upgrade your jacket with a HV vest that quickly and easily attaches. The highly visible EN471-certified vest offers enhanced safety
Collar Hook - The collar hook and loop allow you to draw back the front side of the collar, allowing air flow to cool the neck during warmer periods of the year without the annoying flapping of the loose collar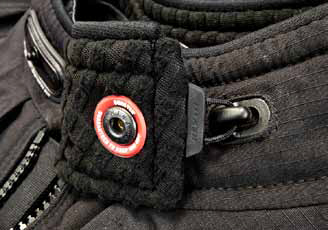 Stretch Lips at Elbows
Elastic at Hips
Double Short Connection Zipper
Cuff Zipper - The zipper at the cuff has several purposes. It allows for easier entry into the sleeve, provides extra ventilation on warm days, and allows you to easily wear the glove cuff under your outer shell and over your base layer
Pockets
Side Pockets
Inner Pockets
Trousers Specifications Include:
PROTECTION FEATURES
Outer Shell
Polyester Rib - Polyester fabric is a mainstay of REV?IT! garments, providing the stylish silhouette that their apparel is known for. This polyester fabric features a specific rib weave, for optimal performance
PWR|Shell 75D Mesh - The open-weave constructed PWR|shell features a high melting point, tremendous tear- and abrasion-resistance, and excellent durability
PWR|Shell 1000D - This material is REV'IT!'s take on Cordura®. Consisting of 100% high-performance Polyamide yarns, PWR|shell takes the best properties of Cordura® - high melting point, tremendous tear- and abrasion-resistance, and excellent durability - and puts the unique REV'IT! design stamp on it. PWR|shell provides high-performance protection for every rider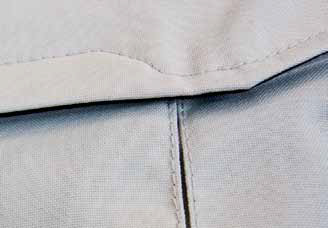 PWR|Shell 500D Stretch - This PWR|shell fabric comes in a stretch variant. 500D indicates the density of the fabric. The higher the number the better the abrasion- and tear resistance properties are
PWR|Wax 500D - This PWR|shell material has a wax coating for a slightly dull look
Insulation
Detachable 2-in-1 Thermal Liner and Membrane - In these garments REV'IT! have added a thermal liner to the detachable Hydratex®|G-liner. This becomes one layer that can be easily removed on warm, dry days, and easily added when you need protection from the rain and cold
Waterproofing and Breathability
Detachable Hydratex®|G-Liner - Waterproof Hydratex®|G-liner coating is applied to the inside of the garment's inner lining, and the seams are taped to ensure that the garment is waterproof. The REV'IT! Hydratex®|G-liner coating is used in the construction of products that demand a basic level of all-weather protection. For most products, the G-liner can not be removed. But now REV'IT! made the G-liner detachable, and in some cases they add a mesh lining, to prevent the material from sticking to your skin. This maximizes comfort, while preserving the properties of the G-liner construction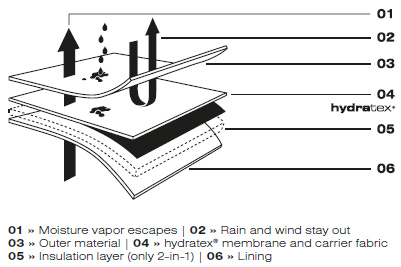 Protection
SEEFLEX? Level 2 CE Protection at Knees - Certified CE-Level 2 according to the new norm EN1621-1:2012 the SEEFLEX? protector is the latest innovation from REV'IT!'s in-house R&D department. The new norm also tests the impact levels in various temperature ranges. The SEEFLEX? protectors easily surpass the new norm without sacrificing wearer comfort

SEESMART? CE-Level 1 Protection at Hips - SEESMART? protectors offer the highest level of flexibility while still passing the EN1621-1:2012 CE-Level 1 impact tests, in both normal and hot (T+) conditions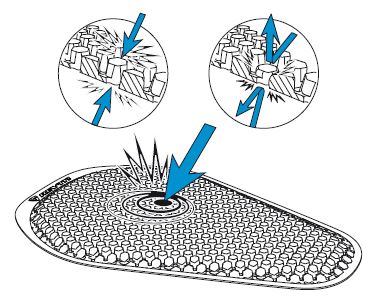 Visibility
Laminated Reflection - Reflection panels ensure excellent visibility at all angles, allowing the wearer to be seen from all directions. To offer a more sophisticated look, the reflection panels are welded to the fabric. This welding process also eliminates stitching seams, making the garments safer
Composition
Outer Shell - 100% polyester
Outer Shell Mesh - 100% polyester
Outer Shell Knees - 100% polyamide
Lining - 100% polyester
ERGONOMIC FEATURES
Fit
Adjustability
Adjustment Straps at Waist
Adjustment Tab at Ankles
Ventilation
Ventilation Panels at Legs
Features
Prepared for Strapper Suspenders - The trousers are prepared for the Strapper suspenders. The Strapper can be connected to the short connection zipper at the back and the special made Velcro attachment point on the front side. The suspenders are compatible with a selection of trousers from the REV'IT! collection
YKK Slide Lock Front Closure - This unique front closure works like a slide lock and once closed it won't open up spontaneously. The slide locks into a conical shaped slider ensuring they won't separate until you want them to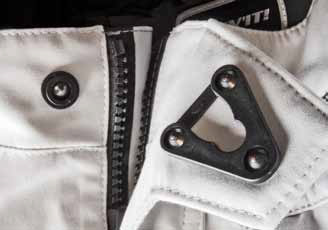 Short Connection Zipper
Stretch Lips at Back and Knees
Elastic Waistband
Stretch Panel Above Knee Protector Pockets - Thanks to the stretch panel located just above the inside lining's protector pocket, the protector stretches to make more room and thereby won't create tension when in a sitting position
Easy Entrance Zipper
Grip Panel at Seat - The grip panel at the seat ensures you stay in control in all weather conditions and won't slide in your seat at any time. A key feature for any rider, pillion passengers will also appreciate this extra level of performance
Adjustable Protector Pockets - Within this type of protection pocket, the protector can be adjusted to several positions, in order to customize the shape for each rider. This results in the best personal fit and riding comfort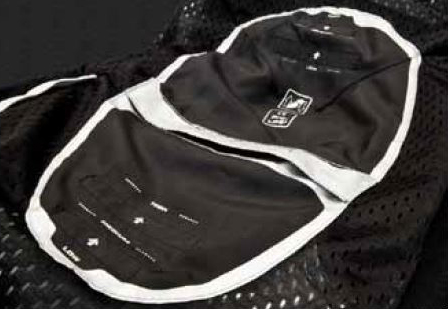 Pockets
Your package will include the following
Rev It Tornado 2 Motorcycle Jacket
Rev It Tornado 2 Motorcycle Trousers
Rev'It! Men's Clothing Sizing Guide
Please use the conversion tables below to determine the right size for you:
Men's Jackets
Letter Size
XS
S
M
L
XL
XXL
XXXL
(XYL)
XXXXL
(XZL)
5XL
6XL
UK / US Chest
36"
38"
40"
42"
44"
46"
48"
50"
52"
54"
EU?Size
46
48
50
52
54
56
58
60
62
64
Men's Trousers
UK Size
S
S
M
M
L
L/
XL
XL/
XXL
XXL
XXXL
(XYL)
XXXL
(XYL)/
XXXXL
(XZL)
XXXXL
(XZL)/
5XL
5XL/
6XL
6XL
UK / US Waist
26"
28"
30"
32"
34"
36"
38"
40"
42"
44"
46"
48"
50"
EU Size
44
46
48
50
52
54
56
58
60
62
64
66
68
Inseam Short Leg
n/a
n/a
30"
30"
31"
31"
31"
31"
32"
33"
33"
n/a
n/a
Inseam Regular Leg
31"
32"
32"
32"
33"
33"
33"
34"
34"
35"
35"
35"
35"
Inseam Long Leg
n/a
n/a
34"
34"
35"
35"
36"
n/a
n/a
n/a
n/a
n/a
n/a