The Rev It Airwave 2 Motorcycle Jacket & Trousers Silver Neon Yellow Black Kit is part of the latest REV'IT! collection.
The incredible popularity of the Airwave jacket over the years indicates its timelessness. Its features will remain in demand and its functionality is useful for riders all over the world. With a fresh design and up to date style REV'IT! presents its sequel, the Airwave 2. An air mesh summer jacket at its best: rugged and strong, yet soft and comfortable to the touch to keep you cool and safe at the same time. The trousers couldn't be left behind. By standard equipping them with SEESMART? hip protectors and improving its usability by adding smart features and a style boost, it is on the right track to another decade of success.
Key Features / Points:
Lightweight & Durable Textile Construction
Mesh Ventilation Panels
Knox® CE Protection at Shoulders, Elbows & Knees
SEESMART? CE-Level 1 Protection at Hips
Laminated Reflection
View all Rev It Motorcycle Kits. View all Motorcycle Kits.
The Rev It Airwave II Summer Motorcycle Jacket and Pants Silver Neon Yellow Black Set is packed with features...
Jacket Specifications Include:
PROTECTION FEATURES
Outer Shell
High Density Polyester 600D - This fabric takes polyester yarn and weaves it with a finer polyester yarn, to create a high woven density that increases protection and abrasion-resistance
PWR|Shell Mesh - This PWR|shell is knitted in an open structure, to allow for breathability and flexibility, which maintains comfort as well as safety
Lorica® - Lorica® is constructed from microfibres that give the material characteristics similar to those of natural leather, including a leather look. This low-maintenance material is not as strong as leather, but softer and lighter, with a consistent thickness that makes it easier to process
Protection
Knox® Flexiform CE Protection at Shoulders and Elbows - These CE-approved impact protectors are made from lightweight, flexible PU, engineered in a 3-dimensional form, making them very soft and flexible. The finish is smooth and the edges are thin, making Knox® Flexiform CE protectors an excellent choice for leather garment and textile garments. They also give the rider flexibility and total freedom of movement, with 2 hinge points to aid movement and 12 holes for breathability. The inside incorporates air channels to help with heat dispersal, keeping the rider comfortable and cool, while offering excellent protection
Prepared for SEESOFT? CE-Level 2 Back Protector Insert - Type RV - The back protector pocket in this REV'IT! garment is tailor-made to accommodate the SEESOFT? CE-level 2 back protector insert Type RV - an easy upgrade to maximize safety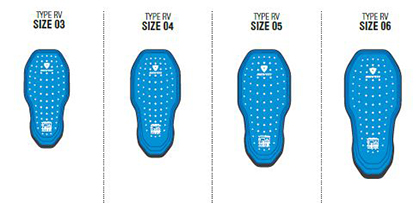 Visibility
Laminated Reflection at Chest and Back - Reflection panels ensure excellent visibility at all angles, allowing the wearer to be seen from all directions. To offer a more sophisticated look, the reflection panels are welded to the fabric. This welding process also eliminates stitching seams, making the garments safer
Reflective Logo at Upper Arms
Composition
Outer Shell - 100% polyester
Lining - 100% polyester
ERGONOMIC FEATURES
Fit
Adjustability
Adjustment Straps at Hips
Adjustment Tabs at Collar, Upper Arms and Cuffs
Ventilation
Mesh Ventilation Panels at Chest, Back and Sleeves
Features
Short Connection Zipper
Jeans Loop - The loop at the back of this jacket enables you to attach it to your jeans, which prevents the jacket from creeping up: no more exposed back when riding your bike
Pockets
Side Pockets
Inner Pockets
Trousers Specifications Include:
PROTECTION FEATURES
Outer Shell
High Density Polyester 600D - The open-weave constructed PWR|shell features a high melting point, tremendous tear- and abrasion-resistance, and excellent durability
PWR|Shell Mesh - This PWR|shell is knitted in an open structure, to allow for breathability and flexibility, which maintains comfort as well as safety
PWR|Shell 500D Stretch - This material is REV'IT!'s take on Cordura®. Consisting of 100 percent high-performance polyamide yarns, PWR|shell takes the best properties of Cordura® - a high melting point, tremendous tear- and abrasion-resistance, excellent durability - and puts the unique REV'IT! design stamp on it. This PWR|shell fabric comes in a stretch variant. 500D indicates the density of the fabric. The higher the number the better the abrasion- and tear resistance properties are
Protection
Knox® Flexiform CE Protection - These CE-approved impact protectors are made from lightweight, flexible PU, engineered in a 3-dimensional form, making them very soft and flexible. The finish is smooth and the edges are thin, making Knox® Flexiform CE protectors an excellent choice for leather garment and textile garments. They also give the rider flexibility and total freedom of movement, with 2 hinge points to aid movement and 12 holes for breathability. The inside incorporates air channels to help with heat dispersal, keeping the rider comfortable and cool, while offering excellent protection
SEESMART? CE-Level 1 Protection at Hips - SEESMART? protectors offer the highest level of flexibility while still passing the EN1621-1:2012 CE-Level 1 impact tests, in both normal and hot (T+) conditions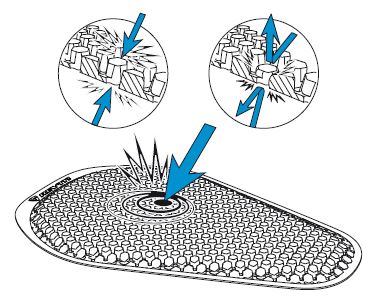 Visibility
Laminated Reflection at Calves - Reflection panels ensure excellent visibility at all angles, allowing the wearer to be seen from all directions. To offer a more sophisticated look, the reflection panels are welded to the fabric. This welding process also eliminates stitching seams, making the garments safer
Composition
Outer Shell - 100% polyester
Lining - 100% polyester
ERGONOMIC FEATURES
Fit
Adjustability
Adjustment Straps at Waist
Adjustment Tab at Ankles
Ventilation
Ventilation Panels at Legs
Features
Prepared for Strapper Suspenders - The trousers are prepared for the Strapper suspenders. The Strapper can be connected to the short connection zipper at the back and the special made Velcro attachment point on the front side. The suspenders are compatible with a selection of trousers from the REV'IT! collection
YKK Slide Lock Front Closure - This unique front closure works like a slide lock and once closed it won't open up spontaneously. The slide locks into a conical shaped slider ensuring they won't separate until you want them to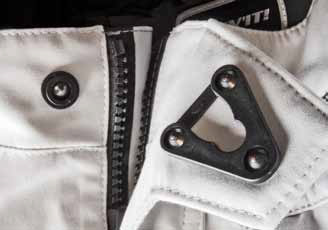 Short Connection Zipper
Elastic Waistband
Adjustable Protector Pockets - Within this type of protection pocket, the protector can be adjusted to several positions, in order to customize the shape for each rider. This results in the best personal fit and riding comfort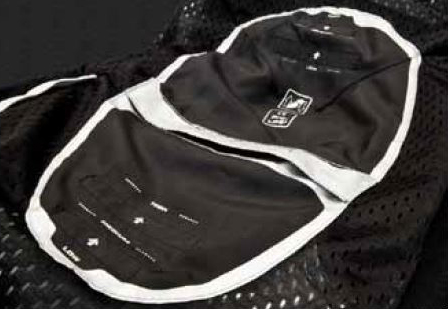 Easy Entrance Zipper
Grip Panel at Seat - The grip panel at the seat ensures you stay in control in all weather conditions and won't slide in your seat at any time. A key feature for any rider, pillion passengers will also appreciate this extra level of performance
Pockets
Your package will include the following
Rev It Airwave 2 Motorcycle Jacket
Rev It Airwave 2 Motorcycle Trousers
Rev'It! Men's Clothing Sizing Guide
Please use the conversion tables below to determine the right size for you:
Men's Jackets
Letter Size
XS
S
M
L
XL
XXL
XXXL
(XYL)
XXXXL
(XZL)
5XL
6XL
UK / US Chest
36"
38"
40"
42"
44"
46"
48"
50"
52"
54"
EU?Size
46
48
50
52
54
56
58
60
62
64
Men's Trousers
UK Size
S
S
M
M
L
L/
XL
XL/
XXL
XXL
XXXL
(XYL)
XXXL
(XYL)/
XXXXL
(XZL)
XXXXL
(XZL)/
5XL
5XL/
6XL
6XL
UK / US Waist
26"
28"
30"
32"
34"
36"
38"
40"
42"
44"
46"
48"
50"
EU Size
44
46
48
50
52
54
56
58
60
62
64
66
68
Inseam Short Leg
n/a
n/a
30"
30"
31"
31"
31"
31"
32"
33"
33"
n/a
n/a
Inseam Regular Leg
31"
32"
32"
32"
33"
33"
33"
34"
34"
35"
35"
35"
35"
Inseam Long Leg
n/a
n/a
34"
34"
35"
35"
36"
n/a
n/a
n/a
n/a
n/a
n/a