Like the Neptune jacket the Rev'It Neptune Gore-Tex GTX Motorcycle Trousers are made for year-round riding. On cold, rainy days the GORE-TEX membrane will keep wind and water out, and the thermal liner will trap heat inside. On hot summer days you can take out the membrane and thermal liner, open the ventilation panels and let air flow in freely. On warm, rainy days, take out only the thermal liner and the GORETEX membrane with Paclite Technology will keep you dry and comfortable as it won't stick to your skin. Name a weather condition and these trousers are up to the challenge. CE-protection, adjustable protector pockets, a grip panel at the seat, dual connection zippers, reflective panels all these features add up to let you ride in safety all day, every day. Don't miss out, get yours from Ghostbikes today!
Ghost Bikes now stock a full range of Rev'It Motorcycle Clothing Please click here to see what's currently available.
The Neptune Gore Tex Trousers also has a matching Rev'It Neptune Jacket
The Rev It Neptune Touring Motorbike Trousers are packed with features...
PROTECTION FEATURES:
OUTER SHELL
Sure Grip - Sure grip fabric or leather geatures a special texturised print, which offers an excellent grip of high-performance riding conditions
High Density Polyester 600D with Teflon Coating - The fabric takes polyester yarn and weaves it with a finer polyester yarn, to create a high woven density that increases protection and abrasion-resistance
Wax Polyester 600D - Long-lasting 600-denier fabric is a mainstay of REV'IT! apparel. This high-tech polyester features a specific rib weave for rugged durability and a refined finish for optimal performance. The 600D rating delivers excellent tear-resistant properties while the wax coating ensures capable water proofing.
WATERPROOFING
Detachable GORE-TEX Product with Paclite Technology - GORE-TEX with Paclite technology is windproof, waterproof and extremely breathable. It is the ideal material for motorcycle clothing as it protects you against the elements. We added a thin lining to protect the Paclite membrane and to ensure that it won't stick to your skin when riding in warmer weather without a thermal liner
COMPOSITION
Outer Shell: 100% Polyester
PROTECTION
Prepared for ProLife CE CE Hip Protector - Ready to fit Pro Life Hip Protectors
Double Textile Seat - So you wont slip of your bike seat in wet conditions
ProLife CE Protection at Knees - Official tests show that ProLife far surpasses the protection standards set by the CE directive. The fabric used, elastomer, is the result of many years of research and development. A technological process is used to make the fabric microporous, with air in the microporous cells under high pressure but unable to escape. This treatment makes the fabric light, flexible, and exceptionally impact-resistant. REV IT! has used the pre-shaped ProLife 3D CE protector in REV-IT! motorcycle clothing since it was first introduced.
Fully Perforated EVA Foam at Hips - EVA is one of the materials popularly known as 'expanded rubber' or 'foam rubber'. EVA is used as a shock absorber in many REVIT! products.
VISIBILITY
Laminated Protection at Calf - Reflection panels ensure excellent visability at all angles, allowing the wearer to be seen from all directions. To offer a more sophisticated look, the reflection panels are welded to the fabric. This welding process also eliminates stitching seams, making the garments safer.
ERGONOMIC FEATURES:
FIT
ADJUSTABILITY
Adjustment Tab at Ankles - So you can fit the pants to fit your personal shape
FEATURES
Adjustable Protector Pockets - Within this type of protection pocket, the protector can be adjusted to several positions, in order to customize the shape for each rider. This results in the best personal fit and riding comfort.
Calf Zippers - Easy to get in and out of your trousers
Stretch Lips at Back and Knees - For better manuverability
Grip Panel at Seat - The grip panel at the seat ensures you stay in control in all weather conditions and won't slide in your seat at any time. A key feature for any rider, pillion passengers will also appreciate this extra level of performance.
Hook & snap front closure - This hook-and-snap construction ensures trousers stay closed. The snap closes the trousers and the hook smoothly interlocks into the channel ensuring that the trousers won't open while riding.
Short and Long Connection Zipper - Thanks to the short and long connection zipper, this jacket is/these trousers are compatible for pairing with any pair of trousers/any jacket in the REV IT! line.
POCKETS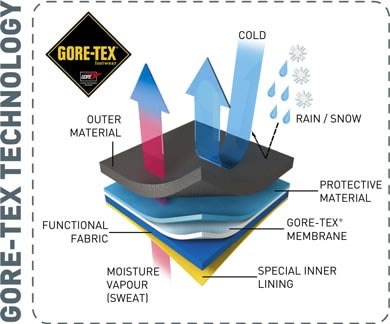 The RevIt Neptune GTX Gore Tex Motorbike Trousers are currently available in the colours shown in the product variation above, if there is no variation option, they will be available in the colours as shown in the pictures.
Your package will include the following
Brand new & well packaged item
Rev'It Neptune Gore-Tex Motorcycle Trousers in your size and colour.