The Rev It Cayenne Pro Motorcycle Trousers are part of the latest REV'IT! collection.
In order to be able to offer a complete breathable and lightweight one-layer outfit the Cayenne Pro trousers have been constructed in the same way as the Cayenne Pro jacket. With an extremely strong and abrasion resistance outer shell, CE protectors at the knees and hips, protective leather panels and laminated reflective components, these trousers offer all the safety you'll need when travelling in warmer climates. The Schoellar-Dynatec mesh panels, aero cool 3D mesh panels and ventilation panels will make sure you will remain comfortable no matter how hot it gets.
Key Features / Points:
Abrasion-Resistant Textile Outer
SEEFLEX CE-Level 2 Knee Armour
TRYONIC CE-Level 1 Hip Armour
3D Mesh Ventilation Panels
Short & Long Connection Zippers
View all Rev It Motorcycle Trousers. View all Textile Motorcycle Trousers.
The Rev'It! Cayenne Pro Motorbike Pants are packed with features...
PROTECTION FEATURES
Outer Shell
PWR|Shell 750D with Teflon Coating - This material is REV'IT!'s take on Cordura. Consisting of 100% high-performance Polyamide yarns, PWR|shell takes the best properties of Cordura - high melting point, tremendous tear- and abrasion-resistance, and excellent durability - and puts the unique REV'IT! design stamp on it. PWR|shell provides high-performance protection for every rider. The water- and dirt-repellent Teflon coating makes it difficult for dirt to affix to or penetrate any material. This helps to keep your gear clean
PWR|Shell 1000D with Teflon Coating - PWR|shell combines the best properties of Cordura - high melting point, tremendous tear- and abrasion-resistance, and excellent durability. This is the stretch variant which provides maximal elasticized support. The water- and dirt-repellant Teflon coating makes it difficult for dirt to affix to or penetrate any material
Schoeller - Dynatec Mesh Panels - Schoeller-Dynatec is known for its abrasion resistant qualities and its durability. These mesh panels are no difference. The special structure of the mesh ensures the perfect combination of ventilation and safety
PWR|Shell 500D Stretch - This material is REV'IT!'s take on Cordura. Consisting of 100 percent high-performance polyamide yarns, PWR|shell takes the best properties of Cordura-a high melting point, tremendous tear- and abrasion-resistance, excellent durability-and puts the unique REV'IT! design stamp on it. This PWR|shell fabric comes in a stretch variant. 500D indicates the density of the fabric. The higher the number the better the abrasion- and tear resistance properties are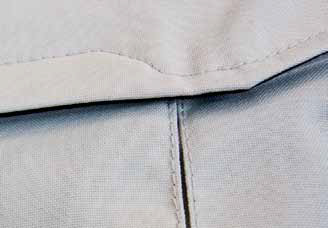 Leather Panels at the Inside of the Legs
Lorica - Lorica is constructed from microfibres that give the material characteristics similar to those of natural leather, including a leather look. This low-maintenance material is not as strong as leather, but softer and lighter, with a consistent thickness that makes it easier to process
Sure Grip - Sure grip fabric or leather features a special, texturized print, which offers an excellent grip under high-performance riding conditions
Composition
Outer Shell - 90% Polyamide, 7% Leather, 3% Polyester
Lining - 76% Polyester, 24% Polyamide
Protection
SEEFLEX Level 2 CE Protection at Knees - Certified CE-level 2 according to the new norm EN1621-1:2012 the SEEFLEX protector is the latest innovation from the in-house R&D department. The new norm also tests the impact levels in various temperature ranges. The SEEFLEX protectors easily surpass the new norm without sacrificing wearer comfort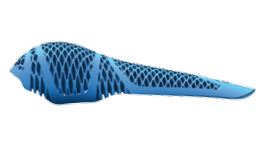 TRYONIC Seesoft CE-Level 1 Type B Hip Protector Insert - Version RV01 - In case of a crash the hips are vulnerable to take a large part of an initial impact and are very likely to slide over the tarmac. In case of a fall the impact energy will be transmitted from the hip to the spine and can cause serious back injuries. Wearing hip protectors can greatly reduce the risk of injuries to your hip joints and spine by diverting and absorbing energy from a crash. The TRYONIC Seesoft hip protector is made of a highly impact-resistant blend of synthetic memory foam that is multi-impact rated and CE certified to the European standard: EN1621-1:2012. The protector is composed of multiple layers. The individual layers have been fine tuned to meet motorcyclists' specific impact-absorption needs. The memory foam will absorb the first impact but the transmitted energy to the joint is further reduced by the shifting layer concept. The different layers employ a unique shifting-layer feature that provides extra protection in the event of a crash. When the protector is under impact the individual memory foam layers will shift relative to each other, which disperses the force of the crash over a larger surface area and effectively minimizes the force that is transmitted to the body. The TRYONIC Seesoft multi-layer concept delivers adaptive impact absorption that doesn't compromise comfort, ventilation or flexibility
Safety Seams - The stitching in motorcycle garments contributes greatly to the abrasion resistance of the total gear. This is why REV'IT! uses safety seams on garment areas at increased risk of impact. Safety seams have a visible as well as an invisible seam. This construction keeps the material of the outer shell together, even when the visible seam is thorn
Visibility
Laminated Reflection at Calves - Reflection panels ensure excellent visibility at all angles, allowing the wearer to be seen from all directions. To offer a more sophisticated look, the reflection panels are welded to the fabric. This welding process also eliminates stitching seams, making the garments safer
ERGONOMIC FEATURES
Fit
Adjustability
Adjustment Straps at Waist and Calves
Hook-and-Loop Adjustment at Calves and Ankles
Ventilation
Ventilation Panels at Upper Legs
Features
Stretch Lips at Knees
Stretch Panels at Waist and Crotch - The stretch panels in this garment aid in flexibility. They contribute to the riders comfort as they provide great freedom of movement
Short and Long Connection Zipper - Thanks to the short and long connection zipper, these trousers are compatible for pairing with any jacket in the REV'IT! line
Calf Zippers
Grip Panel at Seat - The grip panel at the seat ensures you stay in control in all weather conditions and won't slide in your seat at any time. A key feature for any rider, pillion passengers will also appreciate this extra level of performance
Leather Panels at the Inside of the Leg
Aero Cool 3D Mesh Panels at Upper Legs - This open-loft three-dimensional mesh helps facilitate optimal ventilation while riding. It features integrated lines to wick moisture away from the body, keeping riders cool and comfortable under even extreme circumstances
YKK Slide Lock Front Closure - This unique front closure works like a slide lock and once closed it won't open up spontaneously. The slide locks into a conical shaped slider ensuring they won't separate until you want them to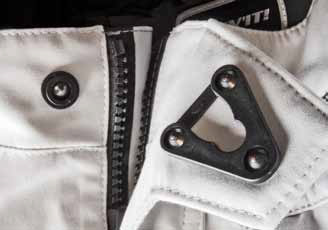 Prepared for Strapper Suspenders - The trousers are prepared for the Strapper suspenders. The Strapper can be connected to the short connection zipper at the back and the special made Velcro attachment point on the front side. The suspenders are compatible with a selection of trousers from the REV'IT! collection
Pockets
Slit Pockets
Stash Pockets
Your package will include the following:
Rev It Cayenne Pro Motorcycle Trousers