Please Note: Each exhaust is hand crafted in England by the same technicians who create factory systems for the highest profile race series on the calendar. The teamís meticulous attention to detail and superior engineering skills put Scorpion at the very top in terms of construction quality and reliability. Because each customer's exhaust is crafted by automotive engineers and every component that goes out through the doors is checked by quality control technicians, there may occasionally be some delay to the estimated despatch time. But donít worry, if there is any unexpected delay we will inform you straight away.
The Scorpion Red Power Black Ceramic Exhaust - Kawasaki Ninja ZX-6R 2019 - 2020 is part of the latest Scorpion Exhausts collection.
Scorpion release two brand new slip-on exhaust options for the 2019 kawasaki Ninja ZX-6R which improves the Japanese bikes overall profile. .
The innovative slip-on exhaust systems feature a larger 2.5" T304 stainless steel link pipe which fits directly to the OE pipework via the supplied fit kit. Two silencer options are available which perfectly match the sharp sporty lines of the 636cc supersport. The new Red Power silencer, which features a machined billet end-cap and laser engraved logo is available in brushed stainless steel, stealthy black ceramic or satin titanium finishes. The highly regarded Serket Taper silencer can also be selected, sleeve options are brushed stainless steel, lightweight carbon fibre or aerospace grade satin titanium.
The Kawasaki ZX-6R has been built with performance in-mind, and installing either of the new Scorpion slip-on silencers to the machine will result in increased performance. Dyno development ensures the silencers work within the standard engine settings, no remapping is required. An increase of over 4bhp can be achieved with the slip-on kit (Red Power silencer). As well as the bhp increase, the bikes throttle becomes more responsive throughout the entire rev range making the power delivery smooth. Using the latest manufacturing techniques and high-quality materials, the Ninja's exhaust weight is halved, complimenting the machines handling ability.
The innovative slip-on kits provide the bike with a new vibrant exhaust tone which perfectly suits the liquid cooled, in-line four engine. And to increase the Ninjas soundtrack further, Scorpion engineers have developed a silencer replacement pipe from the same high quality T304 stainless steel. It fits with either slip-on silencer options and also retains the OE heatsheild.
| | O.E.M. | Scorpion | Comparison |
| --- | --- | --- | --- |
| Power | 108.89 hp | 113.35 hp | +4.46 hp |
| Weight | 4.82 kg | 2.04 kg | -2.78 kg |
Key Features / Points:
Improved Performance
Superior Engineering
Lifetime Warranty
Fitting Instructions Included
British Manufactured
View all Scorpion Kawasaki Motorbike Exhausts.. View all Scorpion Motorcycle Exhausts..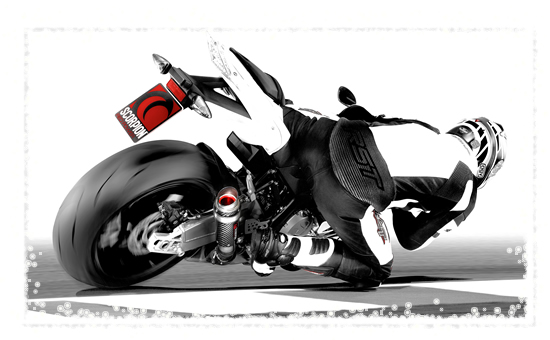 The Scorpion Red Power Motorbike Exhausts are packed with features...
Specifications Include:
Red Power - Built to stir your soul!
Finish - Black ceramic sleeve
Warranty - All Scorpion exhausts come with a lifetime warranty
British Manufactured - All Scorpion exhausts are hand crafted by Scorpion automotive engineers in Derbyshire, UK
Crash Damage/Impact Guarantee - We offer a 50% discount on any crashed damaged product, you must be the original purchaser and your claim must be on a like for like basis, one claim per person. Please note this crash damage guarantee does not apply to Off Road or 2-Stroke Scooter products
Fuelling - All Scorpion products are Dyno developed which means that no fuelling modifications are necessary when fitting our products
Fittings/Instructions - All Scorpion products are supplied with everything needed to fit and ride, along with parts drawings and picture instructions where necessary
Cleaning/Caring - Wash with warm soapy water, allow to dry/wipe with a soft clean cloth. Never use abrasive or solvent based products
Your package will include the following:
PKA129BCER - Scorpion Red Power Black Ceramic Exhaust - Kawasaki Ninja ZX-6R 2019 - 2020, consisting of:
Red Power (stainless steel sleeve)
Connecting pipe
Fitting Kit, RKA129 / PKA129
Fitting Instructions