The Sidi Performer Mid Motorcycle Boots are part of the latest Sidi collection.
The Performer Mid is the little, or shall we say, the shorter brother of the beautifully styled Performer boot. Given the name, it's no surprise both these boots are distinctive for their sporty feel. Despite being aimed primarily at sport touring enthusiasts rather than hardcore racers, the Performer Mid boots are going to appeal to the latter group as well. The value for money here is worth mentioning as you'll not be spending a real fortune on these motorbike ankle boots, whilst quality is still going to be there, like is the norm with Sidi.
Key Features / Points:
Technomicro Microfibre Upper
Air Teflon Mesh Lining
Rubber Top Sole
Metatarsus External Protection
Replaceable Toe Slider
View all Sidi Race Motorcycle Boots. View all Sport Motorcycle Boots.
The Sidi Performer Mid Motorbike Boots are packed with features...
Specifications Include:
MATERIALS
Technomicro Microfibre Upper - When constructing most of their boots, Sidi uses a new generation material called "Technomicro". Technomicro is a composite microfiber material created from strands that are so fine, each one is less than one thousand the thickness of silk. These fibers act like natural leather skin, but with the advantage of better strength, softer texture and lighter weight. Technomicro is also water resistant, highly resistant to abrasion and tearing and is easy to clean and maintain. Technomicro doesn't stain and offers reduced weight, more flexibility and a better feel than leather or other synthetic material boots
Lining - Lined with air Teflon mesh
Rubber Top Sole - Designed for improved grip
TECHNOLOGY
Metatarsus External Protection
Internal and External Shaped Ankle Pads
Soft Arch Area
Smooth Heel Cup - For more adherence with the bike
Shift Pad
Replaceable Toe Slider - The slider is replaceable and available in fully nylon, with ceramic or with aluminium inserts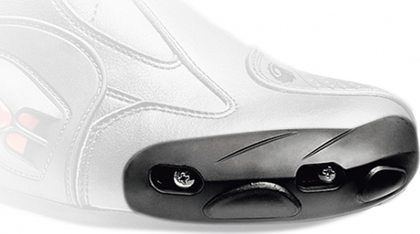 Nylon Inner Sole with Removable Arch Support Pad
CE Approved - Tested, trusted, have the piece of mind, you are protected by the best available
Your package will include the following:
Sidi Performer Mid Motorcycle Boots
Boot Sizing Guide
Please use the conversion table below to determine the right size for you:
| EU Size | 36 | 37 | 38 | 39 | 40 | 41 | 42 | 43 | 44 | 45 | 46 | 47 | 48 | 49 | 50 |
| --- | --- | --- | --- | --- | --- | --- | --- | --- | --- | --- | --- | --- | --- | --- | --- |
| UK Size | 3 | 4 | 5 | 5.5 | 6.5 | 7 | 8 | 9 | 9.5 | 10.5 | 11 | 12 | 12.5 | 13.5 | 14 |
| US Size | 3.5 | 4.5 | 5.5 | 6 | 7 | 7.5 | 8.5 | 9.5 | 10 | 11 | 11.5 | 12.5 | 13 | 14 | 14.5 |