The SAS-TEC Level 2 CE Approved Elbow/Hip/Knee/Shoulder Armour Inserts (Pair) is part of the latest SAS-TEC collection.
High-end technology for even more security. Made of viscoelastic soft foam, this highly flexible protector offers excellent shock absorption due to its intelligent design and the level 2 protection. With its extremely flat design, it is almost invisible under clothing.
We recommend using this SC-1/KB2 protector in the knee area. Also certified for shoulder, elbow and hip areas.
The SAS-TEC armour is also available in other sizes to suit different body locations and armour pocket sizes, see the comparison chart below: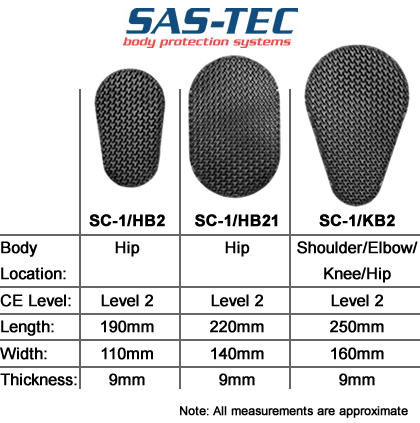 Key Features / Points:
Lightweight Protectors
Armour approved to EN 1621 -1:2012 Level 2
Viscoelastic Construction
Dimensions: approx. 250 x 160 x 9mm
Washable
View all SAS-TEC Motorbike Armour. View all Replacement Armour Inserts.
The SAS-TEC Soft Level 2 CE Approved Hip Armour Inserts (Pair) are packed with features...
Specifications Include:
Protectors surpass the required values of EN 1621-1:2012, Level 2, by approx. 10 per cent
Protectors are not destroyed by an impact and can still be used
Protectors are lightweight
Residual force around 18 kN (norm, level 2: 20 kN)
Protectors are washable (remove, hand launder separately / water absorption less than one per cent)
Dimensions: approx. 250 x 160 x 9mm
Weight: approx. 85 g/piece
Your package will include the following:
2 x SAS-TEC Level 2 CE Approved Elbow/Hip/Knee/Shoulder Armour Inserts