The Rev It Dominator 2 GTX Motorcycle Trousers are part of the latest REV'IT! collection.
The Rev It Dominator 2 GTX Motorcycle Trousers have been upgraded to be more versatile and more adaptable to all weather types. They are constructed with a single functional layer, the 3L Gore-Tex membrane, which is laminated to the highly abrasion resistant outer shell making it waterproof and breathable all at once. The ventilation panels with a VCS|aquadefence system offer excellent airflow on warmer days and can be opened while riding. When closed these trousers are completely waterproof and thanks to the laminated construction won't pick up water.
Key Features / Points:
Gore-Tex Pro Fabric Outer Shell
SeeFlex CE Level 2 Knee Armour
SeeSmart CE Level 1 Hip Armour
Waterproof & Breathable
Aero Cool 3D Mesh
View all Rev It Motorcycle Trousers. View all Textile Motorcycle Trousers.
The Rev It Dominator 2 Gore-Tex Motorbike Trousers are packed with features...
PROTECTION FEATURES
Outer Shell
3L Gore-Tex Pro Nylon 600D Fabric - Gore-Tex Pro shells are made for riding in extreme conditions. The fabric is made of rugged 600 denier high-tenacity nylon that delivers superior abrasion and tear resistance. A high-performance Gore-Tex membrane is bonded to a tough outer material and a specially developed, robust inner lining makes it a 3-layer. The benefits of a 3 layer are less water pick up of the outer layer which results in breathable comfort for all weather conditions.
3L Gore-Tex Pro Armacor Fabric - Pro Shell is a specific high-performance Gore-Tex membrane bonded to a tough outer material and a specially developed, robust inner lining. Special Gore-Seam tape technology ensures all seams are 100% waterproof. Thanks to its patented lattice structure with an integrated Kevlar core, Armacor Product Technology offers extreme resistance to tears and abrasion, yet lighter weight. Incorporated into the Everest Gore-Tex Pro Shell jacket, it will protect you in the event of a fall. This means safety and enhanced comfort - in all weather conditions. This top-performing fabric also has a solar-reflective finish, which, when exposed to direct sunlight, keeps the wearer cooler than standard black fabrics.
3L Gore-Tex Pro Talisman Fabric - The Gore-Tex Pro Talisman features the unique characteristics of Gore-Tex fabric - highly breathable and waterproof, but next to that it is also extremely abrasion resistant due to its coated dot pattern.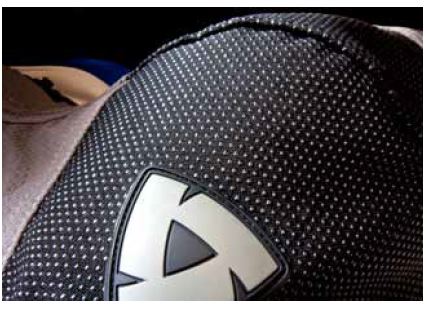 PWR|Kevlar Stretch - This PWR|Shell stretch material has aramide and nylon fibres for extra strength.
PWR|Shell 500D Stretch - This material is REV'IT!'s take on Cordura. Consisting of 100 percent high-performance polyamide yarns, PWR|Shell takes the best properties of Cordura - a high melting point, tremendous tear and abrasion-resistance, excellent durability and puts the unique REV'IT! design stamp on it. This PWR|Shell fabric comes in a stretch variant. 500D indicates the density of the fabric. The higher the number the better the abrasion and tear resistance properties are.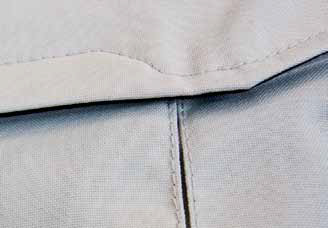 Leather Panels at the Inside of the Legs
Sure Grip - Sure grip fabric or leather features a special, texturized print, which offers an excellent grip under high-performance riding conditions.
Composition
73% Polyamide, 17% ePFTE, 7% Leather, 2% Epoxy Resin, 1% Aramide
Waterproofing & Breathability
3L Gore-Tex Pro Fabric - In this construction the Gore-Tex membrane is bonded to the outer shell and the inner lining. As there is no more movement between the layers, this construction is extremely durable. And the result is a 100% waterproof, windproof and highly breathable outer shell offering unsurpassed durable wearer comfort.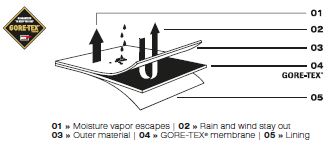 Protection
SeeFlex Level 2 CE Protection at Knees - With SeeFlex technology, the days of wearing uncomfortable armor on a motorcycle are long behind us. The SeeFlex concept is born of the synergy between state of the art material and cutting-edge construction, which together give SeeFlex protectors their unique combination of protection, flexibility and breathability. This innovative technology enables the SeeFlex protectors to pass the highest EN1621-1:2012 Level 2 impact tests in all test circumstances and temperatures.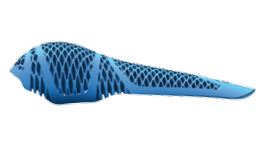 SeeSmart Level 1 CE Protection at Hips - SeeSmart is the latest innovation in motorcycle protection from our in-house Research and Development team. The thin, extremely flexible yet impact-ready CE rated protector is ideal for use in items that integrate into daily life.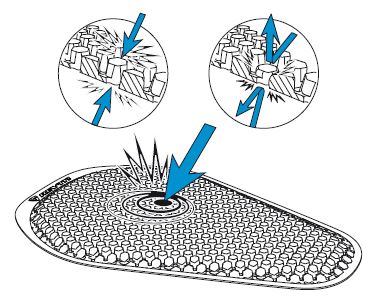 Gore-Tex Pro Talisman Panels at Knees
Safety Seams - The stitching in motorcycle garments contributes greatly to the abrasion resistance of the total gear. This is why REV'IT! uses safety seams on garment areas at increased risk of impact. Safety seams have a visible as well as an invisible seam. This construction keeps the material of the outer shell together, even when the visible seam is thorn.
Visibility
Laminated Reflection at Calves and Upper Legs - Reflection panels ensure excellent visibility at all angles, allowing the wearer to be seen from all directions. To offer a more sophisticated look, the reflection panels are welded to the fabric. This welding process also eliminates stitching seams, making the garments safer.
ERGONOMIC FEATURES
Fit
Adjustability
Adjustment Straps at Waist and Calves
Velcro Adjustment at Calves and Ankles
Ventilation
VCS|aquadefence - When opened the aquadefence system allows direct ventilation to the body. When the zipper or panel is closed, it presses onto the incorporated rain gutter, the jacket is then 100% wind and waterproof. When the panel or zipper is closed the rain gutter will stop the water from entering via the ventilation holes, thereby keeping you dry and comfortable.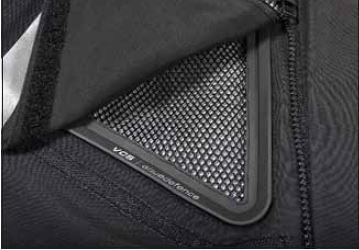 Features
VCS|panel with FidLock Magnetic Fastener - Removable panels for optimum ventilation. Ventilation is nice on warmer days, but not as desirable in cold weather. The panels can be kept open due to the FidLock magnetic fastener. The Fidlock magnetic fastener not only uses the attraction but also the repulsion of magnets. This leads to a robust closure with high locking strength that can still be easily opened with one hand while riding.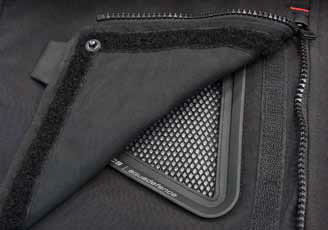 Stretch Panels at Waistband and Knees - The stretch panels in this garment aid in flexibility. They contribute to the riders comfort as they provide great freedom of movement.
Stretch Lips at Knees
Short and Long Connection Zipper - Thanks to the short and long connection zipper, these trousers are compatible for pairing with any jacket in the REV'IT! line.
Aero Cool 3D Mesh Panels at Upper Legs - This open-loft three-dimensional mesh helps facilitate optimal ventilation while riding. It features integrated lines to wick moisture away from the body, keeping riders cool and comfortable under even extreme circumstances.
Easy Entrance Zipper at Calf - The zipper can be opened at the calf allowing you to entrance the trousers easily.
Grip Panel at Seat - The grip panel at the seat ensures you stay in control in all weather conditions and won't slide in your seat at any time. A key feature for any rider, pillion passengers will also appreciate this extra level of performance.
YKK Slide Lock Front Closure - This unique front closure works like a slide lock and once closed it won't open up spontaneously. The slide locks into a conical shaped slider ensuring they won't separate until you want them to.
Prepared for Strapper Suspenders - The trousers are prepared for the Strapper suspenders. The Strapper can be connected to the short connection zipper at the back and the special made Velcro attachment point on the front side. The suspenders are compatible with a selection of trousers from the REV'IT! collection.
Pockets
Your package will include the following:
Rev It Dominator 2 GTX Motorcycle Trousers
Rev'It! Men's Trousers Sizing Guide
Please use the conversion table below to determine the right size for you:
UK Size
S
S
M
M
L
L/
XL
XL/
XXL
XXL
XXXL
(XYL)
XXXL
(XYL)/
XXXXL
(XZL)
XXXXL
(XZL)/
5XL
5XL/
6XL
6XL
UK / US Waist
26"
28"
30"
32"
34"
36"
38"
40"
42"
44"
46"
48"
50"
EU Size
44
46
48
50
52
54
56
58
60
62
64
66
68
Inseam Short Leg
n/a
n/a
30"
30"
31"
31"
31"
31"
32"
33"
33"
n/a
n/a
Inseam Regular Leg
31"
32"
32"
32"
33"
33"
33"
34"
34"
35"
35"
35"
35"
Inseam Long Leg
n/a
n/a
34"
34"
35"
35"
36"
n/a
n/a
n/a
n/a
n/a
n/a