Please Note: Each exhaust is hand crafted in England by the same technicians who create factory systems for the highest profile race series on the calendar. The teamís meticulous attention to detail and superior engineering skills put Scorpion at the very top in terms of construction quality and reliability. Because each customer's exhaust is crafted by automotive engineers and every component that goes out through the doors is checked by quality control technicians, there may occasionally be some delay to the estimated despatch time. But donít worry, if there is any unexpected delay we will inform you straight away.
The Scorpion Serket Taper Black Ceramic Slip-On Exhaust - Kawasaki Z H2 2020 - 2021 is part of the latest Scorpion collection.
Scorpion has released a range of performance exhaust options for Kawasaki's boosted Z H2 motorcycle.
The innovative new slip-on exhaust features two silencer options, both the highly regarded Serket Parallel and retro inspired Red Power silencers are available. Riders can select from brushed stainless steel or black ceramic sleeve finishes on both silencer options.
Both high quality silencers connect to the bike via a T304 stainless steel link pipe. A full fitting kit is provided for an easy and straightforward installation. Dyno development ensures compatibility with the Z H2's OEM engine configuration, no remapping is required.
The free flowing design means the already powerful supercharged engine receives a power enhancement of up to 6bhp depending on silencer choice. The premium materials used in construction also reduces the motorcycles weight for better overall maneuverability.
With the use of high quality materials, both slip-on silencers offer a sharper racing sound throughout the rev range which is perfectly matched to the Z H2's overall profile.
SERKET
The 'SERKET' range remains true to Scorpion's core values of Performance and Precision. Dyno development and rigorous testing ensures optimum performance improvement within the O.E. manufacturers' fuelling tolerances.
| | O.E.M. | Scorpion | Comparison |
| --- | --- | --- | --- |
| Power | 171 hp | 174 hp | +3 hp |
| Weight | 7.7 kg | 2.9 kg | -4.8 kg |
Key Features / Points:
Improved Performance
Superior Engineering
Lifetime Warranty
Fitting Instructions Included
British Manufactured
View all Scorpion Kawasaki Motorcycle Exhausts. View all Scorpion Motorcycle Exhausts.
PLEASE NOTE: Silencers remove secondary catalyst, product not EC approved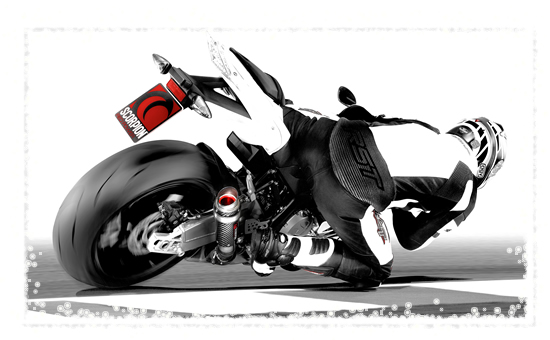 The Scorpion Red Power Motorbike Exhausts are packed with features...
Specifications Include:
Red Power - Built to stir your soul!
Finish - Black ceramic coated sleeve
Warranty - All Scorpion exhausts come with a lifetime warranty
British Manufactured - All Scorpion exhausts are hand crafted by Scorpion automotive engineers in Derbyshire, UK
Crash Damage/Impact Guarantee - We offer a 50% discount on any crashed damaged product, you must be the original purchaser and your claim must be on a like for like basis, one claim per person. Please note this crash damage guarantee does not apply to Off Road or 2-Stroke Scooter products
Fuelling - All Scorpion products are Dyno developed which means that no fuelling modifications are necessary when fitting our products
Fittings/Instructions - All Scorpion products are supplied with everything needed to fit and ride, along with parts drawings and picture instructions where necessary
Cleaning/Caring - Wash with warm soapy water, allow to dry/wipe with a soft clean cloth. Never use abrasive or solvent based products
PLEASE NOTE: Silencers remove secondary catalyst
Your package will include the following:
RKA135BCER - Scorpion Serket Taper Black Ceramic Slip-On Exhaust - Kawasaki Z H2 2020 - 2021, consisting of:
Serket Taper Silencer (Black Ceramic Coated Sleeve)
Connecting Pipe
Fitting Kit
Fitting Instructions