The Rev It Dominator 3 GTX Motorcycle Trousers are part of the latest REV'IT! collection.
The top-of-the-line waterproof Dominator 3 GTX pants feature the premium 3L GORE-TEX laminate. Reinforced Armacor fabric at the knee area improves durability and abrasion resistance. It also features a detachable bib, adding an extra layer of protection against the elements. It can then be taken off and easily stored when conditions improve. The pants now have more storage options thanks to the addition of cargo pockets at the upper legs. During rides in higher temperatures, airflow to the legs is facilitated by Rev'It!'s patented VCS|Aquadefence panels. Protection is provided by SEEFLEX CE-level 2 knee armour and the pants also include the thin and breathable SEESMART CE-level 1 hip protectors.
Key Features / Points:
Waterproof Gore-Tex Fabric Outer Shell
CE-Level 2 Knee & CE-Level 1 Hip Protection
Aquadefence Ventilation System
Detachable Bib
Short & Long Connection Zipper
View all Rev It Motorcycle Trousers. View all Textile Motorcycle Trousers.
The Rev'It! Dominator 3 Gore-Tex Touring Motorbike Pants are packed with features...
PROTECTION FEATURES
Outer Shell
3L GORE-TEX PRO Nnylon 400D Fabric - GORE-TEX shells are made for riding in extreme conditions. The fabric is made of rugged 400 denier high-tenacity nylon that delivers superior abrasion and tear resistance. A high-performance GORE-TEX membrane is bonded to a tough outer material and a specially developed, robust inner lining makes it a 3-layer. The benefits of a 3 layer are less water pick up of the outer layer which results in breathable comfort for all weather conditions
3L GORE-TEX Pro Armacor Fabric - The 3L GORE-TEX Pro Armacor fabric technology utilizes a blend of high-tech fibers that offer excellent tear and abrasion resistance, while still being light in weight and allowing mobility and flexibility
PWR|Shell 500D Stretch with Teflon Coating - Consisting of 100% high-performance polyamide yarns, PWR|shell 500D stretch with a Teflon coating takes the best properties of a nylon with a high melting point, tremendous tear and abrasion-resistance, and excellent durability and then puts the unique REV'IT! design stamp on it. The water and dirt-repellent Teflon coating makes it difficult for dirt to affix to or penetrate any material. This PWR|shell fabric has stretch properties for better fit and feel
Cowhide - Cowhide has been used in this garment for optimal fit and protection
Sure Grip - Cowhide has been used in this garment for optimal fit and protection
PWR|Kevlar Stretch - This PWR|shell stretch material has aramide and nylon fibres for extra strength
Protective Print
PWR|Shell 330D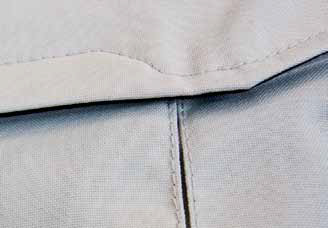 Lining
Protection
SEEFLEX CE-Level 2 Knee Protectors - Certified CE-Level 2 according to the new norm EN1621-1:2012 the SEEFLEX protector is the latest innovation from REV'IT!'s in-house R&D department. The new norm also tests the impact levels in various temperature ranges. The SEEFLEX protectors easily surpass the new norm without sacrificing wearer comfort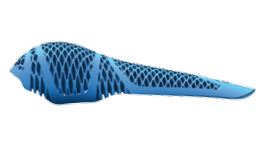 SEESMART CE-Level 1 Hip Protector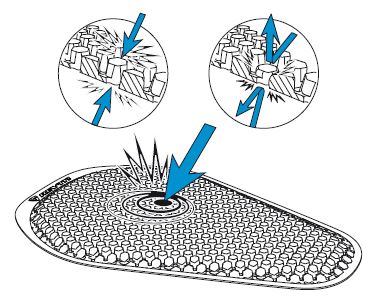 Safety Seams - The stitching in motorcycle garments contributes greatly to the abrasion resistance of the total gear. This is why REV'IT! uses safety seams on garment areas at increased risk of impact. Safety seams have a visible as well as an invisible seam. This construction keeps the material of the outer shell together, even when the visible seam is thorn
Visibility
Laminated Reflection - Reflection panels ensure excellent visibility at all angles, allowing the wearer to be seen from all directions. To offer a more sophisticated look, the reflection panels are welded to the fabric. This welding process also eliminates stitching seams, making the garments safer
Waterproofing & Breathability
3L GORE-TEX Pro - In this construction the GORE-TEX membrane is bonded to the outer shell and the inner lining. As there is no more movement between the layers, this construction is extremely durable. And the result is a 100% waterproof, windproof and highly breathable outer shell - offering unsurpassed durable wearer comfort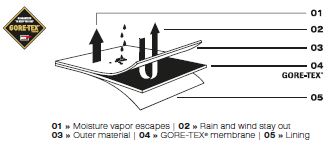 Composition
Outer Shell - 93% Polyamide (PA), 5% Leather, 1% Aramid, 1% Kevlar
ERGONOMIC FEATURES
Adjustability
Adjustment Straps
Adjustment Tab
Ventilation
VCS|Aquadefence - When opened the aquadefence system allows direct ventilation to the body. When the zipper or panel is closed, it presses onto the incorporated rain gutter, the jacket is then 100% wind- and waterproof. When the panel or zipper is closed the rain gutter will stop the water from entering via the ventilation holes, thereby keeping you dry and comfortable. (EU patent EP 2574249, US patent US 13/630.520)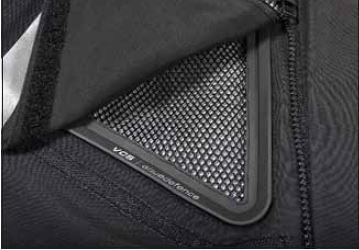 Features
Adjustable Protector Pockets - Within this type of protection pocket, the protector can be adjusted to several positions, in order to customize the shape for each rider. This results in the best personal fit and riding comfort
B-Lock Button Closure
Detachable Bib
Grip Panel at Seat - The grip panel at the seat ensures you stay in control in all weather conditions and won't slide in your seat at any time. A key feature for any rider, pillion passengers will also appreciate this extra level of performance
Short and Long Connection Zipper - Thanks to the short and long connection zipper, these trousers re compatible for pairing with any jacket in the REV'IT! line
Prepared for Strapper Suspenders - The trousers are prepared for the Strapper suspenders. The Strapper can be connected to the short connection zipper at the back and the specially made hook and loop attachment point on the front side. The suspenders are compatible with a selection of trousers from the REV'IT! collection
Stretch
3D Mesh Protector Pockets
VCS|Panel with FidLock Magnetic Fastener - Removable panels for optimum ventilation. Ventilation is nice on warmer days, but not as desirable in cold weather. The panels can be kept open due to the FidLock magnetic Fastener. The Fidlock magnetic fastener not only uses the attraction but also the repulsion of magnets. This leads to a robust closure with high locking strength that can still be easily opened with one hand while riding
Pockets
Slit Pockets
Waterproof Stash Pockets
Your package will include the following:
Rev It Dominator 3 GTX Motorcycle Trousers
Rev'It! Men's Trousers Sizing Guide
Please use the conversion table below to determine the right size for you:
UK Size
S
S
M
M
L
L/
XL
XL/
XXL
XXL
XXXL
(XYL)
XXXL
(XYL)/
XXXXL
(XZL)
XXXXL
(XZL)/
5XL
5XL/
6XL
6XL
UK / US Waist
26"
28"
30"
32"
34"
36"
38"
40"
42"
44"
46"
48"
50"
EU Size
44
46
48
50
52
54
56
58
60
62
64
66
68
Inseam Short Leg
n/a
n/a
30"
30"
31"
31"
31"
31"
32"
33"
33"
n/a
n/a
Inseam Regular Leg
31"
32"
32"
32"
33"
33"
33"
34"
34"
35"
35"
35"
35"
Inseam Long Leg
n/a
n/a
34"
34"
35"
35"
36"
n/a
n/a
n/a
n/a
n/a
n/a