The Shad SH44 Top Case 44L is part of the latest Shad collection.
The Shad SH44 Top Case 44L is a larger sized box in Shad's top box range and it's able to carry 2 medium full face helmets or a larger full face helmet and lots of accessories, making it perfect for bigger types of bikes. The SH44 top box is fully waterproof, aerodynamic, aesthetically designed with a carbon look cover. The SH44 top box is highly impact resistant with minimal thickness for ultra lightness. Most bikes require a Shad bike specific top box fitting kit - only a mounting plate is included with the top box.
Key Features / Points:
Highly Impact Resistant Body
Fully Waterproof
Mounting Plate Included
Capacity: 44 L (Fits 2 Medium Full Face Helmets)
Max Load: 6 kg
View all Shad Top Cases. View all Top Boxes.
PLEASE NOTE:
Shad Hard luggage requires specific fitting kits (sold separately) depending on the motorcycle it will be used with. If you require one of these please contact us with the make, model and year of your bike and we will special order the correct kit
Back rest, inner bag and brake light sold separately
The Shad SH44 Motorcycle Top Box 44L is packed with features...
Specifications Include:
Lightweight and aerodynamic
Highly impact resistant body
Fully waterproof
Shad press lock system - fully lockable
Simple and easy to remove from bike
Mounting plate included (Shad medium sized plate)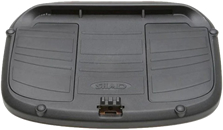 Elastic compression straps included
Designed in Barcelona
Optional accessories available (sold separately)
Capacity: 44 L (fits two medium full face helmets or one large full face helmet plus accessories)
Max load: 6 kg
Dimensions (height x width x depth): 315 x 550 x 435 mm
2-year warranty
Your package will include the following:
Shad SH44 Top Case 44L
Standard Mounting Plate (Medium Size)
Elastic Compression Straps
Full Fitting Instructions