The Black™ Rhino Motorcycle Gloves are part of the new additions to the Black™ range. These unique gloves are designed with sport in mind. Constructed from high quality Cow and Goat leather blended with inner Lining made with 100% Original Dupont™ Kevlar Fibres in key areas, Abrasion resistance was the key requirement. This glove has been kept simplistic but still making sure that the key features are available. Hard Carbon Fibre knuckles with stretch panels for key areas alongside rigid palm and wrist protection. The Rhino gloves have been aptly named due to the reinforcement of the Liner made with 100% DuPont™ Kevlar fibres in areas its needed the most.
Key Features / Points:
Cow and Goat Leather Construction
Inner Lining made with 100% Original Dupont™ Kevlar Fibres
Carbon Fibre Protective panels
Dual Hook and Loop Closure
Soft Touch Palm liner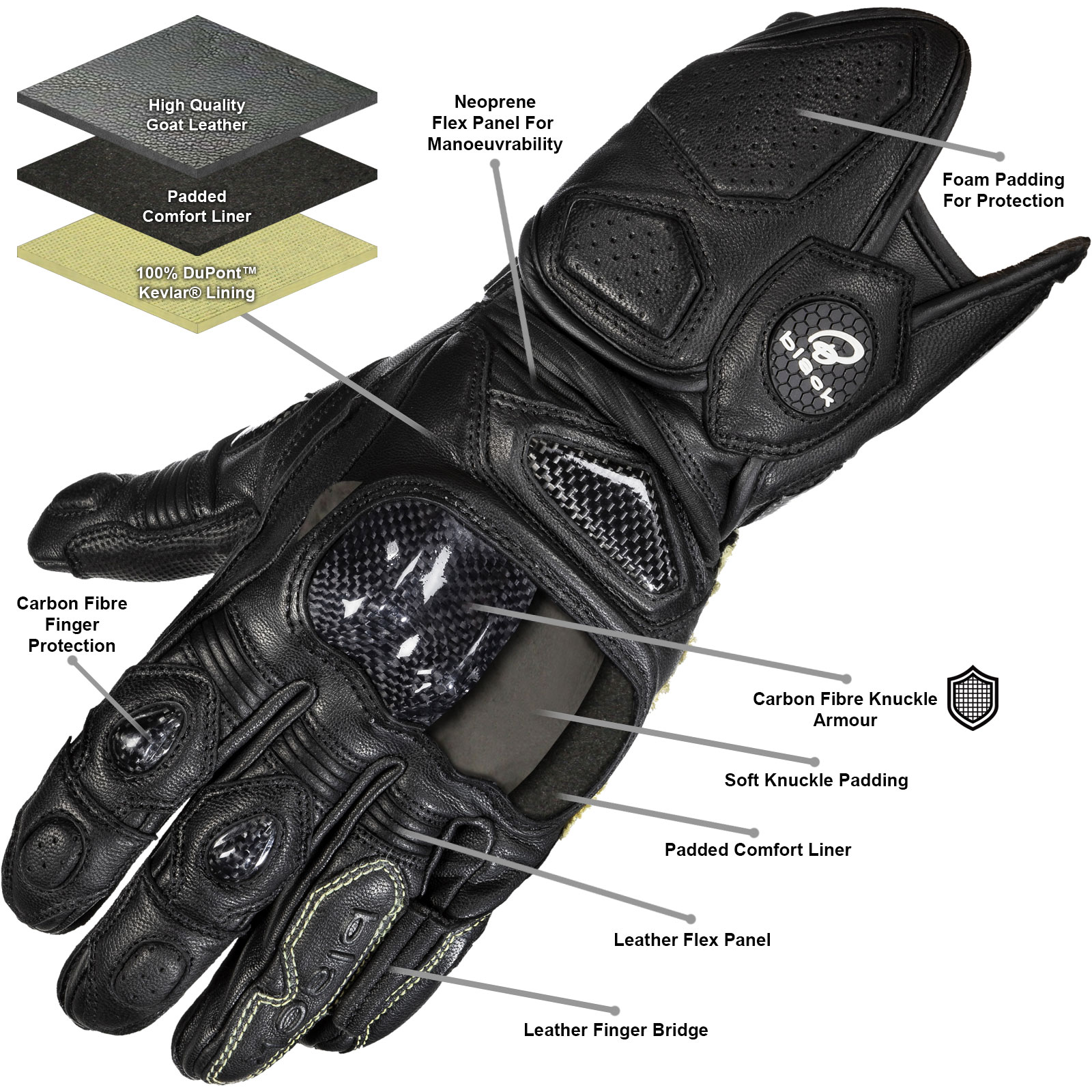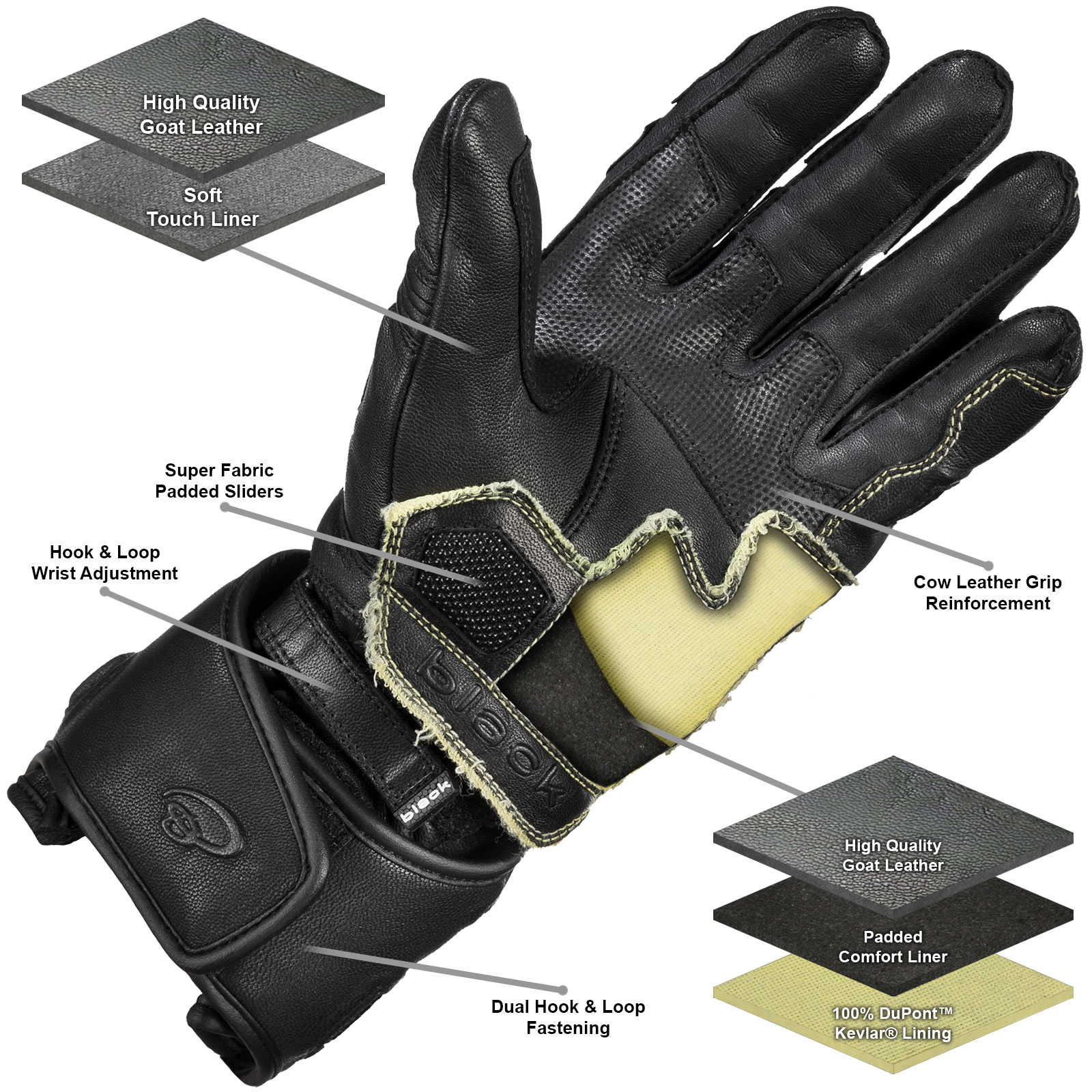 View all Black™ Motorcycle Gloves.View all Race and Sport Motorcycle Gloves.
Dupont™ and Kevlar™ are trademarks or registered trademarks of E.I. du pont de nemours and Company
Specifications Include:
Construction
Cow and Goat Leather Construction - With its mixed construction the glove offers the smooth and supple comfort of premium quality Goat Leather and the robust abrasion resistance of high-grade Cow leather.
100% Dupont™ Kevlar Lining - The back of the glove is lined with 100% Original Dupont™ Kevlar Fibres offers the ultimate abrasion resistance without sacrificing flexibility
100% Dupont™ Kevlar Reinforced Palm - Reinforced panel on the palm Inner Lining made with 100% Original Dupont™ Kevlar Fibres for further abrasion resistance
Carbon Fibre Protective Panels - With the strategically placed Carbon Fibre Panels on the Knuckle, back of the hand and Fingers you get the best in impact and abrasion protection
Leather Finger Bridge - Finger bridge on the third and fourth finger prevents finger roll and separation in the event of a slide
Super Fabric Palm Slider - The Palm slider is constructed with incredibly tough super fabric offering high levels of abrasion resist without hindering movement
Leather Adjusting Strap Cover - The Double stitched leather reinforcement panel on the palm extends to cover the Adjustable wrist tensioning strap to prevent this catching in the event of an accident
Leather Reinforced Grip Panel - A Reinforced leather panel placed on the upper palm is designed to offer additional abrasion resistance as well as providing extra grip and reducing wear
Double Stitched Reinforcements - Specifically targeted areas are double stitched to dramatically improve strength and stability
Comfort
Soft Knuckle Padding - The Carbon Fibre Finger and Knuckle armour is also lined with a soft for fitting padding to ensure a close comfortable fit
Padded Comfort Liner - The full back of the hand has a padded comfort liner to ensure that the armour required to offer premium protection does not affect comfort.
Leather Stretch Panels on Fingers - Leather Stretch panels on the fingers to ensure easy and free movement
Elasticated Stitching on Wrist - Elasticated stitching around the back of the wrist to offer a secure fit without hindering wrist manoeuvrability
Dual Hook and Loop Closure - The Dual Hook and Loop extra strong closure means you will always have a comfortable tight fit every time
Hook and Loop Wrist Adjustment Strap - Customise your fit with the hook and loop wrist adjustment strap
Perforated Leather - Perforated Leather panels offer maximum airflow to keep you cool and in control
Soft Touch Palm Liner - The lightweight dual layered palm is designed to feel like a second skin meaning you have the maximum protection without sacrificing comfort or feel
Neoprene Stretch Panels on Back of Hand - The Neoprene stretch panel on the back of the hand is designed to maximise air flow and wrist movement
Dupont™ and Kevlar? are trademarks or registered trademarks of E.I. du pont de nemours and Company
Your package will include the following:....
Black™ Rhino Leather Motorcycle Gloves in your chosen size
Standard Glove Sizing Guide
Please use the conversion table below to determine the right size for you:
| UK Size | XXXS | XXS | XS | S | M | L | XL | XXL | XXXL |
| --- | --- | --- | --- | --- | --- | --- | --- | --- | --- |
| Palm Width | 5cm | 6cm | 7cm | 8cm | 9cm | 10cm | 11cm | 12cm | 13cm |