The Agrius Score Conoid Open Face Motorcycle Helmet is part of the latest Agrius collection.
The Agrius Score is a stylish, classic-looking open face helmet aimed at urban commuters on motorcycles and scooters alike. It packs in all the most essential rider-friendly features - built-in sun visor, micrometric buckle, fully removable lining - but still comes at a lower price than you would expect to pay for any mid-range open face helmet. Besides the simple yet effective demi-jet design and the commendable specsheet, this crash helmet is also ECER 22.06 approved, which is the latest, more stringent safety standard for motorbike helmets on the European market. The Score's combination of style, comfort, safety, and performance make it a superb overall package and a great choice for city riding or even casual touring.
The Agrius Score helmet can be customised to suit your style with a peak and long outer visor available separately. To change the look and add some shade, click here for the Agrius Score Motorcycle Helmet Peak. To keep the wind out of your face with a long face shield in a range of colours, click here for the Agrius Score Motorcycle Helmet Visor.
Complies with the latest helmet standard, with a top quality build and customisable with optional peak or long outer visor. The Agrius Score is the best value ECE R22.06 helmet on the market!
Key Features / Points:
Latest ECE 22.06 Helmet Safety Standard
ABS Shell Construction
Anti-Scratch Internal Sun Visor
Micro-Metric Chin Strap Fastening
Fully Removable Lining
View all Agrius Score Motorcycle Helmets. View all Open Face Motorcycle Helmets.
PLEASE NOTE: This helmet comes with a dark smoke internal visor fitted as standard
The Agrius Score Conoid Open Face Scooter Helmet is packed with features...
Specifications Include:
ECER 22.06 Approved - The Latest Helmet Standard - The helmet meets the very latest UN regulations for safety, making it fully road legal in both the UK and Europe. ECER 22.06 supercedes the ECER 22.05 standard, requiring helmets to pass more stringent tests.
Demi Jet Design - Classic urban looks with a smooth, demi-jet design, the Agrius Score helmet is equally at home on both short city runs and longer commutes. Its small size fits easily under many scooter seats and in all but the tiniest top cases.
ABS Shell Construction - The lightweight ABS shell of the Agrius Score helmet helps keep you safe on your journey.
Anti-Scratch Internal Sun Visor - With a tab at the left side, the drop-down inner sun visor allows you to protect your eyes from the sun without having to wear sunglasses. It is dual anti-scratch, with both the outer and inner faces having an anti-scratch coating.

Micro-Metric Retention System - The quick-release micrometric buckle allows for small adjustments to be made to the tightness of the strap, keeping your helmet secure without compromising comfort.

Fully Removable Lining - Removable and washable polyester liner and cheekpads allow you to keep your helmet feeling fresh and new.

Speaker Recesses - The EPS liner is shaped to leave space for some aftermarket Bluetooth headset speakers to be installed behind the lining.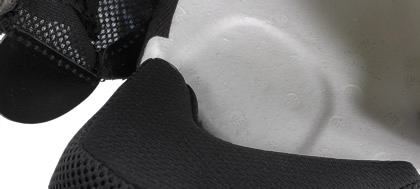 Peak and Outer Visor Accessories Available - A peak designed specifically to fit the Agrius Score helmet is also available, sold separately. Also available separately is a long outer visor to deflect air from your face whilst riding. Please note: the peak and the outer visor are interchangeable - you can fit either the peak OR the outer visor at any one time using the plastic fitments included with the accessory.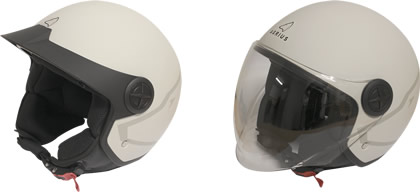 Weight - 1180 ±50 g (Size L)
PLEASE NOTE: This helmet comes with a dark smoke internal visor fitted as standard
Your package will include the following:
Agrius Score Conoid Open Face Motorcycle Helmet
Helmet Dust Bag
Helmet Sizing Guide
Please use the conversion table below to determine the right size for you:
| Size | XXXS | XXS | XS | S | M | L | XL | XXL | XXXL |
| --- | --- | --- | --- | --- | --- | --- | --- | --- | --- |
| Adult | - | - | 53-54cm | 55-56cm | 57-58cm | 59cm | 60cm | 61cm | - |