Designed and developed by British bikers, GhostBikes.com proudly present the Blackô Spectre Waterproof Motorcycle Kit. Carefully crafted from the highest quality materials, this simple piece of kit could prove to be a real life saver for any biker. Fully waterproof with two large storage pockets to the front and a chest pocket, the Spectre jacket has elasticated cuffs, ideal for keeping out any unwanted water when the rain gets heavy. The elastication continues around the back of the jacket, where the waistband is easily expandable to ensure the Spectre can easily be worn over any larger motorcycle jacket of your choice. Long reflective strips span the shoulders and around the arms of the jacket, making you more visible to other road users on those dark winter nights. A must have for any biker, get your Blackô Spectre Waterproof Motorcycle Jacket, available now at GhostBikes.com today!
Key Features / Points:
High Quality Construction
Elasticated
Be Safe, Be Seen
Storage Bag Provided
Fully Waterproof
View all Blackô Rainsuits. View all Motorcycle Rainsuits.
The Blackô Spectre Waterproof Motorbike Jacket is packed with features!
Specifications include:
High Quaility Construction - Crafted from the highest quality materials, the Spectre jacket is the best rain jacket on the market right now
Simple storage - Two large frontal pockets will allow you to keep your prized possessions close by whilst riding, with an upper chest pocket for smaller items
Elasticated - Elasticated cuffs prevent any unwanted water sneaking up your sleeves, and the elasticated waist line enables you to effortlessly pull the Spectre on over another larger motorcycle jacket
Be safe, be seen - Reflective strips have been strategically placed across the back and around the arms to ensure you are as safe as possible at all times
Fleece Lined Collar - The Spectre's fleece-lined comfort collar will keep you cosy and warm on those longer rides
Protected Zip - Another great feature; the zip can be fully covered with an extra panel and secured by Velcro, deflecting water away from key areas
Easy storage - A small storage bag is included with the Spectre, ideal for placing under a seat or inside a backpack when the jacket is not in use
The Blackô Spectre Waterproof Motorcycle Jacket is currently available in the colours shown in the product variation above. If there is no variation option, it will be available in the colours as shown in the above pictures.
Your package will include the following:
Brand new & well packaged item
Blackô Spectre Waterproof Motorcycle Jacket in your chosen size
The Blackô Spectre Textile Waterproof Over Jacket is available in the following sizes: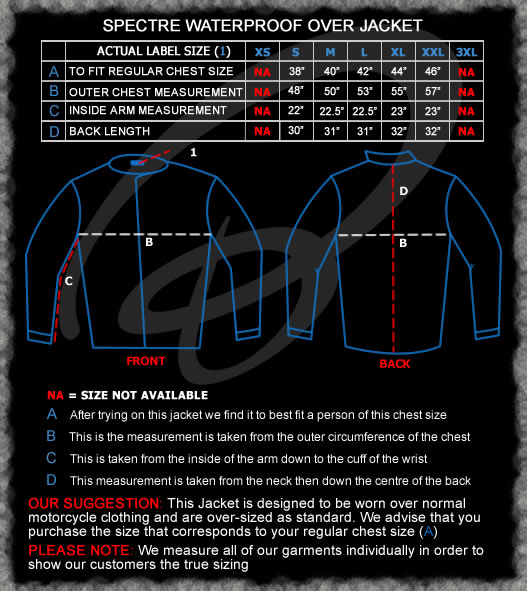 Black Spectre Over Jacket Sizing Guide
Please use the conversion table below to determine the right size for you: