The Ninebot Gokart Pro Plus, powered by Segway is part of the latest Ninebot Go-Kart collection.
The ultimate Go-kart designed for both adults and teenagers which reaches thrilling speeds of upto 24.9 mph (40 km/h). The Ninebot Pro Go Kart is fast, powerful and more fun than previous models which were aimed at a much younger market, and this new updated Pro Plus model raises the bar even higher with a speedometer for immediate speed feedback, and a higher top speed of 40 kph - 3 kph more than the Pro model . The frame is adjustable making it suitable for riders between 130 cm to 190 cm. This impressive model comes with front and side protection as well as a drifting assistance system which is powered via its app, enabling the rider to pre-programme their drift preferences. When you want to take a break from the track, you can also have some 2 wheeled fun by detaching the rear mounted Ninebot S-Max self balancing scooter.
For more information please view our Specifications & Contents tabs or visit the following pages:
Key Features / Points:
Achieve Speeds Upto 24.9 mph
Four Driving Modes - Suitable for Beginners and Professionals
Speedometer - Get Immediate Feedback on the Kart's Speed
Special Drifting TPE Rear Tyres - Drift Like A Pro
Convertible Into A Ninebot S-Max Self-Balancing Personal Transporter
View all Segway Ninebot Pro GoKarts. View all Go Karts.
PLEASE NOTE:
The Ninebot Gokart Pro Plus is designed for track use or private land and is NOT suitable for public road use.
Generic GhostBikes discount codes will not be honoured against any Ninebot product.
This product is unavailable for shipping outside the UK.
The Segway-Ninebot Go Kart Pro+ is packed with features...
Specifications include:
Pro Plus Model Now With Speedo - The Gokart PRO Plus improves on the Gokart PRO model with the inclusion of a speedometer, so you can see what speeds you're achieving. It also allows the driving mode to be changed easily using the red toggle switch.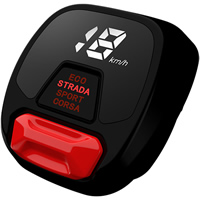 3 km/h Faster Than Before - The Gokart PRO Plus features a higher top speed than the Gokart PRO model with a top speed of 40 km/h (approx 24.9 mph). Achieve those shorter lap times!
Upped The Game - The Gokart PRO Plus achieves new levels of performance and refinement by being tested over 2 years' time with a professional Gokart racer, fine-tuning areas such as steering and durability to achieve maximum performance.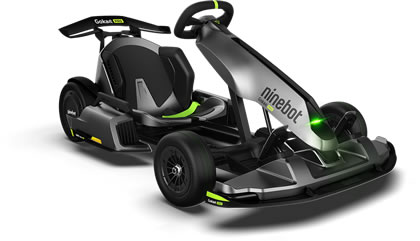 Ride the S-Max - The Ninebot Gokart PRO Plus can be separated into a Gokart frame and a self-balancing vehicle, allowing you also to assemble the body of the self-balancing vehicle into the Ninebot S-Max personal transport.
Special Drifting TPE Rear Tyres - The cutting-edge TPE rear tyres bring users the most exciting drifting experience ever. The controllable rear-end and high-speed cornering make it easier to show off drifting techniques like a professional racer.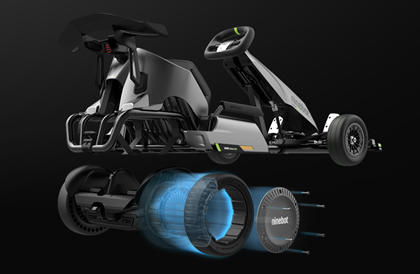 Designed As Supercars - The Gokart PRO Plus has an RR design; the rear engine and the rear-wheel-drive are set up like supercars. The weight distribution is designed with 40% front and 60% rear.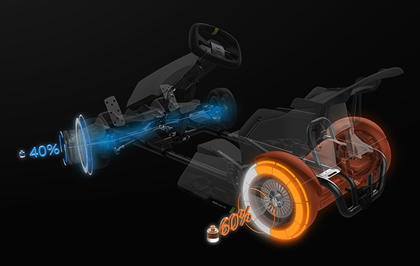 Four Driving Modes - Suitable for beginners and professionals, everyone can enjoy the ride.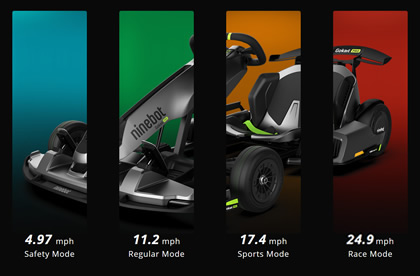 Aerodynamic Rear Wing - The aerodynamic rear wing adds additional downforce and stability while riding at high speeds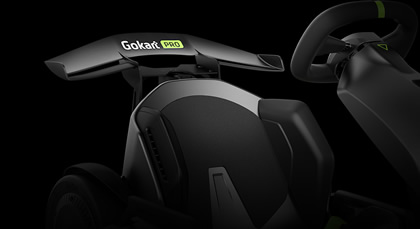 Racecar-Inspired Metal Pedals - The metal pedals bring riders racing excitement with a premium feel and added durability.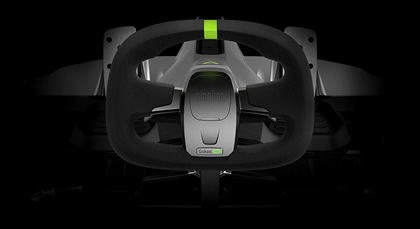 Front LED Light - The laser green front light LED protects the rider when the environment is dark.
Rear Reflector - Incorporates Formula 1 style rear LED reflector to protect the rider when the environment is dark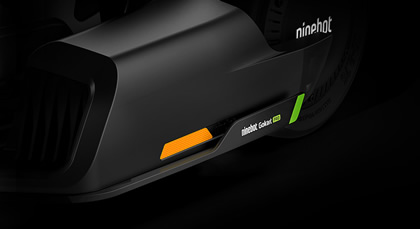 Fun for All - The Ninebot Gokart PRO Plus is designed with an adjustable frame and steering wheel to fit riders between 4'5" to 6'3". The high-strength frame can carry 220 lbs of maximum payload and its high torsional rigidity effectively withstands impacts from the road.
*Riders between the ages of 14-18 require adult supervision.
Immersive Engine Sounds Simulator (Bluetooth Speaker) - 4x8W high-power speakers on the Gokart PRO Plus emulate engine sounds of single-cylinder, two-cylinder, V8, or V12 engines to create a more immersive Gokarting experience. The speaker can also be used as a normal Bluetooth speaker to play the rider's choice of music.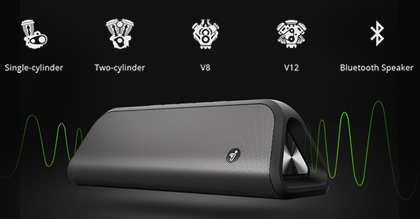 Upgraded Racer Seat - The racing-inspired seat has side bolsters that provide riders with maximum support during aggressive driving.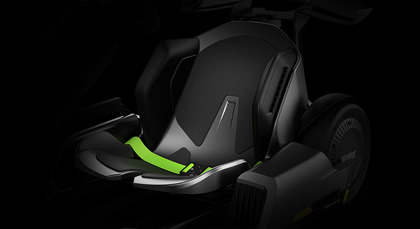 High-Traction Steering Wheel - The high-traction steering wheel provides riders with maximum control.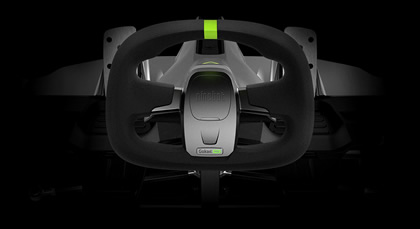 Manual Hand Brake - The manual handbrake can be used when drifting and can also be used as an effective way of braking during emergencies.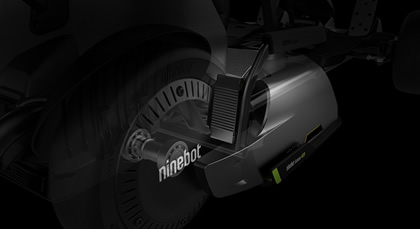 TPE Wide-Body Protection - The protection strip can absorb the impact force from all sides.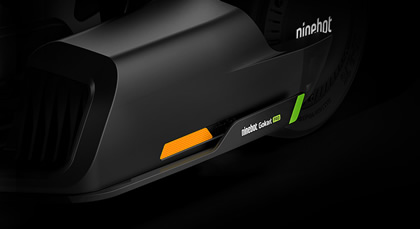 High-Grip Front Tyres - The high-grip front tyres provide excellent levels of grip and control while cornering.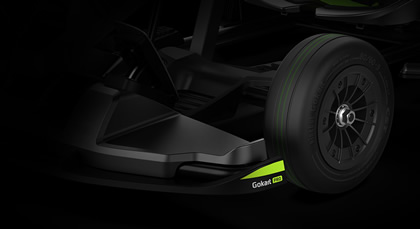 High-Strength Steel Frame - The Ninebot Gokart PRO Plus comes with a high-strength steel frame that can carry a payload of up to 220 lbs and reduces chassis flex during high-performance driving.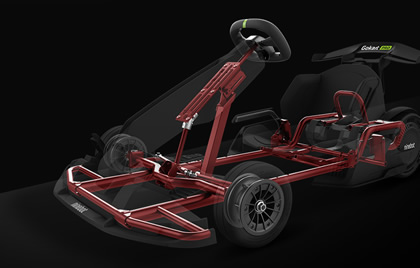 Triple Anti-collision Protection - The front end of the Gokart features three layers of TPE impact protection to increase the safety of the rider.
1. Inner layer: Steel frame can protect the body to maintain the shape.
2. Middle layer: High polymer material can absorb the energy from collision impacts.
3. Outer layer: TPE front lip can reduce the damage during a collision.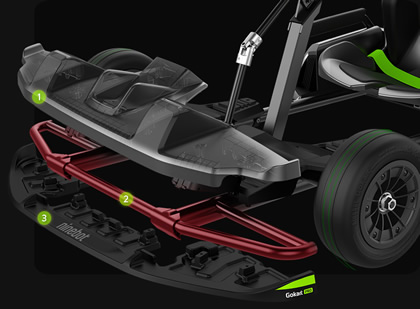 Superior Racecar-Inspired Design, Look & Performance - In one fell swoop, the Ninebot Gokart PRO Plus, which has won four major global design awards, has been recognized by international designers for its outstanding design, pushing the aesthetics of go karts to a new level, and making drivers fall in love with its strong performance.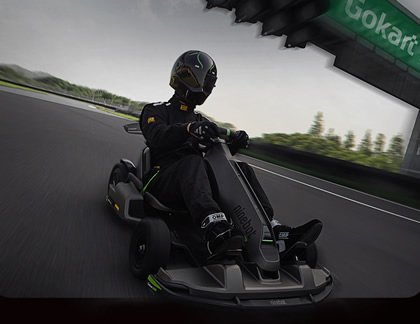 Dual Communication Technology - Dual-channel transmission systems consisting of wire transmission and Bluetooth transmission will guarantee stable communication.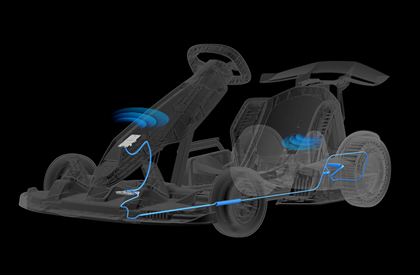 Auto Hold System - The automatic holding system can prevent slipping when the Gokart PRO Plus is parked on a slope.
Take it Everywhere - The Ninebot Gokart PRO Plus is collapsible to fit into most vehicle trunks, allowing you to take it wherever you want to go.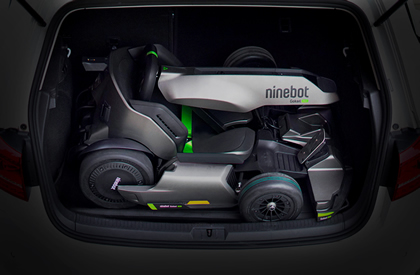 TECHNICAL SPECIFICATIONS:
Model: Ninebot Gokart PRO Plus
Vehicle size: 55.9 x 33.5 x 23.6 in (1420 x 852 x 600 mm)
Package size: 41 x 33.5 x 18 in (1040 x 852 x 459 mm)
Max payload: Approx. 220 lbs (100 kg)
Net weight: Approx. 112.9 lbs (51.2 kg)
Age: 14 + years old
Rider Height: 51.2 - 74.8 in (130-190 cm)
Speed limit: Approx. 24.9 mph (40 km/h)
Reversing speed limit: Approx. 1.9 mph (3 km/h)
Typical Range[1]: Approx. 15.5 mi (25 km)
Steering ratio: 2.1:1
Ground clearance: Approx. 1.8 in (45 mm)
Maximum slope: Approx. 15°
Traversable Terrain: Flat surface, paved road; obstacles 0.4 in (1 cm); gaps 1.2 in (3 cm); slopes 15°
Operating temperature: 14 - 104°F (-10 - 40°C)
Storage temperature: -4 - 122°F (-20 - 50°C)
IP rating: IPX4
Charging time: Approx. 4 hour
Speed modes: ECO mode - max. speed: 5 mph (8 km/h); STRADA mode - max. speed: 11 mph (18 km/h); SPORT mode - max. speed: 17.4 mph (28 km/h); CORSA mode - max. speed: 24.9 mph (40 km/h).
Nominal Voltage: 55.5 V DC
Max. Charging Voltage: 59.5 V DC
Nominal Energy: 432 Wh
Charging Temperature: 32 - 104°F (0 - 40°C)
Battery Management System: Over-voltage, under-voltage, short circuit, and over-heating Protection. Auto-sleep and auto-wake.
Nominal Power: 500 W x 2
Max. Power: 2400 W x 2
Input Voltage: 100 - 240 V ~ 50/60 Hz
Output Voltage: 59.5 V DC
Nominal Power: 120 W
Output Current: 2 A
Model/Quantity: 6 AA Batteries
Braking method: Electronic brake + mechanical handbrake
Braking distance[3]: 6 m
Front tyre: Tyre width: 3 in (80 mm); flatness ratio: 60%; hub diameter: 5 in (127 mm)
Rear tyre: Tyre width: 2.7 in (68 mm); 10 x 2.75 in, hollow solid tyre
Headlight: 0.2 Watt white LED light bar
Status indicator: The indicator comes in three colors: blue, yellow, and red. Blue means that the vehicle is in normal condition. Yellow means that the batteries in the front compartment need to be replaced. Red means that the vehicle has a performance failure, and you need to open the app to check the cause of the failure and contact the after-sales service.
Taillights: Full-color RGB taillight/brake light
[1] Typical Range: tested while riding under full power, 165.3 lbs (75 kg) load, 77°F (25°C), 60% of max. speed on average on pavement.
* Some of the factors that affect range include: speed, number of starts and stops, ambient temperature, etc.
[2] Front compartment battery: The battery compartment inside the frame that is used to power the frame indicator/headlight. When the battery is low, the blue indicator light turns yellow and blinks. You need to replace the batteries yourself.
[3] Braking distance: Under the circumstances of full power, 154 lbs (70kg) load, and measured on a flat hard road at an average speed of 12.4 mph (20 km/h).
PLEASE NOTE:
The Ninebot Gokart Pro Plus is designed for track use or private land and is NOT suitable for public road use.
Generic GhostBikes discount codes will not be honoured against any Ninebot product.
This product is unavailable for shipping outside the UK.
Your package will include the following:
Segway Ninebot Gokart Pro Plus, featuring Speedometer and a top speed of 24.9mph
User Manual (also download a copy of the English user manual here)
Quick Start Guide (also download a copy of the English quick start guide here)
6x AA Batteries
4x AAA Batteries - powers the Speedometer
Screws
3x Hex Wrenches
Tools to remove the steering bar bracket
Steering wheel quick release components
Battery Charger (with Type I 3-Pin plug)
UK 3-Pin Plug adaptor (for use with Type I 3-pin plug)
Ninebot Engine Speaker (with Mounting Bracket and USB Connection Cable)
Rear spoiler + mounts & bolts
Steering bar to convert unit into the S-Max
Suitable for ages 14 upwards with a height between 51.2 - 74.8" (130 - 190 cm)