Brand new to GhostBikes is the Tryonic Feel 3.7 Vest Back Protector. This comfortable Gilet vest combines the protection of the Feel 3.7 back protector with the comfort of a lightweight vest. Tryonics top of the range spine protector offers a combination of protection, comfort and lightweight that has never been seen before. Tryonic have developed a unique range of back protectors that are made using similar technology that is used for Motorcycle helmets. Each Tryonic Back protector is made with an anti penetration outer shell and a EPS inner shell, combined with a patented vertebra system that allows the back protector to replicate the movement of the spine, whilst at the same time providing great impact absorption. This combination results in a range of back protectors that achieve CE Level 2 certification whilst remaining extremely lightweight and comfortable.
Ghost Bikes now stock a full range of Tryonic Body Armour Please click here to see what's currently available.
The Tryonic Feel 3.7 Vest Back Protectors are packed with features...
KEY SPECIFICATION
Anatomically shaped removable padded area
Totally stretch air mesh body
Side Lycra stretch panels
Removable elastic waist belt
Thermal-welded neck profile
Lycra Collar
Lightweight
CE Level 2
Cool Max Air Mesh Lining
Anti penetration outer shell
Patented adjustable belt
Fully Adjustable Fit
Protection against impact
Tested to -20 degrees C
SO DIFFERENT, SO UNIQUE
Its unique ergonomic shape and features make Feel 3.7 accepted in the market as one of the best products in term of shock absorption and ergonomic design. The Feel3.7 has been chosen by a many riders all around the world and it has been selected by the Austrian Ski Team to be worn during downhill races by their team members.
EPS SHOCK ABSORBER: TRYONIC CHOICE
Minimizing impact force was Tryonic's goal when they started to develop their protectors and they have chosen EPS (which stands for EXPANDED POLYSTYRENE) to achieve this goal. EPS is used for the helmets in all sporting fields: it has a lightweight structure and its performance in terms of shock absorption is very well known. Tryonic have kept the shock absorption impact force below 4 kilo Newton ( kN ) by having the EPS core in the spine area. It is extremely light and extremely good in absorbing shock.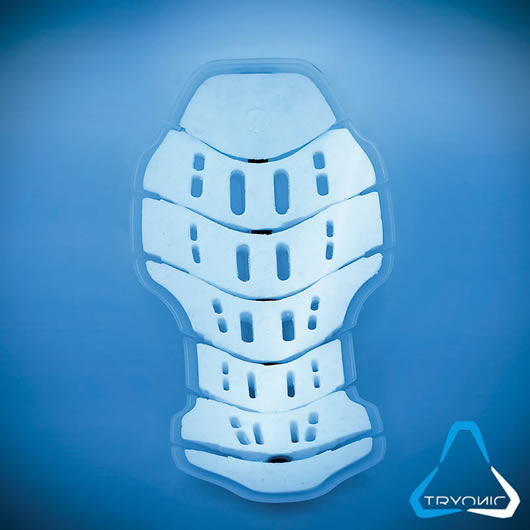 LEVEL 2: MAXIMUM LEVEL OF PROTECTION
CE standard for protectors 1621-2 is the benchmark for any company involved in making protective devices and selling products on the market can only be commenced once the specific item meets those requirements in terms of shock absorption, minimum covered area and ergonomic design.
A certified testing house carried out the testing to give the CE certification which is either LEVEL 1 or LEVEL 2. LEVEL 2 is better than LEVEL 1 as the average force transmitted must be below 9kN when LEVEL 1 is between 18 and 9 kN.
LEVEL 2: MAXIMUM LEVEL OF PROTECTION. TRYONIC'S INJECTED EPS REINFORCED WITH NANOMETRIC POWDERS HAS A GREAT PERFORMANCE IN TERMS OF SHOCK ABSORPTION. IN THE SPINE AREA OF THE BACK PROTECTOR, WHICH IS THE AREA OF MAXIMUM THICKNESS, WE ACHIEVED RESULT BELOW 4 KN.
CE CERTIFICATION LEVEL 2.
Tryonic only produce LEVEL 2 protectors and they are tested for to temperatures as low as -20°.
T.C.F. TRYONIC CUSTOM FIT: SIMPLE AND INNOVATIVE
The adjustable belt is a simple system, which allows the back protectors to be worn by anybody without thinking about the belt. Tryonic provide an adjustable belt, which follows the waist of the person in the best possible way to give a customized fitting giving the wearer a perfect fit.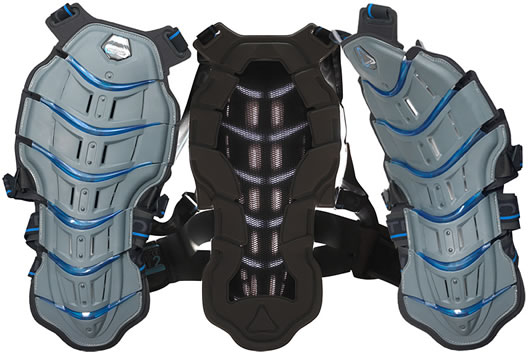 BREATHABILITY AND COMFORT
Along with the outer shells the inner part of Feel 3.7 back protectors is working to provide the greatest level of comfort during its use. Tryonic have made the thermoformed padding extremely well ventilated by using a stretch Coolmax® air-mesh, which allows air circulate smoothly through the protector providing a great level of freshness. Breathability follows the unique ergonomic shape with a perfect combination
The Tryonic Feel 3.7 Gilet Back Protectors are currently available in the colours shown in the product variation above, if there is no variation option, they will be available in the colours as shown in the pictures.
Your package will include the following
Brand new & well packaged item
Tryonic Feel 3.7 Vest Back Protector your size.
Tryonic Back Protectors are available in the following sizes...