The Rev It Replica One Piece Motorcycle Suit is part of the latest REV'IT! collection.
The Replica suit is a direct descendent of our MotoGP efforts. High quality Monaco cowhide leather is used together with strategically placed PWR | Kevlar stretch to ensure both a high abrasion resistance as well as freedom of movement. CE rated Betac® armor is used at the elbows, shoulders and knees, which is adjustable at the shoulders and knees to enable a personalized, custom fit. Dual-comp protectors are fitted on the shoulders and elbows to provide an even higher level of impact and abrasion protection. The Replica one piece comes standard with TRYONIC Seesoft CE-level 1 hip protector inserts. The use of aero cool 3D mesh inside the removable liner helps circulate air within the suit, keeping the rider dry and comfortable. Various fully and partially perforated panels in the front and back of the suit make sure to keep the rider cool during intense riding. It is possible to upgrade the suit with a Seesoft RV level 2 back protector and a hydra bag.
Key Features / Points:
Betac® CE Armour
TRYONIC Hip Armour
Dual-Comp Protectors
Removable Lining
Speed Hump Hydra Bag Prepared
View all Rev It Motorcycle Suits. View all Motorcycle Leathers.
The Rev It Replica One Piece Motorbike Leather Suit is packed with features...
PROTECTION FEATURES
Outer Shell
Monaco Cowhide - This type of leather is highly abrasion resistant, long-lasting and extremely protective. It's rugged leather with a natural shine giving it an elegant look
PWR | Kevlar Stretch - This PWR|shell stretch material has aramide and nylon fibres for extra strength
Neoprene - Neoprene is a synthetic rubber useful for protective gear. It is abrasion-resistant, chemical-resistant, waterproof, somewhat stretchable, and buoyant
Lorica® - Lorica® is constructed from microfibres that give the material characteristics similar to those of natural leather, including a leather look. This low-maintenance material is not as strong as leather, but softer and lighter, with a consistent thickness that makes it easier to process
Composition
Outer Shell - 84% Leather, 12% Polyamide, 3% Aramid, 1% Elastane
Lining - 82% Polyester, 16% Polyamide, 2% Elastane
Protection
Dual-Comp Protectors at Shoulders and Elbows - The dual-comp protector consists of a 3D, pre-shaped honeycomb structure of TPU material, topped by an aluminium high-impact shield, for ultimate sliding. This lightweight hard part increases the level of protection significantly, without adding the considerable weight of traditional plastic hard parts. Under the shoulder and elbow parts is ergonomically shaped, CE-approved armour, perfectly placed to maximize impact-resistance while preserving freedom of movement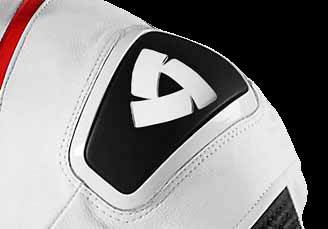 Dual-Comp Knee Slider Type A - The dual-comp knee sliders type A are constructed from a high-performance TPU compound, combined with an extra durable PA6 compound. Specially designed for racers who want high-performance sliders, these higher-quality compounds offer good feedback, giving you maximum durability without compromising your feel on the road. The sliders come in a pair of two, each anatomically shaped to fit either the left or the right knee, and high-quality Velcro attaches the sliders to leathers, ensuring they stay where they need to
Betac® CE Protection at Elbows - The Betac® protection in our suits is the same as our heroes use in professional racing series such as MotoGP. They are CE rated for the highest level of protection. The use of Velcro makes sure they are fixed to the outer shell, preventing them from moving or turning in case of an impact
Adjustable Betac® CE Protection at Shoulders and Knees - This MotoGP spec protector is adjustable, making it possible to customize the fit of the protector to the position on the bike. Thanks to the strong Velcro it will stay in place once positioned. This results in the best personal fit and riding comfort. You'll find the adjustable protector at the knees or at the shoulder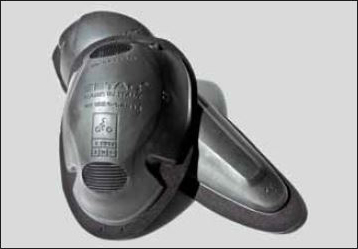 TRYONIC Seesoft CE-Level 1 Type B Hip Protector Insert - Version RV01 - In case of a crash the hips are vulnerable to take a large part of an initial impact and are very likely to slide over the tarmac. In case of a fall the impact energy will be transmitted from the hip to the spine and can cause serious back injuries. Wearing hip protectors can greatly reduce the risk of injuries to your hip joints and spine by diverting and absorbing energy from a crash. The TRYONIC Seesoft hip protector is made of a highly impact-resistant blend of synthetic memory foam that is multi-impact rated and CE certified to the European standard: EN1621-1:2012. The protector is composed of multiple layers. The individual layers have been fine tuned to meet motorcyclists' specific impact-absorption needs. The memory foam will absorb the first impact but the transmitted energy to the joint is further reduced by the shifting layer concept. The different layers employ a unique shifting-layer feature that provides extra protection in the event of a crash. When the protector is under impact the individual memory foam layers will shift relative to each other, which disperses the force of the crash over a larger surface area and effectively minimizes the force that is transmitted to the body. The TRYONIC SEESOFT multi-layer concept delivers adaptive impact absorption that doesn't compromise comfort, ventilation or flexibility
Safety Stitching - Stitching seams can be the weakest link in motorcycle garments, as they can rip upon impact. This ripping of seams can be prevented, however, through safety-stitching technology. REV'IT! uses safety stitching on garment areas at increased risk of impact (directive on the definition of risk category in zones 13595-1:2002)
Safety Seams - The stitching in motorcycle garments contributes greatly to the abrasion resistance of the total gear. This is why REV'IT! uses safety seams on garment areas at increased risk of impact. Safety seams have a visible as well as an invisible seam. This construction keeps the material of the outer shell together, even when the visible seam is thorn
Double Leather Seat - The seat of your garment is a critical impact zone. To prevent the stitches from tearing, we reinforce the leather seat, giving you two layers of protection
Prepared for Seesoft CE-Level 2 Back Protector Insert - Type RV - The back protector pocket in this REV'IT! garment is tailor-made to accommodate the Seesoft CE-level 2 back protector insert Type RV - an easy upgrade to maximize safety
ERGONOMIC FEATURES
Fit
Ventilation
VCS | Speed Hump Hydra Bag Prepared - REV'IT! has taken its ventilated speed hump and improved it even further, with a design that allows riders to put a hydra bag inside it. The REV'IT! ventilated speed hump has an air inlet at the top of the hump, and the perforated foam inside this leather speed hump is designed to let air flow through the garment, spreading over the rider's back for comfortable ventilation. Extra cooling of the area is especially beneficial now that riders are wearing back protectors more and more - and now, with a hydra bag inside, riders can keep hydrated during races and rides
Partly Perforated Outer Shell at Chest, Back and Legs
Fully Perforated Panels at Front, Back, Arms and Upper Legs
Features
Comfort Cuffs
Stretch Lips at Shoulders, Back, Upper Arms, Elbows and Knees
Stretch Panels at Front, Back, Sleeves, Crotch and Legs
Replaceable Grip Part at Inside Knees - This part at the inside of the knees gives you extra grip for ultimate control in the corners. It also protects the leather from wear and tear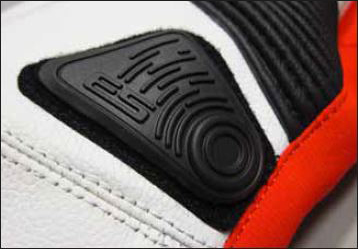 Removable Lining - A removable, washable mesh lining with stretch inserts for more comfort
Aero Cool 3D Mesh at Back - This open-loft three-dimensional mesh helps facilitate optimal ventilation while riding. It features integrated lines to wick moisture away from the body, keeping riders cool and comfortable under even extreme circumstances
Pockets
Your package will include the following:
Rev It Replica One Piece Motorcycle Suit
Please Note: this product is sized by the UK chest size in inches. See the table below for other size conversions.
Rev'It! Men's Leather Jacket Sizing Guide
Please use the conversion table below to determine the right size for you:
| UK/US Chest | EU Men's Size | Letter Size |
| --- | --- | --- |
| 36" | 46 | XXS |
| 38" | 48 | XS |
| 40" | 50 | S |
| 42" | 52 | M |
| 44" | 54 | L |
| 46" | 56 | XL |
| 48" | 58 | XXL |
| 50" | 60 | XXXL |
| 52" | 62 | XXXXL |
Rev'It! Men's Leather Trousers Sizing Guide
Please use the conversion table below to determine the right size for you:
UK/US Size
EU Men's Size
Waist
Hips
Outseam
Inseam
30"

46
30" - 32"
37" - 38"
40"
30"
32"

48
33" - 34"
39" - 40"
40"
31"
34"
50
34" - 35"
40" - 41"
41"
31"
36"
52
36" - 37"
41" - 42"
41"
32"
38"
54
38" - 40"
42" - 43"
42"
32"
40"
56
40" - 42"
44" - 45"
43"
32"
42"
58
42" - 43"
45" - 46"
43"
33"
44"
60
44" - 46"
46" - 48"
44"
33"
46"
62
46" - 48"
48" - 50"
44"
34"
Long
32"

48
33" - 34"
39" - 40"
43"
33"
34"
50
34" - 35"
40" - 41"
43"
34"
36"
52
36" - 37"
41" - 42"
44"
34"
38"
54
38" - 40"
42" - 43"
45"
34"
40"
56
40" - 42"
44" - 45"
45"
35"
Short
32"

48
33" - 34"
39" - 40"
38"
29"
34"
50
34" - 35"
40" - 41"
38"
30"
36"
52
36" - 37"
41" - 42"
39"
30"
38"
54
38" - 40"
42" - 43"
39"
30"
40"
56
40" - 42"
44" - 45"
40"
31"
42"
58
42" - 43"
45" - 46"
41"
31"
44"
60
44" - 46"
46" - 48"
41"
32"