The Rev It Maverick Evo Leather Motorcycle Trousers are part of the latest REV'IT! collection.
The Maverick Evo can be matched to the Adrenaline Evo to create a complete suit, or sold separately as comfortable protective leather touring pants. Strategically placed PWR | shell stretch adds to the comfort of these Busan cowhide boot-cut trousers. Thanks to CE rated SaS-Tec® knee protectors and TRYONIC hip protectors, safety stitching and safety seams the Maverick Evo provides the proper protection.
Key Features / Points:
Busan Cowhide Leather
SaS-Tec® Knee Armour
TRYONIC Hip Protectors
Double Leather Seat
Tour Fit
View all Rev It Motorcycle Trousers. View all Motorcycle Trousers.
The Rev It Maverick Evo Cowhide Leather Motorbike Pants are packed with features...
PROTECTION FEATURES
Outer Shell
Busan Cowhide - Busan cowhide is high quality leather that feels tough and comfortable at the same time. Thanks to its flexibility and the fact that it breaks in easily it quickly feels like a second skin.
Busan cowhide is a strong, supple leather with a natural shine that is comfortable from the get go. The flexible nature of Busan cowhide creates a second skin feel in no time. This leather has a natural shine for a polished and refined look.
Busan can be cleaned using REV'IT! leather cleaner and will maintain its natural waterrepellency and natural shine with the regular use of REV'IT! leather conditioner. Regular application of REV'IT! leather conditioner will also help to protect against stains
PWR | Shell 500D Stretch - This material is REV'IT!'s take on Cordura®. Consisting of 100 percent high-performance polyamide yarns, PWR | shell takes the best properties of Cordura®-a high melting point, tremendous tear- and abrasion-resistance, excellent durability-and puts the unique REV'IT! design stamp on it. This PWR | shell fabric comes in a stretch variant. 500D indicates the density of the fabric. The higher the number the better the abrasion- and tear resistance properties are
Lorica® - Lorica® is constructed from microfibres that give the material characteristics similar to those of natural leather, including a leather look. This low-maintenance material is not as strong as leather, but softer and lighter, with a consistent thickness that makes it easier to process
Composition
Outer Shell - 80% Leather, 19% Polyamide, 1% Elastane
Lining - 100% polyester
Protection
SaS-Tec® CE Protection at Knees - SaS Tec® armour offers the best possible protection during a dynamic impact. The armour is made of a new polyurethane foam material, without a hard shell or edges, which surpasses the required CE-values by 50%. The closed air cells function by means of progressive absorption: with a slowly occurring stressor, the material remains soft and flexible, whereas sudden impact will cause the protector's air cells to respond quickly with increased resilience, creating a protective shield where the rider needs it most
TRYONIC SEESOFT CE-Level 1 Type B Hip Protector Insert, Version RV01 - In case of a crash the hips are vulnerable to take a large part of an initial impact and are very likely to slide over the tarmac. In case of a fall the impact energy will be transmitted from the hip to the spine and can cause serious back injuries. Wearing hip protectors can greatly reduce the risk of injuries to your hip joints and spine by diverting and absorbing energy from a crash.
The TRYONIC SEESOFT hip protector is made of a highly impact-resistant blend of synthetic memory foam that is multi-impact rated and CE certified to the European standard: EN1621-1:2012.
The protector is composed of multiple layers. The individual layers have been fine tuned to meet motorcyclists' specific impact-absorption needs. The memory foam will absorb the first impact but the transmitted energy to the joint is further reduced by the shifting layer concept. The different layers employ a unique shifting-layer feature that provides extra protection in the event of a crash. When the protector is under impact the individual memory foam layers will shift relative to each other, which disperses the force of the crash over a larger surface area and effectively minimizes the force that is transmitted to the body. The TRYONIC SEESOFT multi-layer concept delivers adaptive impact absorption that doesn't compromise comfort, ventilation or flexibility
Double Leather Seat -The seat of your garment is a critical impact zone. To prevent the stitches from tearing, we reinforce the leather seat, giving you two layers of protection
Safety Stitching - Stitching seams can be the weakest link in motorcycle garments, as they can rip upon impact. This ripping of seams can be prevented, however, through safety-stitching technology. REV'IT! uses safety stitching on garment areas at increased risk of impact (directive on the definition of risk category in zones 13595-1:2002)
Safety Seams - The stitching in motorcycle garments contributes greatly to the abrasion resistance of the total gear. This is why REV'IT! uses safety seams on garment areas at increased risk of impact. Safety seams have a visible as well as an invisible seam. This construction keeps the material of the outer shell together, even when the visible seam is thorn
Visibility
Reflection at Lower Legs and Back
ERGONOMIC FEATURES
Fit
Adjustability
Adjustment Strap at Waist
Features
Hook and Snap Front Closure - This hook-and-snap construction ensures trousers stay closed. The snap closes the trousers and the hook smoothly interlocks into the channel ensuring that the trousers won't open while riding
Adjustable Protector Pockets - Within this type of protection pocket, the protector can be adjusted to several positions, in order to customize the shape for each rider. This results in the best personal fit and riding comfort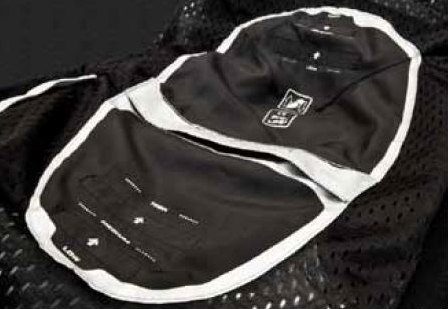 Short and Long Connection Zipper - Thanks to the short and long connection zipper, this jacket is/these trousers are compatible for pairing with any pair of trousers/any jacket in the REV'IT! line
Stretch Lips at Back and Knees
Stretch Panels at Waist and Legs - The stretch panels in this garment aid in flexibility. They contribute to the riders comfort as they provide great freedom of movement
Calf Zippers
Pockets
Your package will include the following:
Rev It Maverick Evo Leather Motorcycle Trousers
Rev'It! Men's Trousers Sizing Guide
Please use the conversion table below to determine the right size for you:
UK Size
S
S
M
M
L
L/
XL
XL/
XXL
XXL
XXXL
(XYL)
XXXL
(XYL)/
XXXXL
(XZL)
XXXXL
(XZL)/
5XL
5XL/
6XL
6XL
UK / US Waist
26"
28"
30"
32"
34"
36"
38"
40"
42"
44"
46"
48"
50"
EU Size
44
46
48
50
52
54
56
58
60
62
64
66
68
Inseam Short Leg
n/a
n/a
30"
30"
31"
31"
31"
31"
32"
33"
33"
n/a
n/a
Inseam Regular Leg
31"
32"
32"
32"
33"
33"
33"
34"
34"
35"
35"
35"
35"
Inseam Long Leg
n/a
n/a
34"
34"
35"
35"
36"
n/a
n/a
n/a
n/a
n/a
n/a
Please Note: this product is sized by the UK waist size in inches. See the table below for other size conversions.