The MT Thunder / Revenge / Blade / Mugello Visor is part of the latest MT collection.
For 2016 MT changed the design of the Thunder/Revenge/Blade visor in order to fit a Max Vision Pinlock lens. This new Max Vision visor design is incompatible with previous Thunder, Revenge and Blade helmets and will only fit the latest editions of these 3 helmet models. Previous editions may require the visor mechanism to be replaced with the new Max Vision carbon effect mechanism (sold separately) in order to fit the new Max Vision visors. Please contact us should you require this mechanism. Non-Max Vision visors are now discontinued.
The following 2016 & 2017 helmets feature the new Max Vision visor as standard:
Blade SV Reflexion
Thunder Squad
Thunder Skull & Roses
Thunder Tifosi
Thunder Wild Garden
Revenge Skull & Roses
Revenge Alpha
Revenge Binomy
All Thunder 3 SV graphics
Blade SV Morph
Mugello Leopard
Mugello Vapour
Mugello Solid
If your Thunder/Revenge/Blade helmet is not listed above you may require the new Max Vision carbon effect mechanism to fit the new Max Vision visor. See the photos below to help identify if your helmet will need the new mechanism.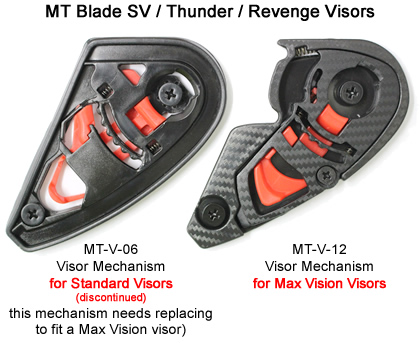 Key Features / Points:
Fits the MT Thunder, Thunder 3 SV, Revenge, Blade SV & Mugello Helmets
Optical Polycarbonate
Pinlock Ready (Clear Only)
Anti-Scratch
Genuine MT Replacement Part
View all MT Helmet Visors. View all Motorcycle Helmet Visors.
PLEASE NOTE: Tinted Visors are NOT suitable for public road use, they are designed for track use only
The MT Thunder / Revenge / Blade Full Face Helmet Visor is packed with features...
Specifications Include:
Fits the MT Thunder, Thunder SV, Revenge, Blade SV and Mugello Helmets
Optical Polycarbonate - High resistance to impact
Pinlock Ready (Clear Only) - Prepared for the installation of a Pinlock anti-fog insert
Anti-Scratch - Surface treatment of the visor against small abrasive impact
Genuine MT Replacement Part - Buy with confidence
Various Colours Available - Choose the style that suits you
Easy to Fit or Replace - Visor pivoting mechanism
PLEASE NOTE: Tinted Visors are NOT suitable for public road use, they are designed for track use only
Your package will include the following:
MT Thunder / Revenge / Blade / Mugello Visor