The Sidi Mag 1 Motorcycle Boots are part of the latest Sidi collection.
The Sidi Mag 1 Motorcycle Boots are the first of a new generation of motorcycle boots. At first look it only seems that Sidi have created another boot that is as good to look at as it will be to wear but behind this beauty is the magic that makes the Mag 1. If you were to pick up the Mag 1, one question would spring to mind, where is the zip? Well, with the Sidi Mag 1 there is no zip. You simply slip into the boots and secure them up using the 3 unbreakable ratchet straps. This gives these boots a whole new level of reliability, practicality and comfort without compromising on any of the safety features. The Mag 1 boots will be the last thing to fail!
As reviewed by webBikeWorld:
"...the Mag 1 boots have all the protection you need and better comfort than most motorcycle boots of any type. The new Tecno-3 closure system is much easier to use than previous versions and it now really does allow a custom fit at the arch, ankle and calf. Dial in just the right amount of snugness for your personal comfort and you're good to go, all with an amount of fore/aft flexibility that you just won't find in other race boots. The new lining material also helps in this regard and even the red liner at the top of each boot helps protect the back of the calf from chafing. ...it's time to try a pair of the new Sidi Mag 1 boots."
Key Features / Points:
Technomicro Microfibre Upper
Toe, Heel, Ankle & Shin Protection
Internal Support System
Integrated Air Ventilation System
TECNO-3 Magnetic Closure System
View all Sidi Sport Motorcycle Boots. View all Racing Motorcycle Boots.
The Sidi Mag 1 Race Motorbike Boots are packed with features...
Specifications Include:
MATERIALS
Technomicro Microfibre Upper - When constructing most of their boots, Sidi uses a new generation material called "Technomicro". Technomicro is a composite microfiber material created from strands that are so fine, each one is less than one thousand the thickness of silk. These fibers act like natural leather skin, but with the advantage of better strength, softer texture and lighter weight. Technomicro is also water resistant, highly resistant to abrasion and tearing and is easy to clean and maintain. Technomicro doesn't stain and offers reduced weight, more flexibility and a better feel than leather or other synthetic material boots
Lining - Lined with air Teflon mesh
Rubber Top Sole - Designed for improved grip
TECHNOLOGY
Arch and Achilles TPU Bands - Arch and Achilles areas are covered with Sidi's exclusive elastic textile and injection molded polyurethane comfort panels. The arch area utilizes two TPU bands next to the TECNO-3 Magnetic closures, for a maximum support and wrap of the arches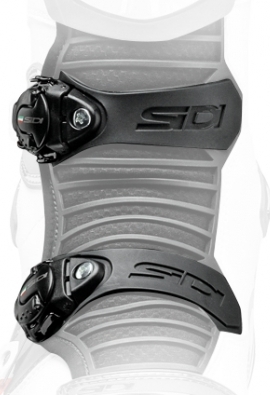 Replaceable Shin Plate -The shin plate is replaceable. It is made in polyurethane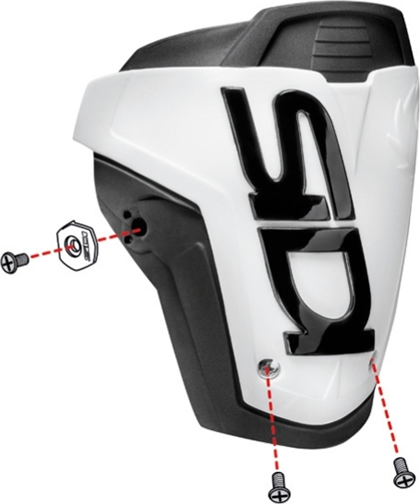 TECNO-3 Magnetic Closure System - An all new Micrometric TECNO-3 magnetic closure mechanism is easy and quick to use as well as being highly adjustable and light in weight. The TECNO-3 Magnetic closures close the boot with an extremely resistant steel wire, that is hooked to the clip with the aid of a magnet. Mechanisms and retaining clips are replaceable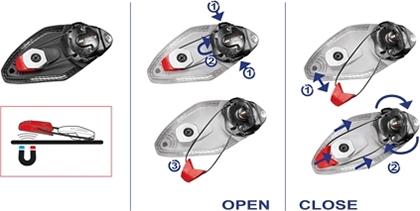 Internal Support System - The rear upper is made in polyurethane, and is assembled to the boot with two screws: one on the outside under the TECNO-3 Magnetic mechanism, the other on the inside which holds the micrometric adjuster strap. The screws support and block the internal support system which is made with carbon fiber beams, making up the frame of the boot. This system allows excellent flex movement front-to-back while being firm side-to-side. The TECNO-3 Magnetic mechanism and the micrometric memory strap adjust the leg circumference to fit around the calf muscle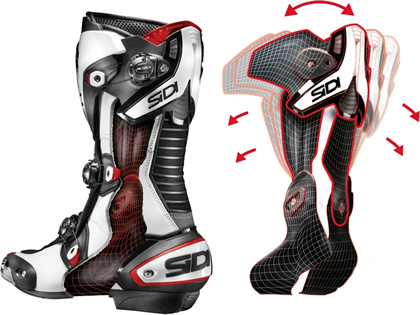 Adjustable Calf System - The TECNO-3 Magnetic mechanism and the micrometric memory strap adjust the leg circumference to fit around the calf muscle
Asymmetric and Shaped Heel Cup - Asymmetric and shaped shock absorbing heel cup, smooth and flat inside, for more adherence with the bike, with shock absorbing system in the back and outside. The shell and the shock absorbing system are replaceable through a screw and an interlocking system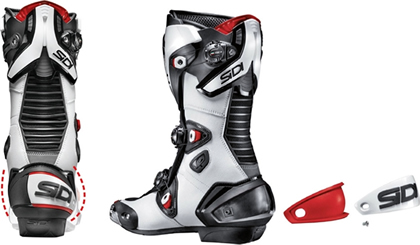 Shift Pad
Slider with Alloy Insert And Air Ventilation System Integrated - The toe slider is made in nylon reinforced with fiberglass. It is fitted with a new air intake and an innovative alloy insert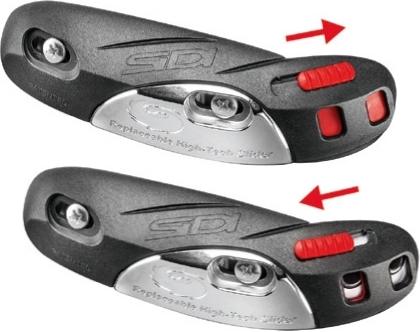 No Zip - Takes away all the fear and worry of the zip breaking and gives these boots a new level of long term reliability so you can push them to new limits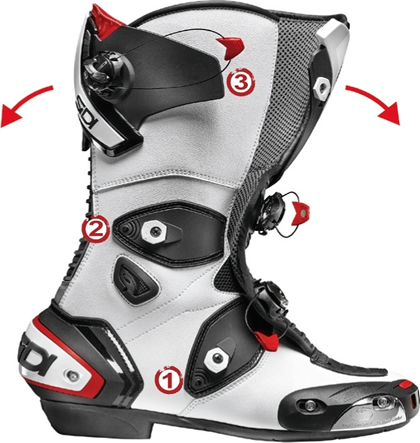 Reflective Insert on the Back
CE Approved - Tested, trusted, have the piece of mind, you are protected by the best available
Your package will include the following:
Sidi Mag 1 Motorcycle Boots
Boot Sizing Guide
Please use the conversion table below to determine the right size for you:
| EU Size | 36 | 37 | 38 | 39 | 40 | 41 | 42 | 43 | 44 | 45 | 46 | 47 | 48 | 49 | 50 |
| --- | --- | --- | --- | --- | --- | --- | --- | --- | --- | --- | --- | --- | --- | --- | --- |
| UK Size | 3 | 4 | 5 | 5.5 | 6.5 | 7 | 8 | 9 | 9.5 | 10.5 | 11 | 12 | 12.5 | 13.5 | 14 |
| US Size | 3.5 | 4.5 | 5.5 | 6 | 7 | 7.5 | 8.5 | 9.5 | 10 | 11 | 11.5 | 12.5 | 13 | 14 | 14.5 |