The Sidi Rex Motorcycle Boots are part of the latest Sidi collection.
Featuring cutting-edge technology through and through, the Rex is Sidi's flagship hardcore racing oriented motorbike boot. Boasting a revamped closure system and exoskeleton-like, air-ventilated ankle support brace, these boots scream race performance. In the safety department you get full coverage - toes, heel, ankle and shin complemented by a CE approval stamp. If you want the best that's available, these are the boots for you, quality assured by Sidi.
Key Features / Points:
Technomicro Microfibre Upper
Toe, Heel, Ankle & Shin Protection
External Ankle Support Brace
Integrated Air Ventilation System
TECNO-3 Push Tensioner Closure System
View all Sidi Sport Motorcycle Boots. View all Racing Motorcycle Boots.
The Sidi Rex Racing Motorbike Boots are packed with features...
Specifications Include:
MATERIALS
Technomicro Microfibre Upper - When constructing most of their boots, Sidi uses a new generation material called "Technomicro". Technomicro is a composite microfiber material created from strands that are so fine, each one is less than one thousand the thickness of silk. These fibers act like natural leather skin, but with the advantage of better strength, softer texture and lighter weight. Technomicro is also water resistant, highly resistant to abrasion and tearing and is easy to clean and maintain. Technomicro doesn't stain and offers reduced weight, more flexibility and a better feel than leather or other synthetic material boots
Lining - Lined with air Teflon mesh and Cambrelle
Rubber Top Sole - Designed for improved grip
TECHNOLOGY
Replaceable Shin Plate -The shin plate is replaceable. It is made in polyurethane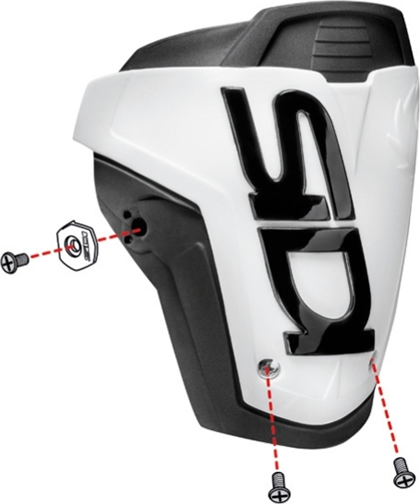 TECNO-3 Push Tensioner Closure System - The innovative closure system allows a simple and quick fit. The boot is equipped with 3 steel cable-adjustable closures with TECNO-3 Push rotors. The Push button allows the buckle to be lifted for more closing pressure. The shin and ankle mechanisms allow a symmetric closure. The instep mechanism ensures a snug yet comfortable fit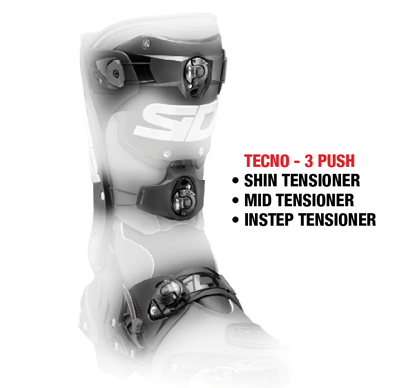 External Ankle Support Brace with Ankle Joint - A single ankle support brace joins the internal and external ankle joint for more support. In the outer lower part, the ankle support brace is equipped with air vents which can be operated by an aerodynamic shaped button. The ankle support brace is made of Nylon material with glass fiber. Small slots on the joint's central part allows perspiration and air dissipation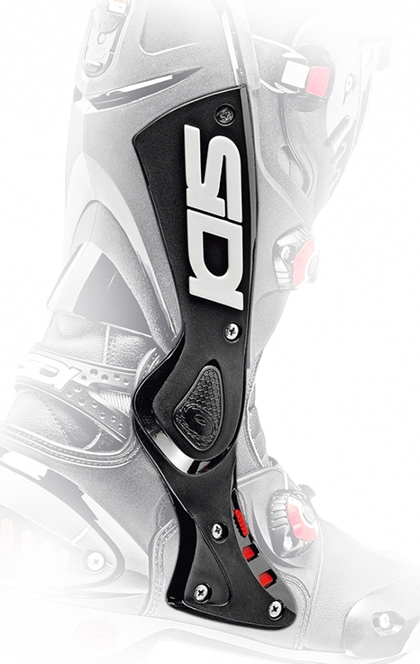 Asymmetric and Shaped Heel Cup - Asymmetric and shaped shock absorbing heel cup, smooth and flat inside, for more adherence with the bike, with shock absorbing system in the back and outside. The shell and the shock absorbing system are replaceable through a screw and an interlocking system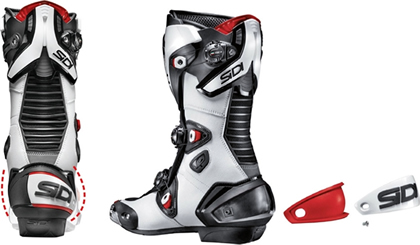 Shift Pad
Replaceable Toe Slider with Alloy Insert - The toe slider is made in nylon reinforced with fiberglass. It is fitted with a new air intake and an innovative alloy insert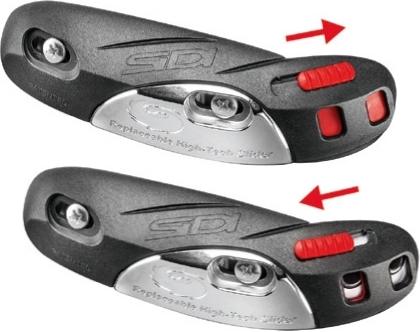 Elastic Panels on Front and Back Joint
Side Air Ventilation System
Nylon Inner Sole with Removable Arch Support Pad
Reflective Insert on the Back
CE Approved - Tested, trusted, have the piece of mind, you are protected by the best available
Your package will include the following:
Sidi Rex Motorcycle Boots
Boot Sizing Guide
Please use the conversion table below to determine the right size for you:
| EU Size | 36 | 37 | 38 | 39 | 40 | 41 | 42 | 43 | 44 | 45 | 46 | 47 | 48 | 49 | 50 |
| --- | --- | --- | --- | --- | --- | --- | --- | --- | --- | --- | --- | --- | --- | --- | --- |
| UK Size | 3 | 4 | 5 | 5.5 | 6.5 | 7 | 8 | 9 | 9.5 | 10.5 | 11 | 12 | 12.5 | 13.5 | 14 |
| US Size | 3.5 | 4.5 | 5.5 | 6 | 7 | 7.5 | 8.5 | 9.5 | 10 | 11 | 11.5 | 12.5 | 13 | 14 | 14.5 |