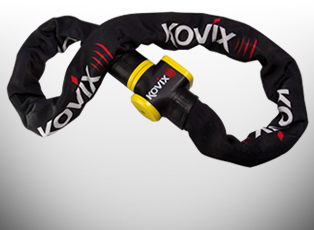 Kovix Motorcycle Chains And Padlocks
Looking for something heavy and sturdy to secure your motorcycle with? Kovix has the solution, with alarmed motorcycle chains and padlocks! For instant peace of mind, get an alarmed motorbike chain, starting at 1.2m in length and with a fabric sleeve to prevent damage to your bike. If that's not for you, how about an alarmed steel padlock? Starting at a 12mm pin size, Kovix motorbike padlocks are perfect for securing your motorcycle or scooter. By motorcyclists for motorcyclists, enjoy fantastic service and advice from GhostBikes!
Sorry there are no items in this category.