The Rev It Poseidon GTX Motorcycle Jacket and Trousers Light Grey Black Kit is part of the latest REV'IT! collection.
Lightweight yet extremely strong, the Poseidon GTX jacket is 100 percent waterproof with hardly any water pickup due to its 3-layer laminated outer shell. To complement the jacket, REV'IT! developed the equally versatile and weatherproof matching Poseidon GTX trousers. When coupled together they form arguably the best all season motorcycle touring kit available.
Key Features / Points:
GORE-TEX® Waterproofing
SaS Tec® CE Protection
Detachable Thermal Liner
VCS Aquadefence System
Super Abrasion Resistant
View all Rev It Motorcycle Kits. View all Motorcycle Kits.
The Rev'It! Poseidon GTX Motorbike Jacket and Pants Light Grey Black Kit is packed with features...
Jacket Specifications Include:
PROTECTION FEATURES
Outer Shell
3L GORE-TEX® Pro Nylon 600D Fabric - GORE-TEX® Pro shells are made for riding in extreme conditions. The fabric is made of rugged 600 denier high-tenacity nylon that delivers superior abrasion and tear resistance. A high-performance GORE-TEX® membrane is bonded to a tough outer material and a specially developed, robust inner lining makes it a 3-layer. The benefits of a 3 layer are less water pick up of the outer layer which results in breathable comfort for all weather conditions
2L Nylon 600D GORE-TEX® Fabric - This fabric is made of rugged 600 denier high-tenacity nylon that delivers superior abrasion and tear resistance. Laminating the GORE-TEX® membrane to the nylon fabric creates a 100 percent waterproof, windproof and highly breathable outer shell that offers excellent wearer comfort
3L Stretch GORE-TEX® Pro Fabric - This stretch-woven Pro Shell performance laminate allows freedom of movement, while keeping all the advantages of GORE-TEX® Pro Shell 3-Layer technology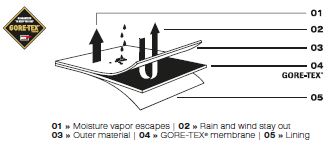 SuperFabric® - SuperFabric® technology is an advanced process that transforms ordinary fabrics into unique, highly protective materials. Multiple protective shields are applied close to each other within the fabric, but remain separate to allow maximum flexibility. These micro guard-plates provide an additional layer of protection, without adding weight, and help prevent abrasion to underlying fabrics. SuperFabric® is five times more abrasion-resistant than leather, with just half the weight
Polyester Rib - Polyester fabric is a mainstay of REV'IT! garments, providing the stylish silhouette that our apparel is known for. This polyester fabric features a specific rib weave, for optimal performance
Wax Polyester 600D - Long-lasting 600-denier fabric is a mainstay of REV'IT! apparel. This high-tech polyester features a specific rib weave for rugged durability and a refined finish for optimal performance. The 600D rating delivers excellent tear-resistant properties while the wax coating ensures capable water proofing
Lorica® - Lorica® is constructed from microfibres that give the material characteristics similar to those of natural leather, including a leather look. This low-maintenance material is not as strong as leather, but softer and lighter, with a consistent thickness that makes it easier to process
Insulation
Waterproofing
2L GORE-TEX® Fabric - By laminating the GORE-TEX membrane to the fabric, a 100% waterproof, windproof and highly breathable outer shell is created, offering unsurpassed durable wearer comfort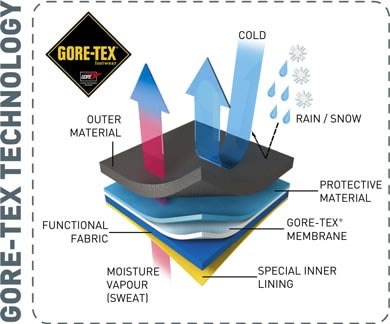 Composition
Outer Shell - 84% polyamide, 16% ePTFE
Protection
SaS Tec® CE Protection - SaS Tec® armour offers the best possible protection during a dynamic impact. The armour is made of a new polyurethane foam material, without a hard shell or edges, which surpasses the required CE-values by 50%. The closed air cells function by means of progressive absorption: with a slowly occurring stressor, the material remains soft and flexible, whereas sudden impact will cause the protector?s air cells to respond quickly with increased resilience, creating a protective shield where the rider needs it most
Prepared for SEESOFT? CE-Level 2 Back Protector Insert - Type RV - The back protector pocket in this REV'IT! garment is tailor-made to accommodate the SEESOFT? CE-level 2 back protector insert Type RV - an easy upgrade to maximize safety
SuperFabric® Panel - SuperFabric® technology is an advanced process that transforms ordinary fabrics into unique, highly protective materials. Multiple protective shields are applied close to each other within the fabric, but remain separate to allow maximum flexibility. These micro guard-plates provide an additional layer of protection, without adding weight, and help prevent abrasion to underlying fabrics. SuperFabric® is five times more abrasion-resistant than leather, with just half the weight
Visibility
Laminated Reflection - Reflection panels ensure excellent visibility at all angles, allowing the wearer to be seen from all directions. To offer a more sophisticated look, the reflection panels are welded to the fabric. This welding process also eliminates stitching seams, making the garments safer
ERGONOMIC FEATURES
Fit
Adjustability
UTA|Tab - Ultra thin adjustment tab at cuff or leg. Thanks to laminating technology, the material of this UTA|tab is extra thin. This allows you to comfortably wear the sleeve of your jacket under the cuff of a glove, as many riders prefer to do. This technology can be found in most garments in the collection, and also as cuff tabs on the legs of textile trousers
Adjustment Drawcord
Adjustment Strap
Adjustment Straps
Flexisnap - The REV'IT! Flexisnap makes it possible to adjust the collar circumference easily and personalize its fit to each rider. A jacket is often worn in more then one season, and the flexisnap makes it possible to adjust the collar within seconds. During winter a wider collar circumference accommodates combining the jacket with a balaclava or wind collar, while during summer, a wider circumference lets an all-important cooling wind into the collar. The flexisnap is available with 5 or 7 positions (XL)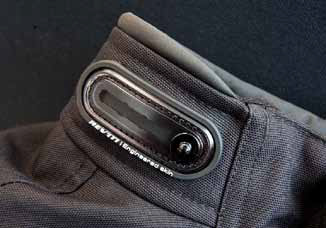 Ventilation
VCS|Aquadefence - When opened the aquadefence system allows direct ventilation to the body. When the zipper or panel is closed, it presses onto the incorporated rain gutter, the jacket is then 100% wind- and waterproof. When the panel or zipper is closed the rain gutter will stop the water from entering via the ventilation holes, thereby keeping you dry and comfortable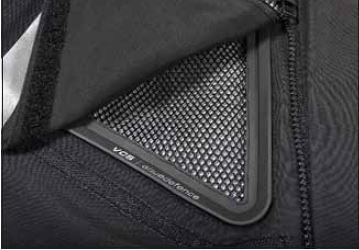 VCS|Zipper - The VCS zippers are all located in strategic positions, where they offer excellent air flow to cool the body. The air flow can be regulated by opening or closing the zipper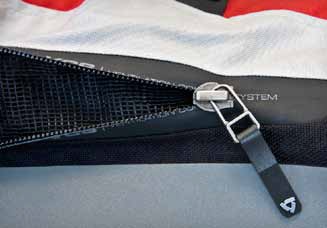 Features
VCS|Aquadefence with FidLock® Magnetic Fastener - Removable panels for optimum ventilation. Ventilation is nice on warmer days, but not as desirable in cold weather. The panels can be kept open due to the FidLock magnetic Fastener. The Fidlock® magnetic fastener not only uses the attraction but also the repulsion of magnets. This leads to a robust closure with high locking strength that can still be easily opened with one hand while riding
Collar Hook - The collar hook and loop allow you to draw back the front side of the collar, allowing air flow to cool the neck during warmer periods of the year without the annoying flapping of the loose collar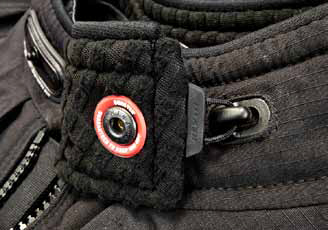 Prepared for Challenger Cooling Vest Insert - The jacket is prepared for the Challenger cooling vest insert. The Challenger can be zipped directly into the outer shell with the connection zippers
Prepared for Vest Connector HV - The Vest connector HV allows you to the upgrade your jacket with a HV vest that quickly and easily attaches. The highly visible EN471-certified vest offers enhanced safety
Short and Double Long Connection Zipper - Thanks to the short and long connection zipper, this jacket is compatible for pairing with any pair of trousers in the REV'IT! line
Stretch
Pockets
Back Pocket
Hand Warmer Pockets
Inner Pockets
Waterproof Stash Pocket
Trousers Specifications Include:
PROTECTION FEATURES
Outer Shell
2L Nylon 600D GORE-TEX® Fabric - This fabric is made of rugged 600 denier high-tenacity nylon that delivers superior abrasion and tear resistance. Laminating the GORE-TEX® membrane to the nylon fabric creates a 100 percent waterproof, windproof and highly breathable outer shell that offers excellent wearer comfort
3L GORE-TEX® Pro Nylon 600D Fabric - GORE-TEX® Pro shells are made for riding in extreme conditions. The fabric is made of rugged 600 denier high-tenacity nylon that delivers superior abrasion and tear resistance. A high-performance GORE-TEX® membrane is bonded to a tough outer material and a specially developed, robust inner lining makes it a 3-layer. The benefits of a 3 layer are less water pick up of the outer layer which results in breathable comfort for all weather conditions
3L Stretch GORE-TEX® Pro Fabric - This stretch-woven Pro Shell performance laminate allows freedom of movement, while keeping all the advantages of GORE-TEX® Pro Shell 3-Layer technology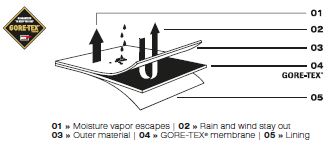 Polyester Rib - Polyester fabric is a mainstay of REV'IT! garments, providing the stylish silhouette that our apparel is known for. This polyester fabric features a specific rib weave, for optimal performance
Sure Grip - Sure grip fabric or leather features a special, texturized print, which offers an excellent grip under high-performance riding conditions
PWR|Shell 500D Stretch - This material is REV'IT!'s take on Cordura®. Consisting of 100 percent high-performance polyamide yarns, PWR|Shell takes the best properties of Cordura® - a high melting point, tremendous tear- and abrasion-resistance, excellent durability - and puts the unique REV'IT! design stamp on it. This PWR|Shell fabric comes in a stretch variant. 500D indicates the density of the fabric. The higher the number the better the abrasion- and tear resistance properties are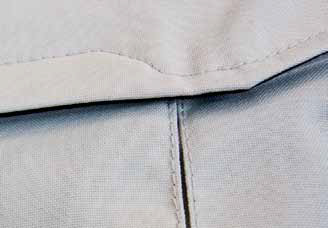 Wax Polyester 600D - Long-lasting 600-denier fabric is a mainstay of REV'IT! apparel. This high-tech polyester features a specific rib weave for rugged durability and a refined finish for optimal performance. The 600D rating delivers excellent tear-resistant properties while the wax coating ensures capable water proofing
Insulation
Waterproofing
2L GORE-TEX® Fabric - By laminating the GORE-TEX membrane to the fabric, a 100% waterproof, windproof and highly breathable outer shell is created, offering unsurpassed durable wearer comfort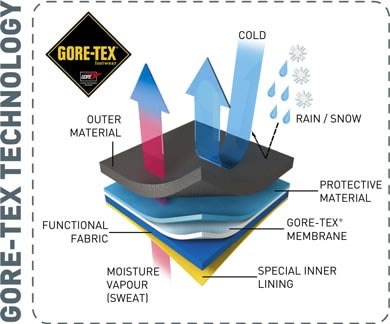 Composition
Outer Shell - 83% polyamide, 16% ePTFE, 1% elastane
Protection
SaS Tec® CE Protection - SaS Tec® armour offers the best possible protection during a dynamic impact. The armour is made of a new polyurethane foam material, without a hard shell or edges, which surpasses the required CE-values by 50%. The closed air cells function by means of progressive absorption: with a slowly occurring stressor, the material remains soft and flexible, whereas sudden impact will cause the protector?s air cells to respond quickly with increased resilience, creating a protective shield where the rider needs it most
Prepared for SaS Tec® CE Hip Protector
Visibility
Laminated Reflection - Reflection panels ensure excellent visibility at all angles, allowing the wearer to be seen from all directions. To offer a more sophisticated look, the reflection panels are welded to the fabric. This welding process also eliminates stitching seams, making the garments safer
ERGONOMIC FEATURES
Fit
Adjustability
Adjustment Strap
Adjustment Tab
Ventilation
Air Outlet
VCS|Aquadefence - When opened the aquadefence system allows direct ventilation to the body. When the zipper or panel is closed, it presses onto the incorporated rain gutter, the jacket is then 100% wind- and waterproof. When the panel or zipper is closed the rain gutter will stop the water from entering via the ventilation holes, thereby keeping you dry and comfortable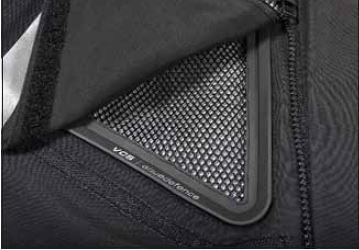 Features
VCS|Aquadefence with FidLock® Magnetic Fastener - Removable panels for optimum ventilation. Ventilation is nice on warmer days, but not as desirable in cold weather. The panels can be kept open due to the FidLock magnetic Fastener. The Fidlock® magnetic fastener not only uses the attraction but also the repulsion of magnets. This leads to a robust closure with high locking strength that can still be easily opened with one hand while riding
Adjustable Protector Pockets - Within this type of protection pocket, the protector can be adjusted to several positions, in order to customize the shape for each rider. This results in the best personal fit and riding comfort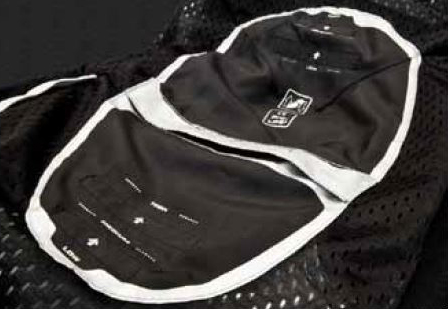 Calf Zippers
Easy Entrance Zipper at Calf - The zipper can be opened at the calf allowing you to entrance the trousers easily
Grip Panel at Seat - The grip panel at the seat ensures you stay in control in all weather conditions and won't slide in your seat at any time. A key feature for any rider, pillion passengers will also appreciate this extra level of performance
Hook-and-Snap Front Closure - The snap closes the trousers and the hook smoothly interlocks into the channel ensuring that the trousers won't open while riding
Short and Double Long Connection Zipper - Thanks to the short and long connection zipper, these trousers are compatible for pairing with any jacket in the REV'IT! line
Stretch
Pockets
Your package will include the following
Rev It Poseidon GTX Motorcycle Light Grey Black Jacket
Rev It Poseidon GTX Motorcycle Light Grey Black Trousers