The Rev It Neptune GTX Motorcycle Jacket and Trousers Anthracite Black Kit is part of the latest REV'IT! collection.
By equipping the Neptune GTX Motorcycle Kit with a removable waterproof GORE-TEX® Paclite® membrane and removable thermal liner, the outfit becomes a true four-season option for both commuters and serious touring riders.
Key Features / Points:
Gore-Tex Waterproofing
Detachable WP Membrane
ProLife® CE Protection
Removable Thermal Lining
Two Connection Zippers
View all Rev It Motorcycle Kits. View all Motorcycle Kits.
The Rev'It! Defender Pro GTX Motorbike Jacket and Pants Anthracite Black Kit is packed with features...
Jacket Specifications Include:
PROTECTION FEATURES
Outer Shell
High Density Polyester 600D - This fabric takes polyester yarn and weaves it with a finer polyester yarn, to create a high woven density that increases protection and abrasion-resistance.
Teflon® Coating - This water- and dirt-repellant coating makes it difficult for dirt to affix to or penetrate any material. This helps to keep your gear clean
Polyester Rib with Teflon Coating - Polyester is a durable lightweight fabric that doesn't absorb water. This polyester fabric features a specific rib weave for optimal performance. The water and dirt-repellent Teflon coating makes it difficult for dirt to affix to or penetrate any material
Wax Polyester 600D - Long-lasting 600-denier fabric is a mainstay of REV'IT! apparel. This high-tech polyester features a specific rib weave for rugged durability and a refined finish for optimal performance. The 600D rating delivers excellent tear-resistant properties while the wax coating ensures capable water proofing
Insulation
Waterproofing
Detachable GORE-TEX® Product with Paclite® Technology - GORE-TEX® with Paclite® technology is windproof, waterproof and extremely breathable. It is the ideal material for motorcycle clothing as it protects you against the elements. We added a thin lining to protect the Paclite® membrane and to ensure that it won't stick to your skin when riding in warmer weather without a thermal liner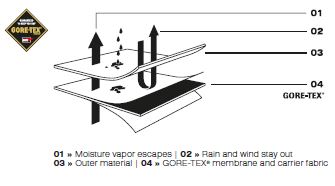 Composition
Outer Shell - 100% polyester
Lining - 76% polyester, 24% polyamide
Thermal Liner - 100% polyamide (insulation 100% polyester)
Membrane - 57% polyamide, 43% GORE-TEX® membrane (ePTFE)
Lining Membrane - 100% polyester
Protection
ProLife® CE Protection at Shoulders and Elbows - Official tests show that ProLife® far surpasses the protection standards set by the CE directive. The fabric used, elastomer, is the result of many years of research and development. A technological process is used to make the fabric microporous, with air in the microporous cells under high pressure but unable to escape. This treatment makes the fabric light, flexible, and exceptionally impact-resistant. REV'IT! has used the pre-shaped ProLife® 3D CE protector in REV'IT! motorcycle clothing since it was first introduced
Prepared for SEESOFT? CE-Level 2 Back Protector Insert - Type RV - The back protector pocket in this REV'IT! garment is tailor-made to accommodate the SEESOFT? CE-level 2 back protector insert Type RV - an easy upgrade to maximize safety
Visibility
Laminated Reflection at Upper Arms, Chest and Back - Reflection panels ensure excellent visibility at all angles, allowing the wearer to be seen from all directions. To offer a more sophisticated look, the reflection panels are welded to the fabric. This welding process also eliminates stitching seams, making the garments safer
ERGONOMIC FEATURES
Fit
Adjustability
Adjustment Drawcord at Hips
Adjustment Strap at Waist
Adjustment Tab at Upper, Under Arm and Cuffs
Flexisnap - The REV'IT! flexisnap makes it possible to adjust the collar circumference easily and personalize its fit to each rider. A jacket is often worn in more then one season, and the flexisnap makes it possible to adjust the collar within seconds. During winter a wider collar circumference accommodates combining the jacket with a balaclava or wind collar, while during summer, a wider circumference lets an all-important cooling wind into the collar. The flexisnap is available with 5 or 7 positions (XL)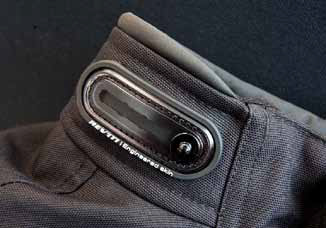 Ventilation
VCS|Zippers at Chest, Back and Under Arms - The VCS zippers are all located in strategic positions, where they offer excellent air flow to cool the body. The air flow can be regulated by opening or closing the zipper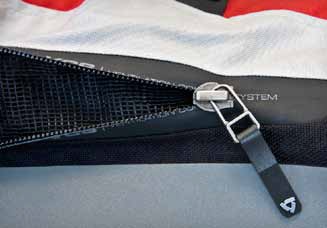 Features
Long and Double Short Connection Zipper - This jacket has a long connection zipper and double short connection zipper. Not only can it be paired with any pair of pants in the REV'IT! line, but its second, short connection zipper on the membrane ensures that the membrane stays in place
Prepared for Challenger Cooling Vest Insert - The jacket is prepared for the Challenger cooling vest insert. The Challenger can be zipped directly into the outer shell with the connection zippers
Prepared for Vest Connector HV - The Vest connector HV allows you to the upgrade your jacket with a HV vest that quickly and easily attaches. The highly visible EN471-certified vest offers enhanced safety
Pockets
Inner Pockets
Membrane Storage Pocket - This pocket gives you the opportunity to store the membrane in a safe way and keeps the membrane within reach to allow you to attach it as soon as you need it
Stash Pocket
Waterproof Stash Pocket
Trousers Specifications Include:
PROTECTION FEATURES
Outer Shell
High Density Polyester 600D with Teflon Coating - The fabric takes polyester yarn and weaves it with a finer polyester yarn, to create a high woven density that increases protection and abrasion-resistance
Wax Polyester 600D - Long-lasting 600-denier fabric is a mainstay of REV'IT! apparel. This high-tech polyester features a specific rib weave for rugged durability and a refined finish for optimal performance. The 600D rating delivers excellent tear-resistant properties while the wax coating ensures capable water proofing
Sure Grip - Sure grip fabric or leather geatures a special texturised print, which offers an excellent grip of high-performance riding conditions
Insulation
Waterproofing
Detachable GORE-TEX Product with Paclite® Technology - GORE-TEX with Paclite technology is windproof, waterproof and extremely breathable. It is the ideal material for motorcycle clothing as it protects you against the elements. We added a thin lining to protect the Paclite membrane and to ensure that it won't stick to your skin when riding in warmer weather without a thermal liner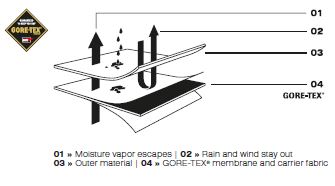 Composition
Outer Shell - 98% polyester, 2% polyamide
Lining - 85% polyester, 15% polyamide
Thermal Liner - 100% polyamide (insulation 100% polyester)
Membrane - 57% polyamide, 43% GORE-TEX® membrane (ePTFE)
Lining Membrane - 100% polyester
Protection
ProLife® CE Protection at Knees - Official tests show that ProLife® far surpasses the protection standards set by the CE directive. The fabric used, elastomer, is the result of many years of research and development. A technological process is used to make the fabric microporous, with air in the microporous cells under high pressure but unable to escape. This treatment makes the fabric light, flexible, and exceptionally impact-resistant. REV'IT! has used the pre-shaped ProLife® 3D CE protector in REV'IT! motorcycle clothing since it was first introduced
Prepared for TRYONIC SEESOFT? CE-Level 1 Type B Hip Protector Insert - Version RV01 - The hip protector pockets in this REV'IT! garment are tailor-made to accommodate the TRYONIC SEESOFT? CE-level 1type B hip protectors version RV01. An easy upgrade to maximize safety
Double Textile Seat
Visibility
Laminated Protection at Calf - Reflection panels ensure excellent visability at all angles, allowing the wearer to be seen from all directions. To offer a more sophisticated look, the reflection panels are welded to the fabric. This welding process also eliminates stitching seams, making the garments safer
ERGONOMIC FEATURES
Fit
Adjustability
Adjustment Strap at Waist
Adjustment Tab at Ankles
Ventilation
VCS|Zippers at Upper Legs - The VCS zippers are all located in strategic positions, where they offer excellent air flow to cool the body. The air flow can be regulated by opening or closing the zipper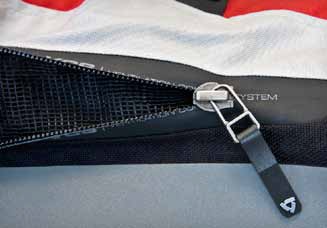 Features
Adjustable Protector Pockets - Within this type of protection pocket, the protector can be adjusted to several positions, in order to customize the shape for each rider. This results in the best personal fit and riding comfort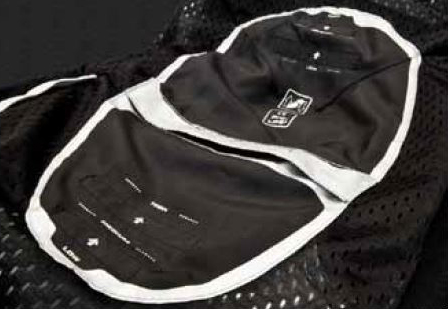 Calf Zippers
Grip Panel at Seat - The grip panel at the seat ensures you stay in control in all weather conditions and won't slide in your seat at any time. A key feature for any rider, pillion passengers will also appreciate this extra level of performance
Hook-and-Snap Front Closure - This hook-and-snap construction ensures trousers stay closed. The snap closes the trousers and the hook smoothly interlocks into the channel ensuring that the trousers won't open while riding
Short and Long Connection Zipper - Thanks to the short and long connection zipper, these trousers are compatible for pairing with any jacket in the Rev'It! line
Stretch Lips at Back and Knees
Pockets
Your package will include the following
Rev It Neptune GTX Motorcycle Anthracite Black Jacket
Rev It Neptune GTX Motorcycle Black Trousers
Standard Jacket Sizing Guide
Please use the conversion table below to determine the right size for you:
UK Size
XXS
XS
S
M
L
XL
XXL
XXXL
XXXXL
5XL
UK / US Chest
34"
(86cm)
36"
(91cm)
38"
(97cm)
40"
(102cm)
42"
(107cm)
44"
(112cm)
46"
(117cm)
48"
(122cm)
50"
(127cm)
52"
(132cm)
EU Size
44
46
48
50
52
54
56
58
60
62