The Rev It Cyber GTX Winter Motorcycle Gloves are part of the latest REV'IT! collection.
PrimaLoft® Gold Eco with Grip control is the thinnest of materials with the highest insulation values. Designed to resist compression, this material can remain compact as the small air pockets trap and store heat without bulk. The GORE-TEX® membrane won't let moisture in from outside but allows perspiration to escape from inside, ensuring hands remain dry at all times. The Soft shell upper hand allows for excellent feel. These functional layers combine to make the glove supremely comfortable and suitable for extremely cold weather. SEESOFT protection at both the palm and knuckle area keeps the hands safe.
Key Features / Points:
Leather & Textile Outer
WP Gore-Tex® Membrane
Windproof & Breathable
High Loft Fur Liner
Touch Screen Friendly
View all Rev It Motorcycle Gloves. View all Motorcycle Touring Gloves.
The Rev It Cyber GTX Motorbike Winter Gloves are packed with features...
PROTECTION FEATURES
Outer Shell
Goatskin Drum Dyed with WR Finish - Tanned leather made from goatskin is considered extremely durable, and is often used for gloves and other products that require a soft hide. Goatskin with a WR finish has undergone a process that makes it water-repellent and soil-resistant. The WR coating is bonded to the material at the molecular level, enhancing the material's natural water-repellence and soil-resistance, without altering how the fabric looks, feels, or breathes
Suede Leather with WR Finish
PWR|oxford - Polyamide - better known as Nylon - is a collection of polymers that form an excellent resistance to wear and tear as well as a low friction coefficient to reduce air resistance Oxford is a basket-like durable and lightweight weave that gives a sophisticated, shiny surface to the material
Synthetic PU Leather - Providing better breathability then natural leather, this synthetic leather offers enhanced wearer comfort
Softshell - This innovative, technical woven material features three functionalities incorporated in just one layer: insulation, water-resistance, and breathability
Connect Finger Tip Fabric - Never take off your gloves again to answer your phone or navigation system. The connect fingertip has been specifically designed to operate touch screens
Insulation
PrimaLoft® Gold - PrimaLoft® Gold is made of microfibers that trap and store body heat in a remarkably light material that affords good grip
PrimaLoft® Gold Eco with Grip Control - PrimaLoft® Gold Eco with grip control is the thinnest of materials with the highest insulation values. Designed to resist compression, the air pockets in this material efficiently trap and store body heat while remaining compact. REV'IT! is the first motorcycle brand in the world to add this high quality insulation to gloves
Lining
Tri-Fleece Liner - This polyester tricot fabric is used for glove lining, and brushed to provide extra warmth without adding any bulk. The lining wicks moisture away, to prevent hands from getting damp
Waterproofing
GORE-TEX® Membrane - The GORE-TEX® membrane is the essential element of all GORE-TEX® Gloves. It contains over 1.4 billion microscopic pores per square centimeter. These pores are 20,000 times smaller than a water droplet, but 700 times larger than a water vapor molecule. This makes the GORE-TEX® membrane completely waterproof from the outside, while allowing perspiration to escape from the inside. An oleophobic, or oil-hating, substance is integrated into the membrane, preventing the penetration of such compounds as body oils and insect repellent, which could otherwise affect the membrane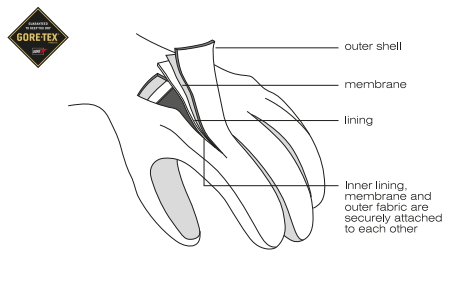 Composition
48% Leather, 35% Polyester, 14% Polyamide, 3% Spandex
Protection
Temperfoam® - Self-contouring foam that is not CE-approved, but still offers a great number of impact-resistant properties, this product is used in areas where mobility and fit are a must, such as the hips. Temperfoam® comes in a solid version as well as a perforated version
PU Finger Knuckles - REV'IT! gloves feature protection patches on the fingers and knuckles, made of a hard PU protective compound, to keep your hands as safe as possible in the event of an impact
SEESOFT? Covered with TPU Hard-Shell Palm Slider - The palm slider is made of impact absorbing SEESOFT? memory foam, and has been incorporated in this garment to effectively reduce the energy of impact transmitted in a crash. The TPU material covering the Seesoft ensures the glove will slide should the hand come into contact with asphalt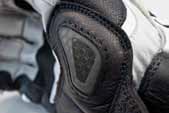 Visibility
Laminated Reflection - Reflection panels ensure excellent visibility at all angles, allowing the wearer to be seen from all directions. To offer a more sophisticated look, the reflection panels are welded to the fabric. This welding process also eliminates stitching seams, making the garments safer
ERGONOMIC FEATURES
Fit
Features
Elastic
Regular Cuff
Visor Wiper
Connect Finger Tip - Never take off your gloves again to answer your phone or navigation system. The connect fingertip has been specifically designed to operate touch screens
Single Motion Closure System at Cuff - The innovative closure system allows for adjusting and closing the wrist straps in a single movement
Your package will include the following:
Rev It Cyber GTX Winter Motorcycle Gloves
Rev'It! Men's Glove Sizing Guide
Please use the conversion table below to determine the right size for you:
| UK Size | XS | S | M | L | XL | XXL | XXXL (XYL) | XXXXL (XZL) |
| --- | --- | --- | --- | --- | --- | --- | --- | --- |
| Palm Circumference (Inches) | 7.5 | 8 | 8.5 | 9 | 9.5 | 10 | 10.5 | 11 |