The Shark Race-R Pro GP FIM Racing #1 Motorcycle Helmet is part of the latest Shark collection.
Boasting nearly 70 World Champion titles in its trophy case, SHARK Helmets has embraced motorcycle racing and made it a springboard to the company's product development. At present, SHARK Helmets is proud to lie on the cutting edge of innovation in becoming the world's first brand to be awarded the FRHPhe-01 certification, across all size categories, for its new flagship model: the Race-R Pro GP FIM Racing #1. Worn by all SHARK racers since the 2019 season got underway, this top-of-the-line model, which has been designed with an entirely new state-of-the-art racing structure and an optimal level of protection, is now available in a carbon skin version presented in a deluxe premium package.
For many years, SHARK Helmets has been working in close collaboration with the "FIM Racing Certification Program for Helmets (FRHPhe-01)". This program dedicated to racing helmets is intended to establish a new certification standard with a set of highly demanding criteria for the purpose of continuing to further raise the level of protection for helmets worn by racers. The FRHPhe-01 standard issued by the FIM (International Motorcycling Federation), which has established safety requirements never before satisfied, will be made mandatory beginning in June 2019 in both the Moto GP and Superbike disciplines before being extended to the other FIM competition categories by the start of the 2020 season.
Key Features / Points:
Carbon Aramid Racing Structure Shell in 2 Sizes
Anti-Scratch & Anti-Fog Variable Thickness Visor
Double D-Ring Titanium Buckle with Magnetic Holder
Aerodynamic Racing Rear Spoiler
FIM Racing Homologated (FRHPhe-01)
View all Shark Race-R Pro Motorcycle Helmets. View all Full Face Motorcycle Helmets.
PLEASE NOTE:
This helmet comes with a clear visor fitted as standard and an additional dark smoke tinted visor
Tinted visors are NOT suitable for public road use, they are designed for track use only
The Shark Race-R Pro GP FIM Racing Number 1 Motorcycle Helmet is packed with features...
Specifications Include:
FIM Racing Homologated Helmet - The world's first helmet to be awarded the FRHPhe-01 certification. New holographic certification label with an embedded QR Code: Helmet traceability with official identification by the Race Marshal before entering the track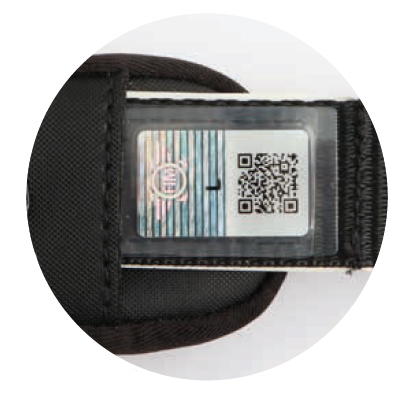 Racing Lineage - The Race-R Pro GP is the result of an in-house study conducted on the Grand Prix MotoGP, Moto 2, Moto 3, WSBK and WSSP between 2012 and 2016 with the help of leading race riders
Shell Construction - COVA RS (Carbon On View and Aramid Racing Structure) in order to fully meet all requirements of the new FIM Racing #1 standard. This new, 100% Carbon Aramid structure offers the following benefits:

Lightweight: reduces tension spreading to the cervical muscles
Increased resistance to both abrasion and compression
Enhanced anti-delamination performance
The multi-density EPS (Expanded Polystyrene) has been optimized for improved shock absorption
Aerodynamic Racing Rear Spoiler - Developed in a wind tunnel by applying breakthrough technologies in the field of CFD (Computational Fluid Dynamics), this spoiler produces less aerodynamic drag, eliminates undesirable vibration effects and offers the rider greater stability along with a tweaked top speed
Quick Spoiler Safety System - Allows ejecting the spoiler in the event of a fall to limit the effects of secondary shocks and thereby guarantee the rider's optimal safety
Chin Guard Profile Designed for Racing - This design serves to reduce the exposed surface area of the helmet in back of the fairing
Multi-Density, EPS (Expanded Polystyrene) Shell - Optimal damping at each impact zone
Chin Guard Fitted with a Removable, Variable Airflow Anti-Pollution Filter
Dual-Density, EPU (Expanded Polyurethane) Chin Guard - Material designed above all to absorb shocks reverberating around the chin guard
Ergonomic Visor Grip for Improved Handling and Easy Opening
Variable Thickness Visor - (2.8 mm at the edges, and 4.25 mm in the center) for a class 1 optical quality with no distortion
Total Vision - Outside anti-scratch and inside anti-fog visor treatment
Quick Release Visor System - Enables quick visor disassembly
Visor Lock
Additional Dark Smoke Tinted Visor in the Box - For race use only
Race Wind Flap
Optimized Ventilation to Improve Racing Performance - 5 air inlets and 7 extractors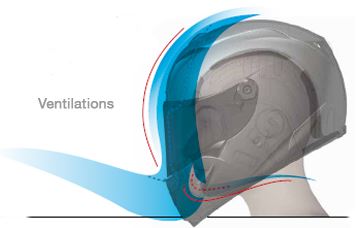 Fastening System - Red Double D-ring titanium buckle
Magnetic Chin Strap Holder
2 Shell Sizes - Optimal morphological adjustment
New Design Multi-Density Interior - Shock absorbing elements with varying densities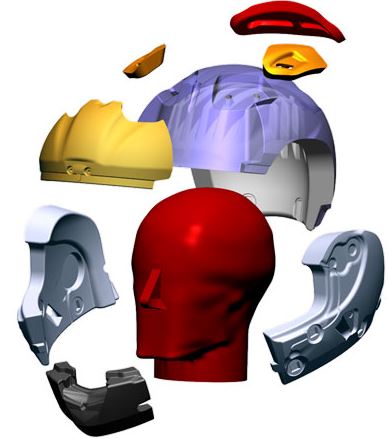 Two-Tone, High-Tech "Alveotech" Lining Fabric Featuring the Sanitized Label - This Sanitized treatment ensures antimicrobial efficiency to prevent the propagation of bacteria when perspiring. It guarantees a cool contact over long periods for extra comfort during a strenuous ride
Fully Removable and Washable Interior
New Technology Used to Cut Out "3D Morpho" Cheek Contours - Providing maximum comfort and support
Shape Memory Ear Pads - Muffle noise caused by acoustic vibrations
Wrap-Around and Breathable Neck Protection - Specially designed for optimal acoustic insulation
"Dual Use" Anti-Fog Breath Guard with Added Functionalities - A fixed piece + a snap-on removable piece that adapt to all types of weather conditions (cold, wind, etc.), block out background noise and minimize turbulence
Slot Reserved for the Sharktooth Intercom
Shark Easy Fit System - Optimal comfort for the persons wearing glasses
Finish - Visor mechanics and hardware with a coated finish and "SHARK Racing Division" laser engraving; neck roll featuring a laser marking
ECE R22-05 Approved - Road legal throughout Europe
ACU Gold Approved - Suitable for track use in the UK
5 Year Warranty
Weight - 1400 g +/- 50 g (size M)
"Shark Racing Division" Helmet Carry Bag Included - The same bag Shark's racers use
Official Sponsors' Decals Supplied - For a complete look
Comprehensive Packaging - A special "SHARK Racing Division" box and helmet cover sporting an exclusive design
PLEASE NOTE:
This helmet comes with a clear visor fitted as standard and an additional dark smoke tinted visor
Tinted visors are NOT suitable for public road use, they are designed for track use only
Your package will include the following:
Shark Race-R Pro GP FIM Racing #1 Motorcycle Helmet
Additional Dark Smoke Tinted Race Visor
Exclusive Design Helmet Dust Bag
"Shark Racing Division" Helmet Carry Bag
Official Sponsors' Decals
5 Year Warranty Card
Standard Helmet Sizing Guide
Please use the conversion table below to determine the right size for you:
| Size | XXXS | XXS | XS | S | M | L | XL | XXL | XXXL |
| --- | --- | --- | --- | --- | --- | --- | --- | --- | --- |
| Adult | 49-50cm | 51-52cm | 53-54cm | 55-56cm | 57-58cm | 59-60cm | 61-62cm | 63-64cm | 65-66cm |