The Shad SH40 Cargo Top Case 40L is part of the latest Shad collection.
The SH40 Cargo top case is a mid-larger sized box in SHAD's hard luggage range, which also incorporates an upper rack to store even more luggage, weighing only 3 kg but still being able to carry 2 open face helmets or 1 full face helmet plus accessories making it perfect for all bike sizes. It is fully waterproof, aerodynamic, aesthetically designed with a slightly domed front face shape and integrated reflectors as well as upper storage rack. The SH40 Cargo top box is highly impact resistant with minimal thickness for ultra lightness.
You can enhance this top case with a choice of optional accessories. Accessories specifically designed for this case include a pillion backrest, brake light kit (attaches to the mounting plate), and inner luggage bag. Make your selection from the dropdowns above: you can select the top case on its own or make your own custom bundle. The specifications for each accessory can be found on the Specifications tab.
Key Features / Points:
Impact Resistant Waterproof Body
Incorporated Upper Rack
Mounting Plate Included
Capacity: 40 L (Fits 2 Open Face Helmets)
Max Load: 4 kg
View all Shad Top Cases. View all Motorcycle Top Boxes.
PLEASE NOTE:
Shad Hard luggage requires specific fitting kits (sold separately) depending on the motorcycle it will be used with. If you require one of these please contact us with the make, model and year of your bike and we will special order the correct kit
Shad backrests may require drilling holes in the topcase to fit
The Shad SH40 Cargo Top Box 40L is packed with features...
Top Case Specifications Include:
Lightweight and aerodynamic
Highly impact resistant body
Fully waterproof
Incorporated upper rack to store more luggage
Integrated reflectors
Colour change system - Lets you change the top cover to suit your style
SHAD press lock system - Fully lockable
Simple and easy to remove from bike
Mounting plate included (Shad medium sized plate)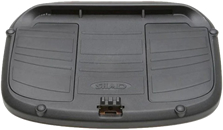 Includes 2 year manufacturer's warranty
Designed in Barcelona
Optional accessories available (sold separately)
Capacity: 40 L (fits two open face or one full face helmet plus accessories)
Max load: 4 kg
Dimensions (height x width x depth): 296 x 492 x 425 mm
Optional Backrest Specifications Include:
Designed to fit Shad SH37, SH40, SH40 Cargo and SH45 top cases
Weather resistant
Improves pillion comfort
Easy fitment
Genuine Shad accessory
Optional Brake Light Specifications Include:
Designed to fit Shad SH39, SH40, SH45 and SH46 top cases
Bright LED light
Easy fitment
Fitting kit included
Genuine Shad accessory
Optional Inner Bag Specifications Include:
Fits inside the Shad SH39, SH40, SH45, SH46, SH48, SH49 and SH50 top cases
Made from high quality materials
Shoulder strap included
Side carry handle
Easily fits a full face helmet inside
Manufactured in Barcelona
Capacity - 37 L
Dimensions: 350 x 500 x 210 mm
PLEASE NOTE:
Shad backrests may require drilling holes in the topcase to fit
Your package will include the following:
Shad SH40 Cargo Top Case 40L
Standard Mounting Plate
Choice of Optional Shad Backrest for SH40 Cases (D0RI60)
Choice of Optional Shad Rear LED Brake Light - Wide (D0B40KL)
Choice of Optional Shad Top Box Inner Bag for SH40 Cases (X0IB00)
Full Fitting Instructions